Mort Sahl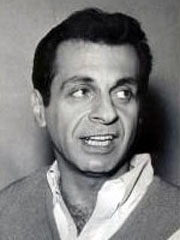 AKA Morton Lyon Sahl
Born: 11-May-1927
Birthplace: Montreal, Quebec, Canada

Gender: Male
Religion: Jewish
Race or Ethnicity: White
Sexual orientation: Straight
Occupation: Comic
Executive summary: Early influential stand-up comic
Military service: US Air Force
"A political satirist's job is to draw blood. I'm not so much interested in politics as I am in overthrowing the government."
Mort Sahl is a stand-up comedian whose schtick includes wearing a V-neck sweater, holding a newspaper, and cracking wise with scathing commentary about current events and politics. He started on stage in Los Angeles in the early 1950s, to little laughter and few offers to return. His scathing, skeptical jokes about Vice Presidential candidate Richard M. Nixon's "Checkers speech" won him some national attention, but his real success started in 1953, when he was hired as a fill-in at San Francisco's Hungry i, where his material truly found its audience. Sahl was the first comedian to record a successful live album, the first to perform concerts on college campuses, the first to appear before the National Press Club, and the first to appear on the cover of Time.
Through the 1950s and early '60s, Sahl aimed his barbs at the McCarthy hearings and the Cold War. He occasionally appeared in supporting roles in movies, and was frequently booked on The Steve Allen Show, Allen's Tonight Show, and other talk shows, where his appearances often evolved into good-natured but sincere arguments with the host, the other guests, or even the audience.
When Sahl joked about Billy Graham, Graham responded by calling Sahl an atheist -- when that was considered a profound insult. Young comedians like Woody Allen, Lenny Bruce, Phyllis Diller, Nichols & May, and Joan Rivers looked up to Sahl, and they and many others patterned their act after his. But while other comics went on to stardom on TV or in film, Sahl never did.
Asked if he was a Democrat or a Republican, Sahl replied "Neither, I'm a radical." He blasted President Eisenhower and wrote jokes for John F. Kennedy's campaign, but publicly said he didn't vote for Kennedy, and made caustic anti-Kennedy jokes after he won the presidency. It cost Sahl many liberal fans, and Joseph P. Kennedy reportedly pressured nightclubs to cancel Sahl's bookings. But what really stunted his career was Kennedy's assassination.
Sahl refused to believe the Warren Commission whitewash, that Lee Harvey Oswald was a lone gunman who killed the president. Sahl was deputized as an investigator in Jim Garrison's wide-open assassination investigation, and concluded that it was a CIA plot. He openly mocked the Warren Report in his act, often reading paragraphs from it on stage. Audiences found this less amusing than Sahl's earlier material, and his income shrank from a reported $400,000 a year to $19,000.
"I know the pressure on those of us who have spoken up in this case. The minute I made a decision for America and decided to park everything else and go ahead, I suddenly was unemployable, and by an awful lot of people you'd call liberal. I want to make it very clear. The people on the right are not large enough to be an army, but they have an army of indifferent men, men indifferent to terror. The road to fascism is paved with liberal bricks.

"While our job to give the young people time enough to become radicals, the job of the liberals is to castrate them before they can get to the radical side, before they can save America, in effect. It's wholly incredible to me. If I gave you the names of people in show business who are attempting to suppress me, they all qualify as wild-eyed left-wing thinkers, in the popular mind."
Sahl came back into style with the Nixon administration's Watergate scandal, when it became culturally acceptable to ridicule all aspects of Washington politics again. But while other comics got TV deals and sitcoms, Sahl never took the biting politics out of his act, so he never got those big-paycheck offers. Considered "too political" and later "too old", Sahl has rarely worked in either medium since the 1980s.

His last feature film was the 1984 Zach Galligan comedy Nothing Lasts Forever, with Bill Murray and Eddie Fisher. In the 1990s Sahl's only work on film was a documentary, where he provided tribute to Sam Peckinpah. In the 00s he has appeared on Letterman's Late Show a few times. In 2013, he was announced as co-starring in an upcoming Jerry Lewis movie, and he continues to work in nightclubs.

Father: (FBI employee)
Wife: China Lee (Playmate of the Month, b. 2-Sep-1942, August 1964, div.)
Wife: Sue Babior (m. 1955, div. 1958)
Girlfriend: Gloria Steinem
Girlfriend: Yvonne Craig (actress, Batman, dated 3 years)
Wife: Kenslea Sahl (flight attendant, Delta Airlines)


High School: Belmont High School, Los Angeles (1946)
University: BA City Management and Traffic Engineering, University of Southern California (1950)


FILMOGRAPHY AS ACTOR
When Comedy Went to School (6-Jun-2013) · Himself
Nothing Lasts Forever (Sep-1984)
Inside the Third Reich (9-May-1982)
Don't Make Waves (20-Jun-1967)
Doctor, You've Got to Be Kidding! (28-Apr-1967) · Mr. Dan Ruskin
Johnny Cool (2-Oct-1963) · Ben Morrow
All the Young Men (26-Aug-1960) · Crane
In Love and War (31-Oct-1958)


Official Website:
http://www.mortsahlofficial.com/

Appears on the cover of:
Time, 15-Aug-1960, DETAILS: Comedian Mort Sahl


Comedy albums:
Mort Sahl at Sunset (1955)
The Future Lies Ahead (1958)
1960, or Look Forward in Anger (1960)
A Way of Life (1960)
At the Hungry i (1960)
The Next President (1960)
The New Frontier (1961)
On Relationships (1961)
Anyway... Onward (1967)
Sing a Song of Watergate (1973)
Mort Sahl's America (1997)





Requires Flash 7+ and Javascript.



Do you know something we don't?
Submit a correction or make a comment about this profile






Copyright ©2019 Soylent Communications