Billy Graham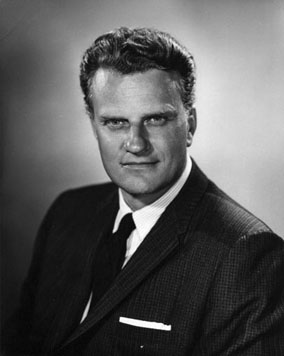 AKA William Franklin Graham, Jr.
Born: 7-Nov-1918
Birthplace: Charlotte, NC
Died: 21-Feb-2018
Location of death: Montreat, NC
Cause of death: Natural Causes
Remains: Buried, Billy Graham Library, Charlotte, NC

Gender: Male
Religion: Born-Again Christian
Race or Ethnicity: White
Sexual orientation: Straight
Occupation: Religion
Nationality: United States
Executive summary: Televangelist
Unlike most of the famous American TV evangelists, the Billy Graham Evangelistic Association has always opened its accounting to public scrutiny. Graham has never been caught with a prostitute, does not lead a lavish life, and he never built an amusement park for the Lord. Graham's revival meetings were among the first public functions in the South where seating was not segregated by race.
Graham's "big break" came in the 1940s, when publishing magnate William Randolph Hearst got wind of Graham's then-recurring theme that the Cold War was a showdown between good and evil, and that communists were Satan-worshippers. "Either communism must die or Christianity must die," Graham famously preached, and Hearst sent a memo to all of his papers' editors, ordering them to "puff Graham". Prior to that, Graham had been just another traveling evangelist, holding meetings in half-empty tents. After that and for the rest of his life, he was America's most prominent Christian leader.
At the height of the blacklists and American red scare of the 1950s, Graham said of his friend, Senator Joseph McCarthy, "While nobody likes a watchdog, and for that reason many investigation committees are unpopular, I thank God for men who, in the face of public denouncement and ridicule, go loyally on in their work of exposing the pinks, the lavenders, and the reds who have sought refuge beneath the wings of the American eagle and from that vantage point try in every subtle, undercover way to bring comfort, aid and help to the greatest enemy we have ever known -- communism."
Graham was close with every American President from Dwight D. Eisenhower to George W. Bush, who said it was a conversation with Graham that led him to become a Christian. It was a tape recorded conversation with Richard M. Nixon that led to Graham's most embarrassing moment, when the tapes were played publicly in 2002:
"I go and I keep friends with [Abe] Rosenthal at The New York Times and people of that sort, you know. And all -- I mean, not all the Jews, but a lot of the Jews are great friends of mine, they swarm around me and are friendly to me because they know that I'm friendly with Israel. But they don't know how I really feel about what they are doing to this country."
For many years Graham wrote a daily advice column à la Dear Abby, where every reader's dilemma was answered with the same ultimate advice: Come to Christ. His many books include How to be Born Again. In 1953, Graham started World Wide Pictures, a Christian studio that has been cranking out Christian films ever since. In WWP films, the protagonist's problems are resolved by finding Christ. In several of these films, Christ is found at a Billy Graham rally.

Graham is retired, and his son Franklin Graham is now CEO of Billy Graham Evangelistic Association. Billy Graham's daughter, low-level televangelist Virginia "GiGi" Graham, was arrested in 2005 for spousal abuse, after three witnesses reported that she had grabbed her husband by the throat and beaten him in a parking lot. Her son (Billy Graham's grandson) is evangelist William Graham Tullian Tchividjian, who in 2009 succeeded the late D. James Kennedy as senior pastor at the Coral Ridge Presbyterian megachurch in Fort Lauderdale.

Father: William Franklin Graham (b. 10-Nov-1888, d. 1962)
Mother: Morrow Coffey Graham (b. 1892, m. 1916, d. 1981)
Sister: Catherine Graham McElroy (d. 14-Oct-2006)
Brother: Melvin Graham (owned Graham Brothers Dairy Farm, b. 1925, d. 24-Aug-2003)
Sister: Jean Graham Ford (married to evangelist Leighton Ford)
Wife: Ruth McCue Bell (m. 13-Aug-1943, d. 14-Jun-2007, three daughters, two sons)
Daughter: Virginia Leftwich Graham Tchividjian ("GiGi", evangelist, b. 1945)
Daughter: Anne Graham Lotz (evangelist, b. 1948)
Daughter: Ruth Bell Graham McIntyre ("Bunny", Christian writer, b. 1950)
Son: Franklin Graham (b. 14-Jul-1952, now runs the ministry)
Son: Nelson Edman Graham ("Ned", evangelist, b. 1958)


University: Bob Jones University, Greenville, SC (transferred out after first year)
Theological: Trinity College of Florida (then called "Florida Bible Institute")
University: BA Anthropology, Wheaton College Illinois (1943)
Administrator: President, Northwestern College Minnesota (1947-52)


Campus Crusade for Christ
Congressional Gold Medal
Grand Marshal of the Tournament of Roses 1971
Templeton Prize 1982
Gospel Music Hall of Fame 1999
Knight of the British Empire Dec-2001
Officer of the British Empire
Order of the Long Leaf Pine
Time Magazine 25 Most Influential Evangelicals in America
Wedding: Edward Cox and Tricia Nixon (1971)
Funeral: Richard Nixon (1994)
Prostate Surgery Sep-1965
Traveled to the USSR May-1982
Traveled to the USSR Sep-1984
Traveled to North Korea 31-Mar-1992 to 4-Apr-1992
Hip Replacement Surgery 6-Jan-2004
Brain Surgery Mission Hospitals, Asheville, NC (Feb-2008)
Risk Factors: Prostate Cancer, Skin Cancer, Deafness, Parkinson's


FILMOGRAPHY AS ACTOR
Hail Satan? (25-Jan-2019) · Himself
Something to Sing About (10-Jun-2000) · Himself
The Ride (15-Oct-1997) [VOICE]
The Prodigal (14-Oct-1983) · Himself
Born Again (Oct-1978) · Himself
Two a Penny (1967) · Himself


Official Website:
http://www.billygraham.com/




Requires Flash 7+ and Javascript.



Do you know something we don't?
Submit a correction or make a comment about this profile






Copyright ©2019 Soylent Communications