Barbara Walters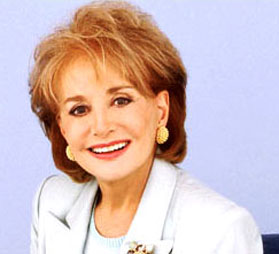 AKA Barbara Jill Walters
Born: 25-Sep-1929 [1]
Birthplace: Boston, MA

Gender: Female
Religion: Jewish
Race or Ethnicity: White
Sexual orientation: Straight
Occupation: Journalist
Nationality: United States
Executive summary: 20/20, The View
Barbara Walters began her career as a receptionist in an ad agency, then became a newswriter for a series of local stations, eventually working as a gopher and occasional writer for CBS News. She worked as an assistant to the producer at New York's WRCA-TV, and as a publicist for long-time talk show host and Republican activist Tex McCrary, before joining Today as a researcher and writer in 1961.
After a few months with Today she was promoted to an on-camera position as a reporter, but assigned to cover only the fluffiest of topics. At her own urging she was gradually allowed to report on more serious topics, and by the mid-1960s she seemed to be the show's co-host alongside Hugh Downs -- a position that had previously been held only by men and a chimp named J Fred Muggs. But despite sitting across from Downs and subsequent host Frank McGee, Today maintained an informal rule that Walters was not to ask questions of the show's 'serious' guests -- economists, philosophers, politicians -- until her male co-host had finished asking his questions, and she was not actually billed as co-host of The Today Show until 1974.
In 1976 she left NBC to co-anchor The ABC Evening News with Harry Reasoner, becoming the first female to anchor a network newscast. The media coverage of this "women's liberation newscaster" was intense, and Reasoner was chilly on camera and ice cold backstage. The ratings were disastrous, and soon she was gone. ABC, though, had Walters under contract, and to get their money's worth they offered a series of prime time Barbara Walters Specials, with Walters interviewing celebrities and newsmakers. And this became Walters' legacy -- her uncanny knack for extracting sometimes chatty, often revealing, occasionally embarrassing comments from the rich and powerful.
Over three decades, Walters' specials ranged from the sublime -- she had the first joint interview with Egyptian President Anwar Sadat and Israeli Prime Minister Menachem Begin -- to the absurd -- she leaned forward to ask Katharine Hepburn what kind of tree she would choose to be, and asked Monica Lewinsky how she would tell her as-yet un-conceived children about her services to Bill Clinton. Walters was also co-host of 20/20, again opposite Downs, from 1984-99, and after his retirement she hosted the program either solo or with other sidekicks from 1999-2004. She created the girls' gabfest The View in 1997, and has been among the program's hosts ever since.
Her father, Lou Walters, was a vaudeville booking agent who produced Broadway's Ziegfeld Follies of 1943 starring Milton Berle. He owned the Latin Quarter, a small chain of prestigious night clubs in Boston, New York, and Miami Beach. In its 1940s and '50s heyday, entertainment at the Latin Quarter included high-kicking chorus girls and big-ticket acts from Jack Benny to Tony Bennett. New York's Latin Quarter is now an Olive Garden restaurant.
---
[1] Her commonly reported birth year is 1931, but this is false. The 1930 Federal Census, Enumeration District 41-184, assigns to her parents Louis and Dena Walters a daughter Barbara, aged 6 months. This makes the year 1931 impossible, and her real birth year is almost certainly 1929.

Father: Louis Edward Walters (nightclub owner, b. 1894, d. 1977)
Mother: Dena Selett (homemaker, b. 1897)
Brother: Burton Walters (d. 1932, pneumonia)
Sister: Jacqueline Walters (mildly retarded, d. 1988 ovarian cancer)
Boyfriend: Roy Cohn (dated in college)
Husband: Robert Henry Katz (New York businessman, m. 1958, annulled 1959)
Husband: Lee Guber (stage producer, m. 8-Dec-1963, div. 1976, d. 27-Mar-1988)
Daughter: Jacqueline Dena Guber Danforth (b. 14-Jun-1968 adopted, founded New Horizons charity)
Husband: Merv Adelson (co-founder of Lorimar Pictures, m. 1986, div. 1992)
Boyfriend: Alan Greenspan (together 1974)
Boyfriend: Edward Brooke (US Senator, affair while he was married, 1970s)
Boyfriend: John Warner (Senator, together 1990s)


High School: Miami Beach Senior High School, Miami, FL (1949)
University: BA English, Sarah Lawrence College (1953)


Playboy Bunny undercover assignment
Broadcasting and Cable Hall of Fame
Emmy 1975
Emmy 1980
Emmy 1982
Emmy 1983
Peabody Apr-1996
Endorsement of Dart Industries Rexall Drug Stores (1965)
Wedding: Arnold Schwarzenegger and Maria Shriver (1986)
Wedding: Michael Huffington and Arianna Stassinopoulos (1986)
Wedding: Jonathan M. Tisch and Laura S. Steinberg (1988)
Wedding: Alan Greenspan and Andrea Mitchell (1997)
Wedding: Michael Douglas and Catherine Zeta Jones (2000)
Wedding: George Stephanopoulos and Alexandra Wentworth (2001)
Funeral: Katharine Graham (2001)
Wedding: Rudy Giuliani and Judi Nathan (2003)
Wedding: Al Reynolds and Star Jones (2004)
Funeral: Henry Grunwald (2005) Honorary Pallbearer
Wedding: Donald Trump and Melania Knauss (2005)
Funeral: Tim Russert (2008)
Wedding: Howard Stern and Beth Ostrosky (2008)
Surgery to replace heart valve, 14-May-2010
Funeral: Nora Ephron (2012)
Risk Factors: Smoking


TELEVISION
The View Creator (1997-2014)
20/20 Anchor (1984-2004)
Today (1961-76)


FILMOGRAPHY AS ACTOR
Fahrenheit 11/9 (6-Sep-2018) · Herself
Carol Channing: Larger Than Life (20-Jan-2012) · Herself
The Line King: The Al Hirschfeld Story (27-Sep-1996) · Herself





Requires Flash 7+ and Javascript.



Do you know something we don't?
Submit a correction or make a comment about this profile






Copyright ©2019 Soylent Communications