Ronald Neame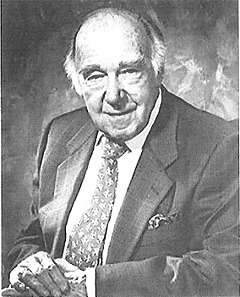 Born: 23-Apr-1911
Birthplace: London, England
Died: 16-Jun-2010
Location of death: Los Angeles, CA
Cause of death: Accident - Fall

Gender: Male
Race or Ethnicity: White
Sexual orientation: Straight
Occupation: Film Director, Cinematographer, Film/TV Producer
Nationality: England
Executive summary: The Poseidon Adventure
Ronald Neame was one of the first "second-generation" moviemakers: he was the son of silent film director Elwin Neame, and his mother was silent film star Ivy Close. His father was killed in a traffic accident when Neame was 12, and after that young Neame was determined to continue in his father's footsteps. He was hired at 16 as an errand boy at the Elstree silent film studio. As an apprentice, he learned to operate hand-cranked movie cameras, and over the next six decades he worked as cinematographer, director, screenwriter, and film producer.
After several years of uncredited work on silent films and early talkies from A Little Bit of Fluff to Hitchcock's Blackmail, his first film as full-fledged cinematographer was 1933's Happy. He handled the photography for Major Barbara, Michael Powell's remarkable One of Our Aircraft Is Missing, and Noel Coward's Blithe Spirit, among many other films. As a director many of his films were great artistic and commercial successes, but most are too British or too dated to be known to modern American audiences. Among his best were the war dramas Tunes of Glory and The Man Who Never Was, and the tragic comedy The Horse's Mouth, written by and starring Alec Guinness in perhaps his best performance.
Neame had popular success adapting to the hippie era, with explicit-for-their-era films like Prudence and the Pill and The Prime of Miss Jean Brodie. His hits in the 1970s included Scrooge, The Odessa File, the disaster epic (or epic disaster) The Poseidon Adventure with an all-star cast turned upside-down at sea, and the campy atrocity Meteor. On his late-career spiral, he made Hopscotch, about CIA spooks in love, and First Monday In October about similarly-minded Supreme Court justices. He also served as producer for several films, including the David Lean-directed Great Expectations and Brief Encounter.
He was Oscar-nominated four times, all in the 1940s, but never won: as the producer for Great Expectations, as co-screenwriter for Great Expectations and Brief Encounter, and for his special effects on One of Our Aircraft Is Missing. He died in 2010, but his son Christopher carried on in the family business as a film producer, and his grandson, Gareth Neame, now runs Carnival Films, a leading British studio.
Father: Elwin Neame (silent film director, b. 1885, d. 14-Aug-1923 motorcycle accident)
Mother: Ivy Close (silent film actress, b. 15-Jun-1890, d. 4-Dec-1968)
Father: Curly Batson (make-up artist, m. 1938, d. 1957 lung cancer)
Brother: Derek Neame (screenwriter, b. 1915, d. 27-Dec-1979)
Wife: Beryl Heanly (m. 15-Oct-1932, div. 1973, one son)
Son: Christopher Neame (film producer, b. 24-Dec-1942)
Wife: Donna Friedberg (b. 12-Sep-1993)

High School: University College School, London
High School: Hurstpierpoint College

Commander of the British Empire 1996 Queen's Birthday Honours

FILMOGRAPHY AS DIRECTOR
Foreign Body (26-Sep-1986)
First Monday in October (21-Aug-1981)
Hopscotch (10-Oct-1980)
Meteor (19-Oct-1979)
The Odessa File (18-Oct-1974)
The Poseidon Adventure (12-Dec-1972)
Scrooge (5-Nov-1970)
The Prime of Miss Jean Brodie (Jan-1969)
Prudence and the Pill (23-May-1968)
Gambit (16-Dec-1966)
A Man Could Get Killed (25-Mar-1966)
Mister Moses (12-May-1965)
The Chalk Garden (21-May-1964)
I Could Go on Singing (15-May-1963)
Escape from Zahrain (23-May-1962)
Tunes of Glory (20-Dec-1960)
The Horse's Mouth (11-Nov-1958)
Windom's Way (Dec-1957)
The Seventh Sin (28-Jun-1957)
The Man Who Never Was (3-Apr-1956)
The Million Pound Note (7-Jan-1954)
The Card (14-Aug-1952)
Golden Salamander (1-Feb-1950)
Take My Life (1947)

FILMOGRAPHY AS ACTOR
Hitchcock: Shadow of a Genius (13-Oct-1999) · Himself
Hitchcock, Selznick and the End of Hollywood (Jan-1999) · Himself
Meteor (19-Oct-1979)

Author of books:
Straight From the Horse's Mouth: Ronald Neame: An Autobiography (2003, memoir)

Do you know something we don't?
Submit a correction or make a comment about this profile

Copyright ©2019 Soylent Communications