Peter Tork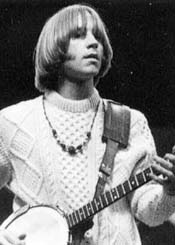 AKA Peter Halsten Thorkelson
Born: 13-Feb-1942
Birthplace: Washington, DC
Died: 21-Feb-2019
Location of death: Mansfield, CT
Cause of death: Cancer - unspecified [1]
Remains: Cremated (ashes scattered at sea)

Gender: Male
Race or Ethnicity: White
Sexual orientation: Straight
Occupation: Musician, Actor
Nationality: United States
Executive summary: Guitar and vocals for The Monkees
Unlike fellow Monkees Micky Dolenz and Davy Jones, Peter Tork was an actual musician before TV executives held casting calls and assembled the sitcom band. He was not a particularly successful musician before the Monkees, but he had performed folk music in coffee shops and occasional night clubs, and was briefly with Stephen Stills in a band called Buffalo Fish, which later evolved into Buffalo Springfield.
Tork's character in the sitcom was "the dumb one", but in real life he is not so dim. He played guitar and electric guitar, banjo, keyboards, piano, organ, French horn, bass, and ukulele for the Monkees, but only after he and Mike Nesmith had demanded that the group make their own music, instead of having studio musicians perform Monkee tunes. He rarely sang lead vocals for the Monkees, but that was him singing "Your Auntie Grizelda". Tork also played the harp, with help from Satan.
"Yes", he says, "we were copying A Hard Day's Night. But we were also, until very recently, the only television show about young adults that didn't rely on an older adult authority figure. The message of The Monkees was that when authority goes off course, you have to rely on yourselves. We needed that message during Vietnam. We need it again today. You can argue about the Monkees' music, but that message was their enduring contribution."
Tork was the first to leave the Monkees, quitting the band after their trippy post-sitcom film Head (directed and written by Bob Rafelson and Jack Nicholson) in 1968. Tork was a Monkee again for a TV special in 1969, and rejoined the group again from 1986-89, 1996-97, and 2001-02. He has worked intermittently as a tutor and high school baseball coach, and popped up in guest roles on several sitcoms, including Boy Meets World, Wings, and King of Queens.
He has performed with Jeff Pitchell and The Texas Flood, Two Man Band, Cottonmouth, The New Monks, his own Peter Tork Project, and myriad solo gigs. For several years, he has performed with his blues band Shoe Suede Blues, which Tork describes as "a little bit bunny rabbits and a little Canadian Air Force fly-by team thrown in." They play Muddy Waters, plenty of original music, and bluesy covers of some Monkees standards.
---
[1] Adenoid cystic carcinoma.

Father: Halsten John Thorkelson ("Jack", economics professor, b. 1917, d. 26-Dec-2003)
Mother: Virginia Hope Straus ("Ginny", b. 9-Jan-1920, d. 25-Apr-2002 stroke)
Sister: Anne Elizabeth Thorkelson (attorney)
Brother: Nick Thorkelson (cartoonist)
Brother: Christopher Thorkelson (local politician in Connecticut)
Wife: Jody Babb (m. Jun-1960, div. Sep-1960)
Wife: Reine Stewart (m. Oct-1972, div. 1974, one daughter)
Daughter: Hallie Elizabeth (b. 25-Jan-1970)
Wife: Barbara Iannoli (m. Jan-1975, div. 1987, one son)
Son: Ivan Joseph Iannoli (b. 22-Dec-1975)
Girlfriend: Tammy Sestak (one daughter)
Daughter: Erica Marie (b. 15-Jun-1997)
Wife: Pamela Grapes (m. 2014, until his death)


High School: E. O. Smith High School, Storrs, CT
University: Carleton College, Northfield, MN (three years, dropped out)


The Monkees Guitar, Vocals
Drug Possession: Marijuana hashish, imprisoned for 3 months, early 1970s
Risk Factors: Alcoholism, Vegetarian, Marijuana, Cocaine, Cancer


FILMOGRAPHY AS ACTOR
The Brady Bunch Movie (17-Feb-1995) · Himself
Head (6-Nov-1968) · Peter


Official Website:
http://www.petertork.com/




Requires Flash 7+ and Javascript.



Do you know something we don't?
Submit a correction or make a comment about this profile






Copyright ©2019 Soylent Communications