Ray Charles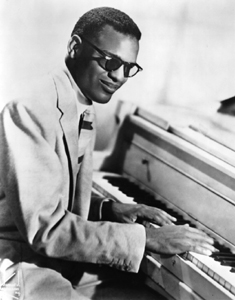 AKA Ray Charles Robinson
Born: 23-Sep-1930
Birthplace: Albany, GA
Died: 10-Jun-2004
Location of death: Beverly Hills, CA
Cause of death: Liver Failure
Remains: Buried, Inglewood Park Cemetery, Inglewood, CA

Gender: Male
Race or Ethnicity: Black
Sexual orientation: Straight
Occupation: Musician
Nationality: United States
Executive summary: Georgia On My Mind
Born into poverty in the segregated South, Ray Charles Robinson's already challenging circumstances steadily became more difficult as his life progressed: at a very young age he witnessed the death by drowning of his brother, and by his seventh year he had completely lost his vision, possibly to glaucoma. He was subsequently enrolled at the Florida School for the Deaf and the Blind, where he learned to read and write music in braille and received training on several different musical instruments. When he was 15 his mother died, after which he set out on the road to earn a living as a professional musician, performing in the style of Nat King Cole. Two years later Charles had had enough of Florida and gathered up his savings to make the trip over to Seattle, Washington -- as far from Florida as he could get while still remaining in the United States.
In Seattle, Charles formed The McSon Trio and established himself on the local club circuit; it was during this time that he first made the acquaintance of a novice musician named Quincy Jones. A trip down to Los Angeles was made in 1949 for recording sessions with the trio, one result of which was the R&B hit Confession Blues for the Downbeat label. By 1950 Charles made a permanent move down to L.A., and began recording and touring with the band of Lowell Fulson; after a year he organized his own band, and upon the purchase of his contract from Swingtime (formerly Downbeat) by Atlantic Records, he launched his solo career with the crossover hit I Got A Woman. By this time his imitative approach had been shed, and a distinctive style of his own was allowed to emerge.
A consistent run on the R&B charts was made throughout the remainder of the decade, most notably with his trademark song What'd I Say -- another single that made a strong impact on the pop market as well. Towards the end of 1959 Charles left Atlantic and made a move to ABC Records, the new label granting him a greater degree of control over his output. With this new freedom, he continued his success in the R&B field while improving his standing in pop music, and even scoring a #1 hit on the country charts in 1962 with the single I Can't Stop Loving You. The only speedbump for his musical momentum was to be in the form of an arrest for heroin possession at the end of 1964, but after time spent in rehab and a year off to recover, the singer managed to bring an end to his nearly 20-year-long addiction and concentrate once again on performing. In 1967 he resumed his success appropriately enough with a cover of Ashford and Simpson's Let's Go Get Stoned.
In subsequent decades Charles made regular moves between labels, recording for RCA and Crossover before returning to Atlantic towards the end of the 70s, and later spending periods on Columbia and Warner Brothers. His reputation with younger audiences was maintained through both his work in film (an appearance in The Blues Brothers and a musical contribution to the Clint Eastwood comedy Any Which Way You Can, both in 1980), frequent collaborations with other artists (Willie Nelson, Chaka Khan, Billy Preston and Eric Clapton, to name a few), and, unfortunately, commercial spots undertaken for the corporate parasite Pepsi in the 1990s. Charles continued with an active performing schedule until his death in 2004.
Father: Bailey Robinson
Mother: Aretha (d. 1946)
Brother: George (d. 1934)
Wife: Elieen Williams (m. 31-Jul-1951, div. 1952)
Wife: Della Beatrice Howard (m. 5-Apr-1955)
Mistress: Mary Anne den Bok
Son: Ray Charles Robinson, Jr.

High School: Florida School for the Deaf and Blind, St. Augustine, FL

Endorsement of Pepsi
Hollywood Walk of Fame 6777 Hollywood Blvd.
Blues Hall of Fame 1982
Songwriters Hall of Fame
Rock and Roll Hall of Fame 1986
Kennedy Center Honor 1986
Grammy Best Rhythm & Blues Performance (1960)
Grammy Best Performance By A Pop Single Artist (1960)
Grammy Best Vocal Performance Album, Male (1960)
Grammy Best Vocal Performance Single Record Or Track, Male (1960)
Grammy Best Rhythm & Blues Recording (1961)
Grammy Best Rhythm & Blues Recording (1962)
Grammy Best Rhythm & Blues Recording (1963)
Grammy Best R&B Solo Vocal Performance, Male Or Female (1966)
Grammy Best Rhythm & Blues Recording (1966)
Grammy Best R&B Vocal Performance, Male (1975)
Grammy Best R&B Performance By A Duo Or Group With Vocal (with Chaka Khan, 1990)
Grammy Best R&B Vocal Performance, Male (1993)
National Medal of Arts 1993
Hip Replacement Surgery 2003
Drug Possession: Marijuana Logan Airport, Boston (31-Oct-1964)
Drug Possession: Heroin Logan Airport, Boston (31-Oct-1964)
Drug Possession: Heroin Indianapolis (1961)
Drug Possession: Heroin Philadelphia (1958)
Risk Factors: Blindness, Heroin, Marijuana

FILMOGRAPHY AS ACTOR
The Extreme Adventures of Super Dave (11-Jan-2000)
Spy Hard (24-May-1996) · Bus Driver
Love Affair (21-Oct-1994) · Himself
Listen Up: The Lives of Quincy Jones (3-Oct-1990) · Himself
Limit Up (Nov-1989)
We Are the World (28-Jan-1985) · Himself
The Blues Brothers (16-Jun-1980) · Ray
The Big T.N.T. Show (1966) · Himself
Ballad in Blue (Nov-1964) · Himself
Swingin' Along (Jan-1961) · Himself

Official Website:
http://www.raycharles.com/
Author of books:
Brother Ray: Ray Charles' Own Story (2003)

Do you know something we don't?
Submit a correction or make a comment about this profile

Copyright ©2019 Soylent Communications