Hilary Swank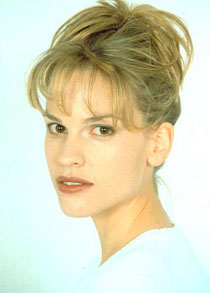 AKA Hilary Ann Swank
Born: 30-Jul-1974
Birthplace: Lincoln, NE [1]

Gender: Female
Race or Ethnicity: White
Sexual orientation: Straight
Occupation: Actor
Nationality: United States
Executive summary: Brandon Teena in Boys Don't Cry
Born in Lincoln, Nebraska and raised in Bellingham, Washington, Hilary Swank had her first acting role at the age of 9 as Mowgli in a local stage production of The Jungle Book, and after that acting became a hobby, and she appeared frequently in local theater and school plays. In high school, she also competed in gymnastics and swimming. After her parents divorced, Swank and her mother moved to Los Angeles, where the family budget was soon stretched past the breaking point. They were briefly homeless, and lived in their car.
In her first audition Swank was hired for a guest role on Harry and the Hendersons. Within months, she was a semi-regular on the Burt Reynolds-Marilu Henner sitcom Evening Shade, falling for the high school quarterback. At 18, she appeared in her first movie, the original Buffy the Vampire Slayer. In 1994, at the age of 19, Swank replaced Ralph Macchio as The Next Karate Kid, tutored by Pat Morita. That movie bombed, and for several years Swank's career sputtered. In 1997, she joined the long-running Beverly Hills 90210 at the start of its eighth season, but her character had moved to Montana before the ninth.
Swank won her first Oscar playing a crossdressing teen in 1999's dead-serious drama Boys Don't Cry. She said she prepared for the role by shaving off all her hair and living as a man for a month before filming. The film was based on the true story of a girl named Teena Brandon, who had been molested, began dressing as a boy as "a defense strategy", and was eventually murdered when her secret came out. Brandon's mother and friends condemned the film for its many liberties with the facts, but as drama, the movie was a riveting success. She won her second Oscar for Clint Eastwood's 2004 masterpiece Million Dollar Baby, playing a boxer from a white trash background. To prepare, Swank trained for five months, boxing for at least two hours daily, and put on 15 pounds of muscle.
She has also chased Al Pacino and Robin Williams around Alaska in Insomnia, and played feminist Alice Paul in the suffragette drama Iron Jawed Angels.
---
[1] At her audition for Boys Don't Cry, Swank told the film's director that she was raised in Lincoln, Nebraska, the character's home town. It was a little lie to get an edge on getting the role, but many news clippings about Swank still insist that she hails from Lincoln.

Mother: Judy Swank
Husband: Chad Lowe (actor, dated 1993-97, m. 28-Sep-1997, sep. Dec-2005)
Boyfriend: John Campisi (agent, dated 2006)


High School: South Pasadena High School, South Pasadena, CA (dropped out)
University: Santa Monica College


Oscar for Best Actress 2000 for Boys Don't Cry
Oscar for Best Actress 2005 for Million Dollar Baby
Golden Globe 2000 for Boys Don't Cry
Golden Globe 2005 for Million Dollar Baby
Hollywood Walk of Fame 8-Jan-2007 at 6925 Hollywood Blvd.
Risk Factors: Skydiving


TELEVISION
Beverly Hills, 90210 Carly Reynolds (1997-98)
Camp Wilder Danielle (1992-93)
Evening Shade Aimee (1991-92)


FILMOGRAPHY AS ACTOR
I Am Mother (25-Jan-2019)
Logan Lucky (7-Aug-2017)
You're Not You (27-Sep-2014)
The Homesman (18-May-2014)
Mary and Martha (1-Mar-2013) · Mary
New Year's Eve (5-Dec-2011) · Claire Morgan
The Resident (10-Feb-2011) · Juliet Devereau
Conviction (11-Sep-2010) · Betty Anne Waters
Amelia (23-Oct-2009) · Amelia Earhart
Birds of America (24-Jan-2008) · Laura
P.S. I Love You (20-Dec-2007)
The Reaping (4-Apr-2007)
Freedom Writers (5-Jan-2007)
The Black Dahlia (9-Aug-2006) · Madeleine Linscott
Million Dollar Baby (15-Dec-2004) · Maggie Fitzgerald
Red Dust (13-Sep-2004)
Iron Jawed Angels (16-Jan-2004)
11:14 (16-May-2003)
The Core (25-Mar-2003) · Beck
Insomnia (3-May-2002) · Ellie Burr
The Affair of the Necklace (20-Nov-2001) · Jeanne St. Remy de Valois
The Gift (20-Dec-2000)
Boys Don't Cry (1-Oct-1999) · Brandon Teena
Quiet Days in Hollywood (17-Jul-1997) · Lolita
Dying to Belong (24-Feb-1997)
Kounterfeit (15-Nov-1996)
Sometimes They Come Back... Again (1-Nov-1996)
The Next Karate Kid (3-Aug-1994) · Julie Pierce
Cries Unheard: The Donna Yaklich Story (1-Feb-1994)
Buffy the Vampire Slayer (31-Jul-1992) · Kimberly





Requires Flash 7+ and Javascript.



Do you know something we don't?
Submit a correction or make a comment about this profile






Copyright ©2019 Soylent Communications