Million Dollar Baby (15-Dec-2004)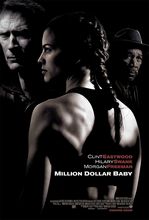 Director: Clint Eastwood
Writer: Paul Haggis
Based on a book: Rope Burns: Stories From the Corner by F. X. Toole (book of short stories)
Music by: Clint Eastwood
Producers: Clint Eastwood; Albert S. Ruddy; Tom Rosenberg; Paul Haggis
Keywords: Sports Drama, Boxing




Sports drama follows an ambitious young woman's quest to become an elite professional boxer.
ABSTRACT
Frankie Dunn, a gifted boxing trainer and owner/operator of an overlooked Los Angeles gym called the Hit Pit, takes Missouri waitress-cum-aspiring boxer Maggie Fitzgerald under his wing after her will and determination win out over his initial reluctance to train a woman. What follows is a classic "underdog" sports tale with a gut-wrenching twist, following Maggie's tough rise through the ranks of the boxing world up until her fateful million-dollar bout against German prostitute-turned-dirty fighter Billie "The Blue Bear".
[watch trailer]
CAST
Clint Eastwood
... Frankie Dunn
Hilary Swank
... Maggie Fitzgerald
Morgan Freeman
... Eddie Scrap-Iron Dupris
Anthony Mackie
... Shawrelle Berry
Jay Baruchel
... Danger Barch
Mike Colter
... Big Willie Little
Lucia Rijker
... Billie "The Blue Bear"
Brían O'Byrne
... Fr. Horvak
Margo Martindale
... Earline Fitzgerald
Riki Lindhome
... Mardell Fitzgerald
Michael Peña
... Omar
Benito Martinez
... Billie's Manager
Bruce MacVittie
... Mickey Mack
David Powledge
... Counterman at Diner
Joe d'Angerio
... Cut Man
Marcus Chait
... J. D. Fitzgerald
Tom McCleister
... Lawyer
Erica Grant
... Nurse
Naveen
... Pakistani
Morgan Eastwood
... Little Girl in Truck
Jamison Yang
... Paramedic
Dean Familton
... Ref #1
Dr. Louis Moret
... Ref #2
V. J. Foster
... Ref #3
Jon D. Schorle II
... Ref #4
Marty Sammon
... Ref #5
Steven M. Porter
... Ref #6
Ray Corona
... Ref #7
Ming Lo
... Rehab Doctor
Miguel Perez
... Restaurant Owner
Jim Cantafio
... Ring Doctor #1
Ted Grossman
... Ring Doctor #2
Ned Eisenberg
... Sally Mendoza
Marco Rodriguez
... Second at Vegas Fight
Roy Nugent
... Fan in Vegas
Don Familton
... Ring Announcer
Mark Thomason
... Radio Commentator
Brian T. Finney
... Irish Fan #1
Spice Williams-Crosby
... Irish Fan #2
Kim Strauss
... Irish Fan #3
Rob Maron
... Irish Fan #4
Kirsten Berman
... Irish Fan #5
Susan Krebs
... Rehab Nurse
Sunshine Chantal Parkman
... Rehab Nurse #2
Kim Dannenberg
... Rehab Nurse #3
Eddie Bates
... Rehab Resident
REVIEWS
Review by John Renfro (posted on 15-Feb-2005)
I don't throw around the word "masterpiece" very much, but this movie more that qualifies. It is much more than a "boxing movie", it is a love story and tremendous study of human nature and courage. I was disappointed, before I saw this movie that Clint Eastwood was nominated for Best Actor over Paul Giamatti in Sideways. Now those feelings have evaporated in the sheer brillence of this great movie. Go see it!
---
Do you know something we don't?
Submit a correction or make a comment about this profile

Copyright ©2019 Soylent Communications