William P. Murphy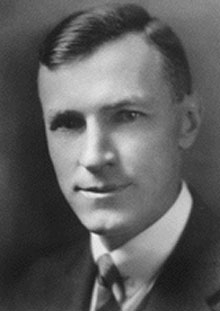 AKA William Parry Murphy
Born: 6-Feb-1892
Birthplace: Stoughton, WI
Died: 9-Oct-1987
Location of death: Brookline, MA
Cause of death: unspecified

Gender: Male
Race or Ethnicity: White
Sexual orientation: Straight
Occupation: Scientist, Doctor
Nationality: United States
Executive summary: Liver therapy for pernicious anemia
Military service: US Army (1917-18)
As a young man, William Murphy's only interest was in practicing medicine, but he could not afford tuition to medical school. Instead he taught math in public schools, saving from each paycheck for eventual admission to the University of Oregon Medical School, where, after one year of study, he was unable to afford his second year's tuition. He spent two years in the Army, before discovering and applying for a peculiar fellowship at Harvard, endowed by 1885 alumnus William Stanislaus Murphy (no relation) specifically to help fund "collegiate education of men of the name of Murphy." The fund for Murphys has since been depleted, but it allowed William Murphy to become Dr Murphy in 1922.
He then practiced in Boston and taught at Harvard, where he was drawn into research into research on diabetes mellitus and pernicious anemia. Working with Dr George R. Minot, Murphy noted that anemia patients showed marked improvement when they were fed large quantities of liver. This so-called "liver therapy" made an often-fatal disease into an easily treated malady, saving many thousands of lives. Subsequent research isolated vitamin B12 from liver, as a successful therapy for anemia. For this, Murphy, Minot, and George H. Whipple shared the 1934 Nobel Prize.
His wife, Pearl Harriett Adams Murphy, was a descendant of US President John Adams, and she became the first licensed female dentist in Massachusetts. Their daughter Priscilla showed a great interest in aviation, but was killed at 16 when a small plane she was piloting crashed. Their son, William P. Murphy Jr, was, like his father, a doctor of some renown. He designed and constructed the first dialysis machines, improved the engineering on blood bags used during transfusions, and in 1957 he founded the Medical Development Corporation, which became Cordis Corporation and is now owned by Johnson & Johnson. Cordis built the first physiologic cardiac pacemaker, among numerous other medical innovations. The younger Dr Murphy, working with his friend Dean Kamen, also founded FIRST (For Inspiration and Recognition of Science and Technology), a non-profit group dedicated to inspiring young people's interest in science, technology and engineering.
Father: Thomas Francis Murphy (minister)
Mother: Rose Anna Parry Murphy
Wife: Pearl Harriett Adams Murphy (dentist, m. 10-Sep-1919)
Daughter: Priscilla Adams Murphy (b. 1920 d. 1936 airplane crash)
Son: William Parry Murphy Jr (physician, b. 1923)

High School: Stoughton High School, Stoughton, WI (1910)
University: BA, University of Oregon (1914)
Teacher: high school Mathematics (1914-16)
Medical School: University of Oregon (1916-17)
Medical School: Rush University (1917)
Medical School: MD, Harvard Medical School (1922)
Teacher: Medicine, Harvard Medical School (1924-58)

Nobel Prize for Medicine 1934 (with George R. Minot and George H. Whipple

Author of books:
Anemia in Practice: Pernicious Anemia (1939, textbook)

Do you know something we don't?
Submit a correction or make a comment about this profile

Copyright ©2019 Soylent Communications