Mike Tyson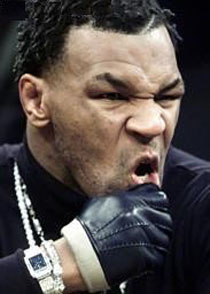 AKA Michael Gerard Tyson
Born: 30-Jun-1966
Birthplace: Brooklyn, NY [1]

Gender: Male
Religion: Muslim
Race or Ethnicity: Black
Sexual orientation: Straight
Occupation: Boxing
Nationality: United States
Executive summary: Erratic heavyweight champion
Called "Iron Mike" by his fans, Tyson has a childlike voice and a disarmingly cute, cartoonesque lisp, but he always fought with great skill and a stubborn refusal to lose. As a boy Tyson was often arrested, and after being nabbed for purse-snatching at age 12, he was sent to an upstate juvenile reformatory, where he was taught boxing. At age 16, he was expelled from high school. Tyson fought his first professional fight at age 18, winning by knock-out in the first round. He fought for the World Boxing Council (WBC) championship a year and a half later, defeating Trevor Berbick to win the title in 1986. At 19, Tyson was the youngest man ever to hold this title. The following year he became the "undisputed heavyweight champion of the world" by defeating James 'Bonecrusher' Smith for the World Boxing Association (WBA) title, and Tony Tucker for the International Boxing Federation (IBF) championship.
Also in 1986, a sales clerk in an Albany, N.Y., shopping mall complained that Tyson had become violent when she rebuffed his sexual proposition. Later the same night, Tyson was ejected from a nearby movie theater following a similar complaint. In June 1987, Tyson allegedly tried to kiss a woman in a parking lot, and struck the lot attendant who came to the woman's defense. Tyson was charged with misdemeanor assault and battery and assault with a deadly weapon, but paid $105,000 to settle the case out of court. In February 1988, Tyson married Robin Givens. Four months later Givens and her family went public with allegations that Tyson had beaten her. In August 1988, Tyson broke a bone in his hand in an early-morning street brawl with another professional fighter, Mitch Green, in Harlem. A month later, Tyson was KO'd when he drove his BMW into a tree, described as a "suicide attempt" in The New York Daily News.
In September 1988, Givens and Tyson sat down for a bizarre joint interview on national television, with Givens explaining that Tyson was a manic-depressive and that she was afraid of him. Two days later, police were summoned to Tyson's home after he threw furniture out the window and demanded that Givens and her mother leave. Five days later, Givens filed for divorce. In December 1988, two women filed separate claims that Tyson had grabbed and groped them in a nightclub; Tyson was eventually fined $100. In April 1989, Tyson was accused of beating a parking lot attendant outside a Los Angeles nightclub. The charges were later dropped when witnesses refused to cooperate with prosecutors.
In a 1990 fight, Tyson lost all three of his titles to James 'Buster' Douglas. The following year, he was convicted of raping a beauty pageant contestant named Desiree Washington. He was sentenced to ten years in prison, with four years suspended by the judge. He was paroled in 1995, after serving three years. Out of prison, in 1996, Tyson regained the WBC title by knocking out Frank Bruno, and regained the WBA title by KO'ing Bruce Seldon in 93 seconds. Two months later, he lost the WBA title to Evander Holyfield.
In a 1997 rematch in Las Vegas, Tyson was disqualified in the third round, after biting a chunk out of Holyfield's ear. Boxers always wear gum-shields to protect their teeth, which means Tyson's bite was almost certainly premeditated -- he removed his gum-shield during the break between the second and third rounds, and neglected to reinsert it before resuming the fight. Tyson was suspended from boxing for one year.
Still, 1998 was a busy year for Tyson. He sued his former managers, alleging they had tricked him into signing an exclusive contract with famed boxing promoter Don King. Tyson also sued King, accusing him of swindling tens of millions of dollars. Two women sued Tyson for sexual harassment in a Washington bistro. Tyson's former trainer was awarded $4-million when a court determined that he had been unjustly fired. On Aug. 31, Tyson was involved in a minor auto accident, and was restrained by his own bodyguards to keep from attacking the other car's driver (said the bodyguards) or punched the other driver and kicked a passenger in the groin (said a bruised driver and bent-over passenger). Tyson also testified before the New Jersey Athletic Control Board, seeking to have his boxing license reinstated so he could fight in Atlantic City, but he ended the hearing cursing at the Board for their repeated questions about Holyfield's ear.
In 1999, Tyson was sentenced to a year in prison, fined $5,000, and ordered to serve 2 years probation and perform 200 hours of community service for the 1998 assaults after the car accident. He served nine months before being released. Tyson wanted to fight Lennox Lewis in 2002 in Nevada, but was refused a license by the Nevada Boxing Commission. The fight was instead held in Memphis, where Tyson was knocked out in the eighth round.
Tyson has earned about $300,000,000 so far in his boxing career, which is substantially more than any other pugilist in history. In August 2003, however, he declared bankruptcy.
In 2003, Tyson, who has always maintained his innocence of raping Washington, expressed his regret over the incident: "I just hate [Washington's] guts. She put me in that state, where I don't know. I really wish I did now. But now I really do want to rape her and her fucking mama."
Tyson has licensed his name for five video games, the first of which was Mike Tyson's Punch Out!! (1987) for the original Nintendo. In Mike Tyson Heavyweight Boxing, for PlayStation 2, brawlers inflict real-time facial damage, with their faces reddened and bruised as their digital heads are pummeled. In an upcoming reality show on Animal Planet, Tyson's many pet pigeons will compete in pigeon races.
---
[1] Cumberland Hospital, Brooklyn, NY.

Father: Jimmy Kirkpatrick (d. 28-Oct-1992)
Mother: Lorna (Smith) Tyson
Brother: Rodney
Sister: Denise
Wife: Robin Givens (actress, Blankman; m. 7-Feb-1988, div. 14-Feb-1989)
Wife: Monica Turner (doctor; sister of Michael S. Steele, m. 19-Apr-1997, div. 13-Jan-2003, two children)
Daughter: Rayna Tyson (b. 14-Feb-1996 with Turner)
Son: Amir Tyson (b. 15-Aug-1997 with Turner)
Girlfriend: Sol Xochitl (together mid-2000s, at least one daughter)
Daughter: Exodus Tyson (b. circa 2005 with Xochitl, d. 26-May-2009 accidental suffocation)
Girlfriend: Naomi Campbell (supermodel)
Slept with: Kimberly Scarborough
Wife: Lakiha Spicer (m. Jun-2009)


High School: Catskill High School (expelled)


World Heavyweight Champion 22-Nov-1986 to 7-Mar-1987 (WBC)
World Heavyweight Champion 7-Mar-1987 to 1-Aug-1987 (WBA and WBC)
World Heavyweight Champion 1-Aug-1987 to 10-Feb-1990 (IBF, WBA, WBC)
World Heavyweight Champion 16-Mar-1996 to 7-Sep-1996 (WBC)
World Heavyweight Champion 7-Sep-1996 to 24-Sep-1996 (WBA and WBC)
World Heavyweight Champion 24-Sep-1996 to 9-Nov-1996 (WBA)
International Boxing Hall of Fame 2010
Converted to Islam
Endorsement of Pepsi Diet Pepsi (1988)
Endorsement of Nintendo Mike Tyson's Punch-Out!! (1987)
Purse Snatching Brooklyn, NY (1978)
Expelled from School
Traveled to the USSR 9-Sep-1988
Battery Sandra Miller awarded $100 (1-Nov-1990)
Rape Desiree Washington in Indianapolis, Indiana (1991)
Assault Aug-1998
Vandalism (misdemeanor criminal damage) Scottsdale, AZ (27-Nov-2004)
Driving While Intoxicated Phoenix, AZ (29-Dec-2006)
Drug Possession: Cocaine Phoenix, AZ (29-Dec-2006)
Battery L.A. Airport, Los Angeles, CA (11-Nov-2009)
Paternity Test
Bankruptcy Manhattan, NY (1-Aug-2003)
Hunger Strike
unknown detox facility The Meadows, AZ (Apr-2006)
unknown detox facility Wonderland Center, Hollywood Hills, CA (Jan-2007)
WWE Hall of Fame 2012
Funeral: Muhammad Ali (2016) Pallbearer
Risk Factors: Alcoholism, Gonorrhea, Marijuana


FILMOGRAPHY AS ACTOR
A Madea Family Funeral (28-Feb-2019)
Meet the Blacks (1-Apr-2016)
Ip Man 3 (16-Dec-2015)
Entourage (27-May-2015)
I Am Ali (10-Oct-2014) · Himself
Grudge Match (16-Dec-2013) · Himself
Scary MoVie (11-Apr-2013) · Himself
The Hangover Part II (25-May-2011) · Himself
The Hangover (2-Jun-2009) · Himself
Tyson (May-2008) · Himself
Fool N Final (1-Jun-2007) · Himself
Rocky Balboa (20-Dec-2006) · Himself
The Outsider (22-Apr-2005) · Himself
When Will I Be Loved (6-Jun-2004) · Himself
Crocodile Dundee in Los Angeles (12-Apr-2001) · Himself
Play It to the Bone (25-Dec-1999)
Black and White (4-Sep-1999) · Himself


Official Website:
http://www.miketyson.com/

Rotten Library Page:
Mike Tyson




Requires Flash 7+ and Javascript.



Do you know something we don't?
Submit a correction or make a comment about this profile






Copyright ©2019 Soylent Communications