Jack Idema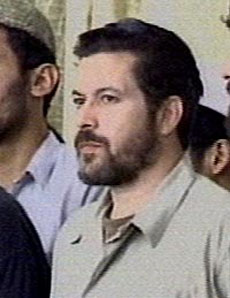 AKA Jonathan Keith Idema
Born: 30-May-1956
Birthplace: Poughkeepsie, NY
Died: 21-Jan-2012
Location of death: Quintana Roo, Mexico
Cause of death: AIDS

Gender: Male
Race or Ethnicity: White
Sexual orientation: Straight
Occupation: Military, Criminal
Nationality: United States
Executive summary: Green Beret wannabe
Military service: US Army (Special Forces, 1975-78)
Immortalized in the book The Hunt for Bin Laden. Arrested in Kabul, Afghanistan for running an unlicensed private jail which he ran with two subordinates. Collectively the freelancers called themselves Task Force Sabre 7.
According to one of Idema's websites:
When he was a Green Beret, Idema, 45, traveled to some dangerous areas, and his trusted companion in parachuting out of airplanes and sniffing out bombs was his Tibetan shepherd, Sarge. Idema even has a Web site detailing Sarge's heroics.

Unfortunately, Sarge's biological children have been underachievers. In fact, Sarge, 15, has outlived most of them.

"I know I'm trained for war, but every time I think about losing Sarge, I get teary-eyed", Idema said.
Upon receiving a ten-year prison sentence in an Afghan court, Idema lamented:
"I apologize that we saved these people[...] We should have let the fucking Taliban murder every goddamn one of them -- I operated in this country at the highest level."
Father: H. John Idema
Wife: Vickie Robertson ("Viktoria Runningwolf")
Girlfriend: Patricia Dawn Glosson

High School: (Poughkeepsie, NY)

Assault Kabul, Afghanistan (2004)
Robbery Kabul, Afghanistan (2004)
Torture Kabul, Afghanistan (2004)
Impersonating a Police Officer (arrested Jan-2004)
Assault with a Deadly Weapon reportedly shot at unarmed Dallas Morning News reporter Tod Robberson in Kabul (20-Apr-2002, no charges filed)
Conspiracy (convicted 1994)
Wire Fraud 58 counts (convicted 1994)
Assault
Resisting Arrest
Eagle Scout According to father

Do you know something we don't?
Submit a correction or make a comment about this profile

Copyright ©2019 Soylent Communications