Ossie Davis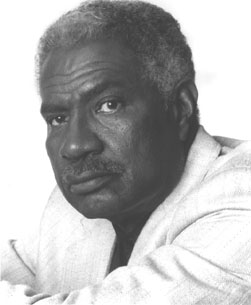 AKA Raiford Chatman Davis
Born: 18-Dec-1917
Birthplace: Cogdell, GA
Died: 4-Feb-2005
Location of death: Miami, FL
Cause of death: Heart Failure
Remains: Cremated

Gender: Male
Race or Ethnicity: Black
Sexual orientation: Straight
Occupation: Actor, Activist, Playwright
Nationality: United States
Executive summary: Do The Right Thing
Military service: US Army (1942-45)
He was born Raiford Chatman Davis, which was promptly shortened to "R.C.", and heard by friends and neighbors as "Ossie." He studied drama at Howard University, but dropped out to pursue a career on stage -- plans which were interrupted by World War II.
He served in the Army Medical Corps in Liberia for nearly three years, helping to establish a hospital there for African-American soldiers -- the Army, of course, was still segregated. After his tour of duty, Davis came to New York, and made his Broadway debut in 1946 in Jeb. The play closed one week after it opened, but in the cast was Ruby Dee. Neither remembered the moment they met, but they toured together in a production of Anna Lucasta, and were married in 1948. It was a long, loving, happy and wide open marriage that lasted till death did them part in early 2005.
"It occurred to us, from observation and reasoning, that extramarital sex was not what really destroyed marriages, but rather the lies and deception that invariably accompanied it -- that was the culprit. So we decided to give ourselves permission to sleep with other partners if we wished -- as long as what we did was honest as well as private, and that neither of us exposed the family to scandal or disease. We had to be discreet and, if the word can be apt, honorable in our behavior, both to ourselves, to whomever else might be involved, and most of all, to the family. And for the most part, we were."
Davis returned to Broadway often. He wrote and starred in the title role in Purlie Victorious with Sorrell Booke and Alan Alda, a controversial play about segregation. He also wrote and starred in the film adaptation, titled Gone Are the Days!. He later re-wrote the play as the stage musical Purlie, which played on Broadway with Cleavon Little and Melba Moore, and was filmed with Robert Guillaume and Sherman Hemsley.

As an actor, Davis appeared on stage in A Raisin in the Sun, I'm Not Rappaport, and of course, many other plays over his long career. In his first film, 1950's No Way Out with Richard Widmark and Sidney Poitier, Davis's role was so small he didn't even receive screen credit -- and Dee played his wife, as she often did.

In later films, he was the neighborhood elder who gave Spike Lee the titular advice: "Do the right thing." He played Martin Luther King Sr. to Paul Winfield's Junior in the top-notch miniseries King, and John F. Kennedy in Bubba Ho-tep, opposite Bruce Campbell's Elvis Presley.

He played Omar on Car 54, Where Are You?, and wrote For Us the Living: The Medgar Evers Story. He was one of the first blacks permitted to direct major Hollywood films, beginning with Cotton Comes to Harlem in 1970, with Godfrey Cambridge and Redd Foxx.

Davis and Dee raised their three children with blanket permission to smoke marijuana and have sex, so long as they did these things in the safety of the family home.

Davis delivered the eulogy in Lee's Malcolm X -- the same eulogy he had actually delivered at Malcolm X's memorial service. Davis and Dee were always politically active, in a time when it was not only unpopular but downright dangerous to speak out for the civil rights movement, and in vigorous opposition to Senator Joseph McCarthy's Communist witch hunt.

Davis did voice-overs for the United Negro College Fund for many years, speaking the words, "A mind is a terrible thing to waste." He co-founded Third World Cinema, a production company to help African-American and Puerto Rican filmmakers. In his later years, Davis worked to obtain a new trial for Mumia Abu-Jamal.

Father: Kince Charles Davis (railroad engineer)
Mother: Laura (Cooper) Davis (housewife)
Sister: Essie Mae
Brother: Kenneth
Brother: William
Brother: James
Wife: Ruby Dee (actress, m. 9-Dec-1948, one son, two daughters)
Son: Guy Davis (blues musician, b. 12-May-1952)
Daughter: Nora Day
Daughter: Hasna Muhammad (doctor)


High School: Center High School, Waycross, GA
University: Howard University (dropped out)
University: Columbia University


Congress of Racial Equality
Gore 2000
NAACP
National Leadership PAC
Southern Christian Leadership Conference
United Negro College Fund
Urban League
Black Filmmakers Hall of Fame 1974
Kennedy Center Honor 2004
National Medal of Arts 1995


TELEVISION
The L Word Melvin Porter (2004-05)
Promised Land Erasmus Jones (1996-98)
The Client Judge Harry Roosevelt (1995-96)
Evening Shade Ponder Blue (1990-94)
B. L. Stryker Oz Jackson (1989-90)
Car 54, Where Are You? Omar (1962-63)


FILMOGRAPHY AS DIRECTOR
Countdown at Kusini (16-Apr-1976)
Gordon's War (9-Aug-1973)
Black Girl (9-Nov-1972)
Cotton Comes to Harlem (27-May-1970)


FILMOGRAPHY AS ACTOR
Proud (11-Nov-2004)
She Hate Me (28-Jul-2004) · Judge Buchanan
Baadasssss! (7-Sep-2003) · Granddad
Deacons for Defense (2003)
Bubba Ho-Tep (9-Jun-2002) · Jack
Feast of All Saints (11-Nov-2001)
Dinosaur (13-May-2000) [VOICE]
Finding Buck McHenry (16-Apr-2000) · Buck McHenry
The Soul Collector (24-Oct-1999)
The Secret Path (4-Apr-1999)
Doctor Dolittle (13-Jun-1998) · Archer Dolittle
12 Angry Men (17-Aug-1997)
4 Little Girls (9-Jul-1997) · Himself
Miss Evers' Boys (22-Feb-1997)
I'm Not Rappaport (24-Dec-1996) · Midge
Get on the Bus (16-Oct-1996) · Jeremiah
Baseball (18-Sep-1994) · Himself
The Client (20-Jul-1994)
The Stand (8-May-1994)
Grumpy Old Men (25-Dec-1993) · Chuck
Queen (14-Feb-1993)
The Ernest Green Story (17-Jan-1993)
Malcolm X (18-Nov-1992) · Eulogy Performer [VOICE]
Gladiator (6-Mar-1992)
Jungle Fever (5-Jun-1991) · The Good Rev. Dr. Purify
Joe Versus the Volcano (9-Mar-1990)
The Red Shoes (7-Feb-1990) [VOICE]
Do the Right Thing (14-Jan-1989) · Da Mayor
School Daze (12-Feb-1988)
Avenging Angel (10-May-1985)
Harry and Son (2-Mar-1984)
The House of God (1984) · Dr. Sanders
Don't Look Back: The Story of Leroy "Satchel" Paige (31-May-1981)
Death of a Prophet (1981) · Himself
All God's Children (28-Apr-1980)
Freedom Road (29-Oct-1979) · Narrator
Hot Stuff (May-1979)
King (12-Feb-1978)
Countdown at Kusini (16-Apr-1976)
Let's Do It Again (11-Oct-1975)
Malcolm X (24-May-1972) [VOICE]
Slaves (2-Jul-1969)
Sam Whiskey (1-Apr-1969) · Jed Hooker
The Scalphunters (2-Apr-1968) · Joseph Lee
A Man Called Adam (3-Aug-1966) · Nelson Davis
The Hill (2-Aug-1965) · Jacko King
Shock Treatment (22-Jul-1964) · Capshaw
The Cardinal (12-Dec-1963) · Fr. Gillis
Gone Are the Days! (9-Aug-1963) · Rev. Purlie Victorious Judson





Requires Flash 7+ and Javascript.



Do you know something we don't?
Submit a correction or make a comment about this profile






Copyright ©2019 Soylent Communications