Maria Montessori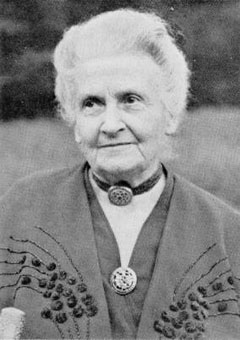 Born: 31-Aug-1870
Birthplace: Chiaravalle, Italy
Died: 6-May-1952
Location of death: Noordwijk aan Zee, Netherlands
Cause of death: unspecified
Remains: Buried, Noordwijk aan Zee, Netherlands

Gender: Female
Religion: Roman Catholic
Race or Ethnicity: White
Sexual orientation: Straight
Occupation: Educator, Scientist
Nationality: Italy
Executive summary: Founder of Montessori Education Method
An Italian educator of the early 20th century, Maria Montessori is remembered as the founder of the famous Montessori Method of education which emphasized hands-on, individualized learning within mixed age groups in a child-friendly setting. Her teaching strategies and her discoveries about the process of learning revolutionized the field of education in the United States and profoundly influenced children's education all around the world. Despite the familiarity of her name, few realize that much of the developmental, "hands-on" approach now employed in preschools and kindergartens can be traced to the innovations of Maria Montessori. Although best known as an educator, Montessori's formal training was as a scientist and medical doctor. She is also notable for having been one of Italy's first female physicians. For her committed efforts on behalf of children, especially in the face of the fascism of World War II, Montessori was nominated three times for the Nobel Peace Prize (1949, 1950, and 1951).
Maria Montessori was born 31 August 1870 in Chiaravalle, Italy. Her father was a civil servant and former soldier. Her mother was unusually well educated and an avid reader, and Maria herself proved remarkably precocious. She was confident and strong-minded, excelling in school and often taking on the role of leader in games and conversations. At the age of thirteen she entered a technical school, a thing considered off-limits to females. She subsequently received such high marks that when she graduated, in 1886, she was able to enter the Regio Istituto Tecnico Leonardo da Vinci. Here she studied math, natural sciences, and languages, again excelling beyond all expectations. It was here too that she became enthralled with the biological sciences, and began to dream of pursuing a career in medicine.
But in 1890, when Montessori applied to the University of Rome, she was denied entrance to the medical program because of her gender. Montessori was not one to be easily discouraged. She enrolled at the University to study physics, mathematics, and the natural sciences. She applied herself with steadfast resolve despite the distraction of an ongoing rift with her beloved father, who strongly disapproved of the decision. Two years later she had earned her Diploma di licenza. Eventually, despite her gender, she was allowed to study medicine. When she presented her thesis in 1896, her sheer brilliance so impressed the all-male board of review that they awarded her a full medical degree, making her Italy's first woman doctor.
Soon after this accomplishment she was promoted to surgical assistant at Santo Spirito, where she had worked previously as medical assistant. She continued research at the University of Rome, joining the university staff in 1897. Along the way she entered into a love affair with another doctor and became pregnant. Rather than marry, the determined and unconventional Montessori gave her infant son as fosterling to a family in the countryside. Although she kept track of him, the two saw little of each other in the early years of his life. (He would return to her side at age fifteen, and eventually become her most valued assistant.)
Maria's work meanwhile expanded to include regular work in insane asylums, with mentally handicapped children. She became interested in psychology and human behavior, and by 1904 had accepted a professorship in anthropology at the University of Rome. She surrendered the position in 1906 however to follow what would become her life's work, re-engineering the field of children's education. Her initial focus was to rehabilitate society's discarded children: the mentally retarded, children with behavior problems, orphans, and the desperately poor. Montessori's early efforts were so astonishingly successful that she soon amassed a large following, not only of parents desperate for her help, but of teachers desperate to learn her methods.
Ironically, Montessori's methods were not derived from any extant pedagogical wisdom. She had in fact sidestepped the more traditional education path for women -- teacher's training -- in favor of science. But as an astute scientist and quick-minded observer, she had soon discovered some important and, for the period, revolutionary principles about children and the process of learning. Among these was the notion that children have an innate drive to learn, and that all on their own they are capable of amassing an incredible amount of information and wisdom about the world around them. This was startling news at the turn of the century as hitherto it had been assumed that children could only learn through instruction -- or more specifically, from being lectured by an adult.
Montessori further discovered that children's innate power for learning worked best when they were turned loose in a safe, hands-on-learning environment. Given furniture, equipment, and supplies that they could access and work all by themselves, they were self-motivated to explore, experiment, and reach new understandings. She found self-correcting, or "auto-didactic", puzzles and other equipment to be an essential component of independent learning and the child-friendly environment. What's more, she found that if children were put into groups with other children with a small range in ages (such as 3-6, 6-9, 9-11, etc.), they would not only work together but also help teach each other. Older children would learn teaching and nurturing skills, and younger children would glimpse strategies for learning and playing that they had not considered yet.
Montessori also found that children of all ages thrived when they were given the opportunity to experience mastery of real life skills and knowledge that was appropriate to their age and stage of life. Thus preschoolers thrilled at being allowed to assist in the kitchen and felt pride and increased self-esteem at being able to help set the table and use appropriate manners and verbal expressions. Meanwhile the self-confidence and joy of young teenagers was bolstered by mastering basic home economics, and by learning information about running a business, or building furniture or a home. These young teens also did best when the primary emphasis in their learning process was practical and action oriented, rather than purely intellectual. Montessori believed this was because this age group was under so much psychological and physiological (i.e. hormones) pressure that the surging swings of emotion made it harder to focus on purely abstract studies. (An interesting premise somewhat contradicting Jean Piaget's theories about this same stage of development.)
Above all, Montessori felt her most significant discovery was the awareness that it is the teacher who must pay rapt attention to the students, not the other way around -- a notion utterly contrary to the expectations of her day. But she found that by observing how the individual children responded to various lessons and materials, she could easily figure out what lessons/experiences to present next. And by acknowledging that each child is an individual, with individual needs and abilities, she could apply this method to guiding particular children to fulfillment of their potential. What's more, she demonstrated the truth of this philosophy by transforming the lives, and minds, of the children with whom she worked: Mentally handicapped children, once relegated to the asylum, were now able not only to master basic skills of self-care, but to pass academic tests designed for mainstream children.
This feat attracted the attention of Alexander Graham Bell, Thomas Edison, and even disabilities activist Helen Keller. Bell founded the Montessori Educational Association, headquartered in Washington D.C., and Montessori was invited to the U.S. in 1913. In 1915 she spoke at Carnegie Hall, and later that year made a profound impression when she demonstrated her techniques at the Panama-Pacific Exposition in San Francisco. A wave of enthusiasm for the Montessori method swept the United States.
But other countries were taking note as well, and in 1929 Montessori opened the Association Montessori International in the Netherlands, with another center following in 1947 in London. The political world had its own affairs in the works however, most notably the rise of fascism in Italy and the spread of Germany's Nazi regime. Montessori found herself under dire pressure to turn her schools into training centers, to mass-produce soldiers for the war. Naturally she refused, and for a brief time she and son Mario were interned. Freed and then exiled by Mussolini, they fled from Italy, taking refuge initially in Spain and India, and finally the Netherlands. It was there, in 1952, that Maria Montessori died, leaving her son Mario to assume the mantle of leadership for their Association Montessori Internationale.
Although she had faded considerably from popular awareness by the time of her death, her name lives through the method of teaching that she introduced. Curiously, few who are familiar with the phrase "Montessori School" know anything about the original principles of the Montessori method. What's more, because the term "Montessori" is not patented, many so-called Montessori schools seem poorly acquainted with the philosophy of learning promoted by Maria Montessori. Some appear to believe "Montessori Method" is all about toys being put away neatly on shelves or about old-fashioned style puzzles and manipulatives purchased at exorbitant fees from specialized distributors. Montessori herself felt that the crucial ingredient was learning to be a good observer of children, learning to deduce and intuit what children need, both in general and as unique individuals, in order to develop to their fullest potential.
Father: Alessandro Montessori (soldier, civil servant)
Mother: Renilde Stoppani
Boyfriend: Dr. Montesano
Son: Mario Montessori (out of wedlock)

High School: Regia Scuola Tecnica Michelangelo
University: Regio Istituto Tecnico Leonardo da Vinci
Medical School: University of Rome
Professor: Anthropology, University of Rome

Author of books:
The Montessori Method (1912, education)

Do you know something we don't?
Submit a correction or make a comment about this profile

Copyright ©2019 Soylent Communications