Lloyd Kaufman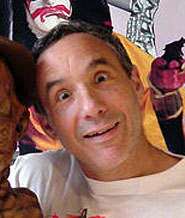 AKA Stanley Lloyd Kaufman, Jr.
Born: 30-Dec-1945
Birthplace: New York City

Gender: Male
Religion: Jewish
Race or Ethnicity: White
Sexual orientation: Bisexual
Occupation: Film Director, Actor
Nationality: United States
Executive summary: The Toxic Avenger
Co-Founder of Troma Entertainment. Admits a fondness for young men on an interview segment of Orgazmo (a film by the South Park guys, funded by Troma). Seems like a great guy.
Brother: Charles Kaufman (director)
Wife: Patricia Kaufman
Daughter: Lily Hayes
Daughter: Lisbeth
Daughter: Charlotte

High School: Trinity School (1964)
University: Yale University (1969)

FILMOGRAPHY AS DIRECTOR
Parts of the Family (10-Jan-2003)
Citizen Toxie: The Toxic Avenger IV (7-Apr-2001)
Terror Firmer (29-Oct-1999)
Tromeo and Juliet (13-May-1996)
Sgt. Kabukiman N.Y.P.D. (1-Jan-1991)
The Toxic Avenger Part III: The Last Temptation of Toxie (24-Nov-1989)
The Toxic Avenger, Part II (24-Feb-1989)
Troma's War (9-Dec-1988)
Class of Nuke 'Em High (17-May-1986)
The Toxic Avenger (29-May-1985)
The First Turn-On! (Nov-1983)
Stuck on You! (1983)
Waitress! (Sep-1982)
Squeeze Play (24-Sep-1979)

FILMOGRAPHY AS ACTOR
Cell (19-May-2016)
1 Chance 2 Dance (21-Jan-2014)
Big Ass Spider! (12-Mar-2013) · Himself
Mother's Day (23-Sep-2010) · Mortgage Broker #1
Super (10-Sep-2010) · 911 Man
Popatopolis (6-Oct-2009) · Himself
Gamer (3-Sep-2009) · Genericon
Crank 2: High Voltage (16-Apr-2009) · Maintenance Guy #1
Nun of That (10-Apr-2009)
Slither (31-Mar-2006)
Slaughter Party (15-Oct-2005)
Nowhere Man (11-Mar-2005)
Die You Zombie Bastards! (Feb-2005)
LolliLove (21-Nov-2004)
Punk Rock Holocaust (31-Oct-2004)
Tales from the Crapper (29-Jan-2004) [VOICE]
Nikos the Impaler (8-Mar-2003) · Himself
Parts of the Family (10-Jan-2003)
Cravate Club (3-Jul-2002)
Mulva: Zombie Ass Kicker! (7-Apr-2001)
Waiting (12-May-2000)
Terror Firmer (29-Oct-1999)
Tomorrow by Midnight (1999)
Orgazmo (6-Sep-1997) · Doctor
Tromeo and Juliet (13-May-1996)
Cannes Man (1996) · Himself
Class of Nuke 'Em High Part II: Subhumanoid Meltdown (12-Apr-1991) [VOICE]
The Final Countdown (9-Jul-1980) · Lt. Cmdr. Kaufman
Slow Dancing in the Big City (8-Nov-1978)
Rocky (21-Nov-1976) · Drunk
Cry Uncle! (17-Aug-1971) · 2nd Hippie

Official Website:
http://www.lloydkaufman.com/
Do you know something we don't?
Submit a correction or make a comment about this profile

Copyright ©2019 Soylent Communications