Rocky (21-Nov-1976)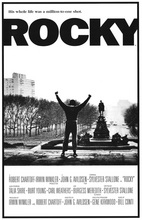 Director: John G. Avildsen
Writer: Sylvester Stallone
Music by: Bill Conti
Producers: Irwin Winkler; Robert Chartoff
Keywords: Sports Drama, Boxing




Rocky Balboa, a loan shark enforcer and small-time boxer from Philadelphia is almost randomly chosen by heavyweight champion Apollo Creed for a show match. Won Oscars for Best Picture, Best Director and Best Editing; nominations for 7 others including Best Actor, Best Actress, two for Best Supporting Actor, and Best Screenplay.
[watch trailer]
CAST
Sylvester Stallone
... Rocky
Also Starring
Talia Shire
... Adrian
Burt Young
... Paulie
Carl Weathers
... Apollo
Co-Starring
Thayer David
... Jergens
Joe Spinell
... Gazzo
Jimmy Gambina
... Mike
George Memmoli
... Ice Rink Attendant
Featuring
Bill Baldwin
... Fight Announcer
Billy Sands
... Club Fight Announcer
Don Sherman
... Bartender
Shirley O'Hara
... Secretary
Arnold Johnson
... Bobby
Tony Burton
... Apollo's Trainer
Jodi Letizia
... Marie
and
Burgess Meredith
... Mickey
Al Salvani
... Cut Man
Diana Lewis
... TV Commentator
George O'Hanlon
... TV Commentator
Larry Carroll
... TV Interviewer
Stan Shaw
... Dipper
Pedro Lovell
... Club Fighter
DeForest Covan
... Apollo's Corner
Simmy Bow
... Club Corner Man
Hank Rolike
... Apollo Corner Man
Kathleen Parker
... Paulie's Date
Frank Stallone
... Timekeeper
Lloyd Kaufman
... Drunk
Jane Marla Robbins
... Owner of Pet Shop
Jack Hollander
... Fats
Joe Sorbello
... Bodyguard
Christopher Avildsen
... Chiptooth
Frankie Van
... Club Fight Referee
Lou Fillipo
... Championship Fight Announcer
Paris Eagle
... Fighter
Frank Stallone, Jr.
... Streetcorner Singer
Robert L. Tangrea
... Streetcorner Singer
Peter Glassberg
... Streetcorner Singer
William E. Ring
... Streetcorner Singer
Joseph C. Giambelluc
... Streetcorner Singer
Special Appearance by
Joe Frazier
... Himself
Butkus Stallone
... Dog
REVIEWS
Review by Vamsee (posted on 20-Feb-2005)
Rocky Balboa from Philadelphia is a boxer who never made it big. He is the muscle man for the loan shark Gazzo. Rocky boxes now and then, just to keep his skill sharp. Except for his trainer Mickey Goldmill, no one thinks Rocky can be a big-time boxer. Rocky befriends Adrina, his friend Paulie's shy sister.
The reigning heavyweight boxing champion, Apollo Creed, wants to give a shot to a "nobody" to make him "somebody". Creed comes across Balboa when checking out the Philadelphia boxing scenario. Balboa's nickname "The Italion Stallion" attracts Creed. The match is supposed to be an easy win for Creed. But Rocky sees it as his once-in-a-lifetime opportunity and starts to train hard with Mickey. Nobody has ever gone a distance with Apollo "Master of Disaster" Creed. In the match, to Creed's surpise, Rocky gets up every time he's down. It's a publicity stunt for the whole world, but for Balboa, it's probably the only chance to be a "somebody" in a neighbourhood full of nobodies.
---
Do you know something we don't?
Submit a correction or make a comment about this profile

Copyright ©2019 Soylent Communications