Jim Broadbent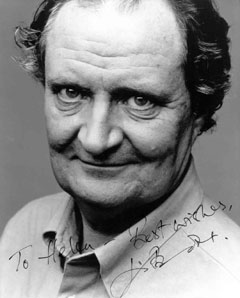 Born: 24-May-1949
Birthplace: Lincoln, Lincolnshire, England

Gender: Male
Race or Ethnicity: White
Sexual orientation: Straight
Occupation: Actor
Nationality: England
Executive summary: Oscar-winning oddball English actor
Broadbent's parents, a woodworker and sculptress, were amateur actors who co-founded a theater group in Lincolnshire. Their love of performing was passed on to their son, who was often in trouble for making smart aleck remarks to teachers. He was expelled from high school for drinking beer, and later dropped out of college after deciding that an ordinary career would be too dull. Instead he entered the London Academy of Music and Dramatic Arts, and upon graduation, unable to find steady work on stage, he worked as a theater's assistant stage manager. In desperation, he signed up with the Ugly Model Agency, a "character agency" that specializes in securing odd-looking people for advertising work. Broadbent says the Ugly Agency never found him work, but his luck at theater auditions soon improved, and eventually acting paid Broadbent's bills.
Broadbent had accumulated a respectable résumé as a stage actor before making his first film (1978's The Shout). British television viewers remember him as the star of The Peter Principal, a BBC sit-com about a bank manager promoted beyond his ability. He first came to American attention as the plastic surgeon stretching Katherine Helmond's face in Terry Gilliam's masterpiece, Brazil. Broadbent was also in the awful Superman IV, and Neil Jordan's art-house hit The Crying Game. He was Renée Zellweger's father in the Bridget Jones movies, Boss Tweed in Martin Scorsese's Gangs of New York, and he was the lyrical half of Gilbert & Sullivan in Mike Leigh's Topsy-Turvy. He won his Oscar for Iris, playing Judi Dench's doting husband as her character faded away with Alzheimer's Disease.
He has starred twice in excellent films with Jane Horrocks. In 1990's Life Is Sweet, Broadbent plays her father, and Horrocks an intensely alienated girl with an eating disorder. In 1998's Little Voice, she was again intensely alienated but this time with an enormous musical talent, and he was the cabaret owner and master of ceremonies.
Father: Ray Broadbent (carpenter, d. 1971)
Mother: Dee Broadbent (artist, d. 1995 Alzheimer's)
Wife: Anastasia Lewis (artist, m. 1987, two children by previous marriage)
Son: Tom Lewis (stepson)
Son: Paul Lewis (stepson)

University: London Academy of Music and Dramatic Arts (1972)

Oscar for Best Supporting Actor 2002 for Iris
Golden Globe 2002 for Iris
Expelled from School

FILMOGRAPHY AS ACTOR
Paddington 2 (5-Nov-2017)
Mary and the Witch's Flower (8-Jul-2017) [VOICE]
The Sense of an Ending (2-Jan-2017)
Bridget Jones's Baby (14-Sep-2016)
The Legend of Tarzan (27-Jun-2016)
Eddie the Eagle (26-Jan-2016)
War & Peace (3-Jan-2016)
The Lady in the Van (12-Sep-2015)
Brooklyn (26-Jan-2015)
Asterix and Obelix: Mansion of the Gods (26-Nov-2014) [VOICE]
Paddington (23-Nov-2014)
Big Game (5-Sep-2014)
Filth (16-Sep-2013)
Le Week-End (7-Sep-2013)
Closed Circuit (28-Aug-2013)
Cloud Atlas (8-Sep-2012)
The Iron Lady (26-Dec-2011) · Denis Thatcher
Arthur Christmas (11-Nov-2011) · Santa [VOICE]
Harry Potter and the Deathly Hallows: Part 2 (7-Jul-2011) · Prof. Horace Slughorn
Another Year (15-May-2010) · Tom
Perrier's Bounty (11-Sep-2009)
Harry Potter and the Half-Blood Prince (6-Jul-2009) · Prof. Horace Slughorn
The Damned United (27-Mar-2009) · Sam Longson
The Young Victoria (5-Feb-2009) · King William
Inkheart (11-Dec-2008)
Einstein and Eddington (23-Nov-2008)
Indiana Jones and the Kingdom of the Crystal Skull (18-May-2008)
When Did You Last See Your Father? (12-Jul-2007) · Arthur
Hot Fuzz (14-Feb-2007)
Longford (26-Oct-2006)
Art School Confidential (23-Jan-2006) · Jimmy
The Chronicles of Narnia: The Lion, the Witch and the Wardrobe (8-Dec-2005)
Valiant (20-Mar-2005) · Sarge [VOICE]
Robots (10-Mar-2005) [VOICE]
Bridget Jones: The Edge of Reason (8-Nov-2004) · Dad
Vera Drake (6-Sep-2004) · Judge
Vanity Fair (1-Sep-2004) · Mr. Osborne
Pride (21-Jun-2004) [VOICE]
Around the World in 80 Days (13-Jun-2004)
Tooth (13-Feb-2004) [VOICE]
The Young Visitors (26-Dec-2003)
And Starring Pancho Villa as Himself (7-Sep-2003)
Bright Young Things (16-May-2003)
Nicholas Nickleby (27-Dec-2002) · Wackford Squeers
Gangs of New York (9-Dec-2002) · Boss Tweed
The Gathering Storm (27-Apr-2002)
Iris (14-Dec-2001)
Moulin Rouge! (9-May-2001) · Harold Zidler
Bridget Jones's Diary (4-Apr-2001)
Topsy-Turvy (3-Sep-1999) · W. S. Gilbert
Little Voice (18-Sep-1998) · Mr. Boo
The Avengers (13-Aug-1998) · Mother
The Borrowers (5-Dec-1997)
Smilla's Sense of Snow (13-Feb-1997) · Lagermann
The Secret Agent (7-Sep-1996) · Chief Inspector Heat
Rough Magic (7-Sep-1995)
Richard III (20-Aug-1995) · Buckingham
Princess Caraboo (16-Sep-1994)
Bullets Over Broadway (16-Sep-1994)
Widows' Peak (13-May-1994)
The Crying Game (18-Sep-1992) · Col
Enchanted April (5-Apr-1992) · Frederick Arbuthnot
Life Is Sweet (22-Mar-1991)
Erik the Viking (1-Sep-1989)
Blackadder's Christmas Carol (1988)
Vroom (1988)
Superman IV: The Quest for Peace (24-Jul-1987) · Jean Pierre Dubois
Running Out of Luck (1987)
Silas Marner (30-Dec-1985)
The Good Father (Nov-1985)
Brazil (20-Feb-1985) · Dr. Jaffe
The Hit (12-Sep-1984) · Barrister
Walter and June (1983)
Time Bandits (13-Jul-1981) · Compere
The Dogs of War (28-Jan-1981)
Breaking Glass (1980) · Station Porter
The Shout (4-May-1979)

Do you know something we don't?
Submit a correction or make a comment about this profile

Copyright ©2019 Soylent Communications