Giosuè Carducci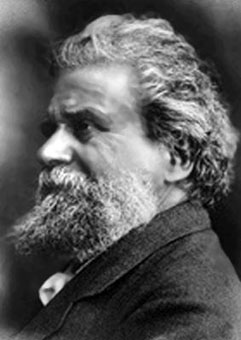 Born: 27-Jul-1835
Birthplace: Val di Castello, Tuscany, Italy
Died: 16-Feb-1907
Location of death: Bologna, Italy
Cause of death: unspecified
Remains: Buried, Cimitero Monumentale della Certosa, Bologna, Italy

Gender: Male
Religion: Roman Catholic
Race or Ethnicity: White
Sexual orientation: Straight
Occupation: Poet
Nationality: Italy
Executive summary: Odi barbare
Italian poet, born at Val-di-Castello, in Tuscany, on the 27th of July 1836, his father being Michele Carducci, a physician, of an old Florentine family, who in his youth had suffered imprisonment for his share in the revolution of 1831. Carducci received a good education. He began life as a public teacher, but soon took to giving private lessons at Florence, where he became connected with a set of young men, enthusiastic patriots in politics, and in literature bent on overthrowing the reigning romantic taste by a return to classical models. These aspirations always constituted the mainsprings of Carducci's poetry.
In 1860 he became professor at Bologna, where, after in 1865 astonishing the public by a defiant Hymn to Satan, he published in 1868 Levia Gravia, a volume of lyrics which not only gave him an indisputable position at the head of contemporary Italian poets, but made him the head of a school of which the best Italian men of letters have been disciples, and which has influenced all. Several other volumes succeeded, the most important of which were the Decennalia (1871), the Nuove Poesie (1872), and the three series of the Odi Barbare (1877-89).
Carducci had been brought into more fraternal contact with the aims of the younger generation by the efforts of Angelo Sommaruga who became, about 1880, the publisher of a group of young unknown writers all destined to some, and a few to great, accomplishment. The period of his prosperity was a strange one for Italy. The first ten years of the newly constituted kingdom had passed more in stupor than activity; original contributions to literature had been scarce, and publishers had preferred bringing out inferior translations of not always admirable French authors to encouraging the original work of Italians -- work which it must be confessed was generally mediocre and entirely lifeless.
Sommaruga's creation, a literary review called La Cronaca Bizantina, gathered together such beginners as Giovanni Marradi, Matilde Serao, Edoardo Scarfoglio, Guido Magnoni and Gabriele D'Annunzio. In order to obtain the sanction of what he considered an enduring name, the founder turned to Giosuč Carducci, then living in retirement at Bologna, discontented with his fate, and still not generally known by the public of his own country. The activity of Sommaruga exercised a great influence on Giosuč Carducci. Within the next few years he published the three admirable volumes of his Confessioni e Battaglie, the Ça Ira sonnets, the Nuove Odi Barbare, and a considerable number of articles, pamphlets and essays, which in their collected edition form the most living part of his work.
His lyrical production, too, seemed to reach its perfection in those five years of tense, unrelenting work; for the Canzone di Legnano, the Odes to Rome and to Monte Mario, the Elegy on the urn of Percy Bysshe Shelley, the ringing rhymes of the Intermezzo, in which he happily blended the satire of Heinrich Heine with the lyrical form of his native poetry -- all belong to this period, together with the essays on Giacomo Leopardi and on Giuseppe Parini, the admirable discussions in defense of his Ça Ira, and the pamphlet called Eterno Femminino regale, a kind of self-defense, undertaken to explain the origin of the Alcaic metre to the queen of Italy, which marks the beginning of the last evolution in Carducci's work (1881).
The revolutionary spirits of the day, who had always looked upon Giosuč Carducci as their bard and champion, fell away from him after this poem written in honor of a queen, and the poet, wounded by the attitude of his party, wrote what he intended to be his defense and his program for the future in pages that will remain amongst the noblest and most powerful of contemporary literature. From that time Carducci appears in a new form, evolved afterwards in his last Odes, Il Piemonte, Li Bicocca di San Giacomo, the Ode to the daughter of Francesco Crispi on her marriage, and the one to the church where Dante once prayed, Alla Chiesetta dei Polenta, which is like the withdrawing into itself of a warlike soul weary of its battle.
For a few months in 1876 Carducci had a seat in the Italian Chamber. In 1881 he was appointed a member of the higher council of education. In 1890 he was made a senator. And in 1906 he was awarded the Nobel prize for literature. He died at Bologna on the 16th of February 1907. By his marriage in 1859 he had two daughters, who survived him, and one son, who died in infancy.
The same qualities which placed Carducci among the classics of Italy in his earlier days remained consistently with him in later life. His thought flows limpid, serene, sure of itself above an undercurrent of sane and vigorous if pagan philosophy. Patriotism, the grandeur of work, the soul-satisfying power of justice, are the poet's dominant ideals. For many years the national struggle for liberty had forced the best there was in heart and brain into the atmosphere of political intrigue and from one battlefield to another; Carducci therefore found a poetry emasculated by the deviation into other channels of the intellectual virility of his country.
On this mass of patriotic doggerel, of sickly, languishing sentimentality as insincere as it was inane, he grafted a poetry not often tender, but always violently felt and thrown into a mould of majestic form; not always quite expected or appreciated by his contemporaries, but never commonplace in structure; always high in tone and free in spirit. The adaptation of various kinds of Latin metres to the somewhat sinewless language he found at his disposal, while it might have been an effort of mere pedantry in another, was a life-giving and strengthening inspiration in his case.
Another of his characteristics, which made him peculiarly precious to his countrymen, is the fact that his poems form a kind of lyric record of the Italian struggle for independence. The tumultuous vicissitudes of all other nations, however, and the pageantry of the history of all times, have in turns touched his particular order of imagination. The more important part of his critical work which belongs to this later period consists of his Conversazioni critiche, his Storia filosofica della letteratura Italiana, and a masterly edition of Petrarch.
That he should have had the faults of his qualities is not remarkable. Being almost a pioneer in the world of criticism, his essays on the authors of other countries, though appearing in the light of discoveries to his own country, absorbed as it had hitherto been in its own vicissitudes, have little of value to the general student beyond the attraction of robust style. And in his unbounded admiration for the sculptural lines of antique Latin poetry he sometimes relapsed into that fascination by mere sound which is the snare of his language, and against which his own work in its great moments is a reaction.
Father: Michele Carducci (physician)
Wife: (m. 1859, two daughters, one son)

Nobel Prize for Literature 1906

Author of books:
Levia Gravia (1868, poetry)
Decennalia (1871, poetry)
Nuove Poesie (1872, poetry)
Juvenilia (1880, poetry)
Rime nuove (1887, poetry)
Odi barbare (1877, poetry)

Do you know something we don't?
Submit a correction or make a comment about this profile

Copyright ©2019 Soylent Communications