Heinrich Heine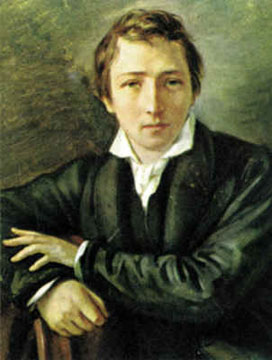 AKA Christian Johann Heinrich Heine
Born: 13-Dec-1797
Birthplace: Düsseldorf, Germany
Died: 17-Feb-1856
Location of death: Paris, France
Cause of death: Illness [1]
Remains: Buried, Cimetiere de Montmartre, Paris, France

Gender: Male
Religion: Jewish
Race or Ethnicity: White
Sexual orientation: Straight
Occupation: Poet
Nationality: Germany
Executive summary: Buch der Lieder
German poet and journalist, born at Düsseldorf, of Jewish parents, on the 13th of December 1797. His father, after various vicissitudes in business, had finally settled in Düsseldorf, and his mother, who possessed much energy of character, was the daughter of a physician of the same place. Heinrich (or, more exactly, Harry) was the eldest of four children, and received his education, first in private schools, then in the Lyceum of his native town; although not an especially apt or diligent pupil, he acquired a knowledge of French and English, as well as some tincture of the classics and Hebrew. His early years coincided with the most brilliant period of Napoleon's career, and the boundless veneration which he is never tired of expressing for the emperor throughout his writings shows that his true schoolmasters were rather the drummers and troopers of a victorious army than the masters of the Lyceum. By freeing the Jews from many of the political disabilities under which they had hitherto suffered, Napoleon became, it may be noted, the object of particular enthusiasm in the circles amidst which Heine grew up. When he left school in 1815, an attempt was made to engage him in business in Frankfurt, but without success. In the following year his uncle, Solomon Heine, a wealthy banker in Hamburg, took him into his office. A passion for his cousin Amalie Heine seems to have made the young man more contented with his lot in Hamburg, and his success was such that his uncle decided to set him up in business for himself. This, however, proved too bold a step; in a very few months the firm of Harry Heine & Co. was insolvent. His uncle now generously provided him with money to enable him to study at a university, with the view to entering the legal profession, and in the spring of 1819 Heine became a student of the University of Bonn. During his stay there he devoted himself rather to the study of literature and history than to that of law; amongst his teachers August Wilhelm von Schlegel, who took a kindly interest in Heine's poetic essays, exerted the most lasting influence on him. In the autumn of 1820 Heine left Bonn for Göttingen, where he proposed to devote himself more assiduously to professional studies, but in February of the following year he challenged to a pistol duel a fellow-student who had insulted him, and was, in consequence, rusticated for six months. The pedantic atmosphere of the University of Göttingen was, however, little to his taste; the news of his cousin's marriage unsettled him still more; and he was glad of the opportunity to seek distraction in Berlin.
In the Prussian capital a new world opened up to him; a very different life from that of Göttingen was stirring in the new university there, and Heine, like all his contemporaries, sat at the feet of Hegel and imbibed from him, doubtless, those views which in later years made the poet the apostle of an outlook upon life more modern than that of his romantic predecessors. Heine was also fortunate in having access to the chief literary circles of the capital; he was on terms of intimacy with Varnhagen von Ense and his wife, the celebrated Rahel, at whose house he frequently met such men as the Humboldts, Hegel himself and Friedrich Schleiermacher; he made the acquaintance of leading men of letters like Fouqué and Chamisso, and was on a still more familiar footing with the most distinguished of his co-religionists in Berlin. Under such favorable circumstances his own gifts were soon displayed. He contributed poems to the Berliner Gesellschafter, many of which were subsequently incorporated in the Buch der Lieder, and in December 1821 a little volume came from the press entitled Gedichte, his first avowed act of authorship. He was also employed at this time as correspondent of a Rhenish newspaper, as well as in completing his tragedies Almansor and William Ratcliff, which were published in 1823 with small success. In that same year Heine, not in the most hopeful spirits, returned to his family, who had meanwhile moved to Lüneburg. He had plans of settling in Paris, but as he was still dependent on his uncle, the latter's consent had to be obtained. As was to be expected, Solomon Heine did not favor the new plan, but promised to continue his support on the condition that Harry completed his course of legal study. He sent the young student for a six weeks' holiday at Cuxhaven, which opened the poet's eyes to the wonders of the sea; and three weeks spent subsequently at his uncle's county seat near Hamburg were sufficient to awaken a new passion in Heine's breast -- this time for Amalie's sister, Therese. In January 1824 Heine returned to Göttingen, where, with the exception of a visit to Berlin and the excursion to the Hartz mountains in the autumn of 1824, which is immortalized in the first volume of the Reisebilder, he remained until his graduation in the summer of the following year. It was on the latter of these journeys that he had the interview with Goethe which was so amusingly described by him in later years. A few weeks before obtaining his degree, he took a step which he had long meditated; he formally embraced Christianity. This "act of apostasy", which has been dwelt upon at unnecessary length both by Heine's enemies and admirers, was actuated wholly by practical considerations, and did not arise from any wish on the poet's part to deny his race. The summer months which followed his examination Heine spent by his beloved sea in the island of Norderney, his uncle having again generously supplied the means for this purpose. The question of his future now became pressing, and for a time he seriously considered the plan of settling as a solicitor in Hamburg, a plan which was associated in his mind with the hope of marrying his cousin Therese. Meanwhile he had made arrangements for the publication of the Reisebilder, the first volume of which, Die Harzreise, appeared in May 1826. The success of the book was instantaneous. Its lyric outbursts and flashes of wit; its rapid changes from grave to gay; its flexibility of thought and style, came as a revelation to a generation which had grown weary of the lumbering literary methods of the later Romanticists.
In the spring of the following year Heine paid a long planned visit to England, where he was deeply impressed by the free and vigorous public life, by the size and bustle of London; above all, he was filled with admiration for George Canning, whose policy had realized many a dream of the young German idealists of that age. But the picture had also its reverse; the sordidly commercial spirit of English life, and brutal egotism of the ordinary Englishman, grated on Heine's sensitive nature; he missed the finer literary and artistic tastes of the continent and was repelled by the austerity of English religious sentiment and observance. Unfortunately the latter aspects of English life left a deeper mark on his memory than the bright side. In October Baron Cotta, the well-known publisher, offered Heine -- the second volume of whose Reisebilder and the Buch der Lieder had meanwhile appeared and won him fresh laurels -- the joint-editorship of the Neue allgemeine politische Annalen. He gladly accepted the offer and betook himself to Munich. Heine did his best to adapt himself and his political opinions to the new surroundings, in the hope of coming in for a share of the good things which Ludwig I of Bavaria was so generously distributing among artists and men of letters. But the stings of the Reisebilder were not so easily forgotten; the clerical party in particular did not leave him long in peace. In July 1828, the professorship on which he had set his hopes being still not forthcoming, he left Munich for Italy, where he remained until the following November, a holiday which provided material for the third and part of the fourth volumes of the Reisebilder. A blow more serious than the Bavarian king's refusal to establish him in Munich awaited him on his return to Germany -- the death of his father. In the beginning of 1829 Heine took up his abode in Berlin, where he resumed old acquaintanceships; in summer he was again at the sea, and in autumn he returned to the city he now loathed above all others, Hamburg, where he virtually remained until May 1831. These years were not a happy period of the poet's life; his efforts to obtain a position, apart from that which he owed to his literary work, met with rebuffs on every side; his relations with his uncle were unsatisfactory and disturbed by constant friction, and for a time he was even seriously ill. His only consolation in these months of discontent was the completion and publication of the Reisebilder. When in 1830 the news of the July Revolution in the streets of Paris reached him, Heine hailed it as the beginning of a new era of freedom, and his thoughts reverted once more to his early plan of settling in Paris. All through the following winter the plan ripened, and in May 1831 he finally said farewell to his native land.
Heines first impressions of the "New Jerusalem of Liberalism" were jubilantly favorable; Paris, he proclaimed, was the capital of the civilized world, to be a citizen of Paris the highest of honors. He was soon on friendly terms with many of the notabilities of the capital, and there was every prospect of a congenial and lucrative journalistic activity as correspondent for German newspapers. Two series of his articles were subsequently collected and published under the titles Französische Zustände (1832) and Lutezia (written 1840-43, published in the Vermischte Schriften, 1854). In December 1835, however, the German Bund, incited by W. Menzel's attacks on "Young Germany", issued its notorious decree, forbidding the publication of any writings by the members of that coterie; the name of Heine, who had been stigmatized as the leader of the movement headed the list. This was the beginning of a series of literary feuds in which Heine was, from now on, involved; but a more serious and immediate effect of the decree was to curtail considerably his sources of income. His uncle, it is true, had allowed him 4000 francs a year when he settled in Paris, but at this moment he was not on the best of terms with his Hamburg relatives. Under these circumstances he was induced to take a step which his fellow-countrymen have found it hard to forgive; be applied to the French government for support from a secret fund formed for the benefit of "political refugees" who were willing to place themselves at the service of France. From 1836 or 1837 until the Revolution of 1848 Heine was in receipt of 4800 francs annually from this source.
In October 1834 Heine made the acquaintance of a young Frenchwoman, Eugénie Mirat, a saleswoman in a boot-shop in Paris, and before long had fallen passionately in love with her. Although ill-educated, vain and extravagant, she inspired the poet with a deep and lasting affection, and in 1841, on the eve of a duel in which he had become involved, he made her his wife. "Mathilde", as Heine called her, was not the comrade to help the poet in days of adversity, or to raise him to better things, but, in spite of passing storms, he seems to have been happy with her, and she nursed him faithfully in his last illness. Her death occurred in 1883. His relations with Mathilde undoubtedly helped to weaken his ties with Germany; and notwithstanding the affection he professed to cherish for his native land, he only revisited it twice, in the autumn of 1843 and the summer of 1847. In 1845 appeared the first unmistakable signs of the terrible spinal disease, which, for eight years, from the spring of 1848 until his death, condemned him to a "mattress grave." These years of suffering -- suffering which left his intellect as clear and vivacious as ever -- seem to have effected what might be called a spiritual purification in Heine's nature, and to have brought out all the good sides of his character, whereas adversity in earlier years only intensified his cynicism. The lyrics of the Romanzero (1851) and the collection of Neueste Gedichte (1853-54) surpass in imaginative depth and sincerity of purpose the poetry of the Buch der Lieder. Most wonderful of all are the poems inspired by Heine's strange mystic passion for the lady he called Die Mouche, a countrywoman of his own -- her real name was Elise von Krienitz, but she had written in French under the nom de plume of Camille Selden -- who helped to brighten the last months of the poet's life. He died on the 17th of February 1856, and lies buried in the cemetery of Montmartre.
Besides the purely journalistic work of Heine's Paris years, to which reference has already been made, he published a collection of more serious prose writings under the title Der Salon (1833-39). In this collection will be found, besides papers on French art and the French stage, the essays "Zur Geschichte der Religion und Philosophie in Deutschland", which he had written for the Revue des deux mondes. Here, too, are the more characteristic productions of Heine's genius, Aus den Memoiren des Herrn von Schnabelewopski, Der Rabbi von Bacherach and Florentinische Nächte. Die romantische Schule (1836), with its unpardonable personal attack on the elder Schlegel, is a less creditable essay in literary criticism. In 1839 appeared Shakespeares Mädchen und Frauen, which, however, was merely the text to a series of illustrations; and in 1840, the witty and trenchant satire on a writer, who, in spite of many personal disagreements, had been Heine's fellow-fighter in the liberal cause, Ludwig Börne. Of Heine's poetical work in these years, his most important publications were, besides the Romanzero, the two admirable satires, Deutschland, ein Wintermärchen (1844), the result of his visit to Germany, and Atta Troll, ein Sommernachtstraum (1876), an attack on the political Tendenzliteratur of the forties.
In the case of no other of the greater German poets is it so hard to arrive at a final judgment as in that of Heinrich Heine. In his Buch der Lieder he unquestionably struck a new lyric note, not merely for Germany but for Europe. No singer before him had been so daring in the use of nature-symbolism as he, none had given such concrete and plastic expression to the spiritual forces of heart and soul; in this respect Heine was clearly the descendant of the Hebrew poets of the Old Testament. At times, it is true, his imagery is exaggerated to the degree of absurdity, but it exercised, none the less, a fascination over his generation. Heine combined with a spiritual delicacy, a fineness of perception, that firm hold on reality which is so essential to the satirist. His lyric appealed with particular force to foreign peoples, who had little understanding for the intangible, undefinable spirituality which the German people regard as an indispensable element in their national lyric poetry. Thus his fame has always stood higher in England and France than in Germany itself, where his lyric method, his self-consciousness, his cynicism in season and out of season, were little in harmony with the literary traditions. As far, indeed, as the development of the German lyric is concerned, Heine's influence has been of questionable value. But he introduced at least one new and refreshing element into German poetry with his lyrics of the North Sea; no other German poet has felt and expressed so well as Heine the charm of sea and coast.
As a prose writer, Heine's merits were very great. His work was, in the main, journalism, but it was journalism of a high order, and, after all, the best literature of the "Young German" school to which he belonged was of this character. Heine's light fancy, his agile intellect, his straightforward, clear style stood him here in excellent stead. The prose writings of his French period mark, together with Börne's Briefe aus Paris, the beginning of a new era in German journalism and a healthy revolt against the unwieldly prose of the Romantic period. Above all things, Heine was great as a wit and a satirist. His lyric may not be able to assert itself beside that of the very greatest German singers, but as a satirist he had powers of the highest order. He combined the holy zeal and passionate earnestness of the "soldier of humanity" with the withering scorn and ineradicable sense of justice common to the leaders of the Jewish race. It was Heine's real mission to be a reformer, to restore with instruments of war rather than of peace "the interrupted order of the world." The more's the pity that his magnificent Aristophanic genius should have had so little room for its exercise, and have been frittered away in the petty squabbles of an exiled journalist.
---
[1] Spinal ailment.

Wife: (a French woman, m. 1841)


University: University of Bonn
University: University of Göttingen


Duel: Pistols 1821
Duel: Pistols 1841
Jewish Ancestry
Risk Factors: Opium, Hemorrhoids






Do you know something we don't?
Submit a correction or make a comment about this profile






Copyright ©2019 Soylent Communications