Deborah Jeane Palfrey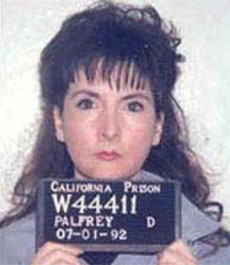 Born: 18-Mar-1956
Birthplace: North Charleroi, PA
Died: 1-May-2008
Location of death: Tarpon Springs, FL
Cause of death: Suicide
Remains: Buried, Cycadia Cemetery, Tarpon Springs, FL

Gender: Female
Race or Ethnicity: White
Sexual orientation: Straight
Occupation: Criminal
Nationality: United States
Executive summary: The DC Madam
Between 1993 and 2006, Palfrey operated Pamela Martin & Associates, a "legal, high-end, erotic fantasy service" in the Washington, DC metropolitan area. She managed the operation remotely from her home in Vallejo, CA, communicating regularly with her employees via newsletter, which she signed "Miz Julia". Under IRS investigation for more than two years, Palfrey's home was raided in August 2006 and some $1.5M of her assets seized; federal racketeering and money laundering charges followed. She was convicted on all counts on 15 Apr 2008. Two weeks later, her mother found Palfrey's body in the tool-shed, an apparent suicide by hanging.
In court documents, Palfrey named Harlan Ullman as a client; USAID administrator Randall L. Tobias resigned preemptively after admitting to procuring massages through the service. Senator David Vitter admitted to being a client following the release of the service's telephone records.
In 2007, Palfrey had announced the existence of 46 pounds of phone records, capable of implicating some 10,000 clients in the DC area. Barred from selling the records, Palfrey distributed copies to ABC News in exchange for an interview. In July, the restraining order prohibiting release of the records was lifted, and Palfrey made the entire corpus available on her website. She had also instructed her lawyer to "fully investigate and reveal the circumstances" if her death was "deemed a suicide by authorities", so in August 2008 her lawyer sued the Tarpon Springs, Florida Police Department for full release of all files pertaining to their investigation of her death.
Father: Frank Palfrey (d. 2002)
Mother: Blanche E. Johnson Palfrey (homemaker, b. 1932)
Sister: Roberta Lynn Palfrey (younger)
Boyfriend: Thomas Czech (marine, dated 1988, obtained restraining order against Palfrey in 1989)

High School: Charleroi Area High, Charleroi, PA (1974)
University: BA Criminal Justice, Rollins College (1979)
Law School: Thomas Jefferson School of Law, San Diego, CA (one year)
University: University of San Diego

Pimping (arrested 1990, pled guilty 1992, served eighteen months in prison)
Pandering (arrested 1990)
Extortion (arrested 1990)
Failure to Appear (30-Aug-1991), acquitted
Making False Statements (18-Oct-1991), charge dismissed
Extradited from Montana to California (1992)
Nervous Breakdown per sentencing memorandum (25-Jun-1992)
Mail Fraud convicted (15-Apr-2008)
Money Laundering convicted (15-Apr-2008)
Racketeering convicted (15-Apr-2008)

Official Website:
http://www.deborahjeanepalfrey.com/
Do you know something we don't?
Submit a correction or make a comment about this profile

Copyright ©2019 Soylent Communications