Britney Spears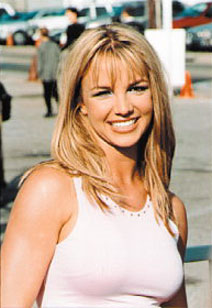 AKA Britney Jean Spears
Born: 2-Dec-1981
Birthplace: McComb, MS [1]

Gender: Female
Religion: Baptist
Race or Ethnicity: White
Sexual orientation: Straight
Occupation: Singer
Nationality: United States
Executive summary: Oops!... I Did it Again
Apparently the most successful of their numerous experiments, Britney Spears was genetically engineered by the Disney Corporation to bring western culture to its knees. Ok, so that's a bit of an exaggeration: in fact, she was engineered to bring the enormous sex-deprived male population to its knees.
Immediately upon trading in her mouse ears for a push-up bra, Ms. Spears became a pop music phenomenon (that's really not as impressive a thing as it sounds), storming the charts with her first single Baby One More Time (1998). Then came her mega-hit Oops!...I Did it Again (2000) -- and millions of you loved it, didn't you? Don't be ashamed: it is a catchy little number, but that is more a credit to the skill of her slick-as-vaseline producers than to the singer's marginal talents. And then -- oops! -- she did it repeatedly, the hits coming again and again like a large lunch after a bad case of food poisoning. In 2002 she made the inevitable attempt at being a film star with Crossroads and -- oops -- that didn't turn out so well. More attempts are sure to follow.
As the singer enters full adulthood, a definite conundrum has emerged for her marketing department: is she the fresh-faced, wholesome girl that made her the idol of teen girls the world over? Or is she a depraved slut, ready to rub against anything that's still breathing, like all those dirty old men are hoping? Or is there a way to be both? It's fascinating (in a trainwreck kind of way) to watch the struggle between the various unhealthy sexual attitudes contained within a culture play themselves out through the marketing image of one person -- although this is not to suggest that there is any deliberate intent by Ms. Spears to undertake such a thing. Ultimately, she is little more than another product being offered by corporate interests. The real struggle is taking place in the homes of all those teen-age girls seeking to emulate her (minus the million-dollar paycheck, of course).
The question that remains is: what lies in store for the bodacious, bum-shaking Britney? Will she wind up rattling around the pop music dustbin with Leif Garrett? Will she bare it all in an attempt to restore lagging interest like Tiffany? Or will she continually find a way to fasten herself, leech-like, onto the public consciousness like Madonna? It's no mystery why those two have gotten so friendly: both are hoping to stuck a carefully-manicured thumb into the other and pull out the nice, juicy plum of commercial longevity.
---
[1] Contrary to many published reports which give Spears' place of birth as Kentwood, Louisiana, she was actually born in McComb, Mississippi. Spears specified her state of birth as Mississippi on her Las Vegas marriage certificate.

Father: Jamie Parnel Spears
Mother: Lynne Irene Bridges
Brother: Bryan Spears (b. 19-Apr-1977)
Sister: Jamie Lynn Spears (b. 4-Apr-1991)
Husband: Jason Allen Alexander (childhood friend, m. 3-Jan-2004, annulled 5-Jan-2004)
Boyfriend: Justin Timberlake
Boyfriend: Columbus Short (choreographer/actor, together 2003)
Slept with: Fred Durst (she disputes this)
Husband: Kevin Federline (dancer, m. 18-Sep-2004, sep. 2006, div 30-Jul-2007, two sons)
Son: Sean Preston Federline (b. 14-Sep-2005)
Son: Jayden James Federline (b. 12-Sep-2006)
Boyfriend: Isaac Cohen (model, together 2007)
Boyfriend: John Sundahl (her Alcoholics Anonymous counselor, together 2007)
Boyfriend: Adnan Ghalib (paparazzo, together 2008)
Boyfriend: Jason Trawick (agent, together since 2008-13, broken engagement)
Boyfriend: David Lucado (together since 2013)


Britney Spears
Hollywood Walk of Fame 6801 Hollywood Blvd (recordings, 2003)
Grammy 2005 for Toxic
Endorsement of McDonald's 2000
Endorsement of Pepsi 2001-04
Endorsement of Target 2000
Endorsement of Toyota 2002
Psychiatric Observation
Lost Child Custody (Oct-2007)
Intervention per OK! Magazine (6-Oct-2007)
Hit and Run 6-Aug-2007, charges dropped
Driving with a Suspended License 6-Aug-2007, charged
Promises (Feb-2007)
Risk Factors: Smoking, Postpartum Depression, Yoga


TELEVISION
MMC (seasons 6 and 7)
The X Factor Judge (2012)


FILMOGRAPHY AS ACTOR
Leaving Neverland (25-Jan-2019) · Herself
Teenage Paparazzo (22-Jan-2010) · Herself
Pauly Shore Is Dead (2003) · Herself
Austin Powers in Goldmember (22-Jul-2002) · Herself
Crossroads (11-Feb-2002)
Britney Spears Live from Las Vegas (18-Nov-2001) · Herself
Longshot (2000)


Official Website:
http://www.britneyspears.com/

Rotten Library Page:
Britney Spears

Author of books:
Heart to Heart (2000)


Selected albums:
...Baby One More Time (1999)
Oops!... I Did It Again (2000)
Britney (2001)
In the Zone (2003)
Blackout (2007)
Circus (2008)





Requires Flash 7+ and Javascript.



Do you know something we don't?
Submit a correction or make a comment about this profile






Copyright ©2019 Soylent Communications