Ewan McGregor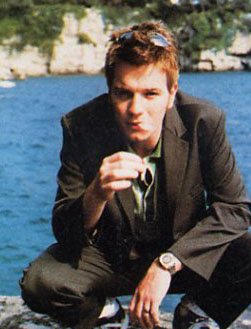 AKA Ewan Gordon McGregor
Born: 31-Mar-1971
Birthplace: Crieff, Perthshire, Scotland

Gender: Male
Race or Ethnicity: White
Sexual orientation: Straight
Occupation: Actor
Nationality: Scotland
Executive summary: Trainspotting
Ewan McGregor grew up in Scotland as the youngest child of an academic couple. His older brother was a good student, but the younger McGregor preferred performing to studying. McGregor dropped out of school at 16, and studied drama for a year at the Fife College of Further and Higher Education at Kirkcaldy. He worked as a stagehand for the Perth Repertory Theatre, and saved funds for a trip to London to audition at the Royal Academy of Dramatic Arts. He eventually made the trip, but was turned down on the grounds that, at 17, he was too young for admission. McGregor continued working backstage and on stage, and studied at the Guildhall School of Music & Drama, before quitting to take the part of girl-crazy Pvt. Mick Hopper in the British mini-series Lipstick on Your Collar. He met his wife, production designer Eve Mavrakis, while appearing in an episode of the British legal drama Kavanagh QC.
In 1996, McGregor found his breakout role in Trainspotting, as a junkie trying to get off heroin and away from his old friends. This eventually led to his role as a young Obi-Wan Kenobi in the three Star Wars prequels. He later confessed that he found The Phantom Menace "disappointing", and acknowledged that he began to drink heavily when he became depressed during production of the film. He called the sequel Attack of the Clones "unsatisfactory", but was happier with his final Star Wars film, Revenge of the Sith.
Early in his career, McGregor shared a flat with Jude Law, and they later formed the production company Natural Nylon. Its first film was Nora, the story of James Joyce and his muse Nora Barnacle. His 2003 film Young Adam was barely released in America, due to its raw sex scenes between McGregor and co-star Tilda Swinton.
Father: James McGregor (teacher)
Mother: Carol Lawson (retired teacher, now McGregor's personal assistant)
Brother: Colin (RAF Tornados)
Wife: Eve Mavrakis (production designer, m. 22-Jul-1995, two daughters)
Daughter: Clara Mathilde
Daughter: Esther Rose (b. 7-Nov-2001)

High School: Morrison Academy, Crieff, Scotland (dropped out)
University: Fife College of Further and Higher Education at Kircaldy, Scotland (dropped out)
University: Guildhall School of Music & Drama, London (dropped out)

Laser Eye Surgery
Risk Factors: Smoking, Alcoholism

FILMOGRAPHY AS DIRECTOR
American Pastoral (9-Sep-2016)

FILMOGRAPHY AS ACTOR
Christopher Robin (30-Jul-2018)
Beauty and the Beast (23-Feb-2017)
T2 Trainspotting (22-Jan-2017)
American Pastoral (9-Sep-2016)
Our Kind of Traitor (1-May-2016)
Jane Got a Gun (31-Dec-2015)
Miles Ahead (10-Oct-2015)
Mortdecai (21-Jan-2015)
Son of a Gun (16-Oct-2014)
A Million Ways to Die in the West (29-May-2014)
August: Osage County (9-Sep-2013)
Jack the Giant Slayer (27-Feb-2013)
The Impossible (9-Sep-2012)
Haywire (7-Nov-2011)
Fastest (20-Sep-2011) · Narrator
Salmon Fishing in the Yemen (10-Sep-2011) · Dr. Alfred Jones
Perfect Sense (24-Jan-2011) · Michael
Beginners (11-Sep-2010) · Oliver
Jackboots on Whitehall (20-Jun-2010) · Chris [VOICE]
Nanny McPhee Returns (24-Mar-2010) · Mr. Green
The Ghost Writer (12-Feb-2010) · The Ghost
Amelia (23-Oct-2009) · Gene Vidal
The Men Who Stare at Goats (8-Sep-2009) · Bob Wilton
Angels & Demons (7-May-2009)
I Love You Phillip Morris (18-Jan-2009) · Phillip Morris
Deception (24-Apr-2008)
Incendiary (20-Jan-2008) · Jasper Black
Cassandra's Dream (18-Jun-2007)
Miss Potter (3-Dec-2006)
Scenes of a Sexual Nature (3-Nov-2006)
The Doctor, the Tornado and the Kentucky Kid (22-Jul-2006) · Narrator [VOICE]
Stormbreaker (21-Jul-2006)
Stay (24-Sep-2005)
The Island (22-Jul-2005)
Star Wars Episode III: Revenge of the Sith (18-May-2005)
Valiant (20-Mar-2005) · Valiant [VOICE]
Robots (10-Mar-2005) [VOICE]
Long Way Round (18-Oct-2004)
Big Fish (10-Dec-2003) · Ed Bloom
Young Adam (16-May-2003) · Joe
Faster (16-May-2003) · Narrator [VOICE]
Down with Love (9-May-2003) · Catcher Block
Star Wars Episode II: Attack of the Clones (16-May-2002)
Black Hawk Down (18-Dec-2001) · Grimes
Moulin Rouge! (9-May-2001) · Christian
Welcome to Hollywood (27-Oct-2000) · Himself
Nora (6-Apr-2000)
Eye of the Beholder (28-Aug-1999) · Eye
Rogue Trader (25-Jun-1999) · Nick Leeson
Star Wars Episode I: The Phantom Menace (19-May-1999)
Little Voice (18-Sep-1998) · Billy
Velvet Goldmine (21-May-1998) · Curt Wild
A Life Less Ordinary (24-Oct-1997) · Robert
The Serpent's Kiss (14-May-1997)
Nightwatch (Feb-1997) · Martin Bells
Brassed Off (1-Nov-1996) · Andy
Emma (2-Aug-1996) · Frank Churchill
The Pillowbook (12-May-1996)
Trainspotting (23-Feb-1996) · Renton
Blue Juice (15-Sep-1995) · Dean Raymond
Shallow Grave (16-May-1994)
Being Human (6-May-1994)
Lipstick on Your Collar (21-Feb-1993)

Do you know something we don't?
Submit a correction or make a comment about this profile

Copyright ©2019 Soylent Communications