Rick Santorum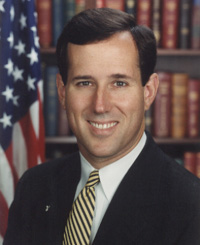 AKA Richard John Santorum
Born: 10-May-1958
Birthplace: Winchester, VA

Gender: Male
Religion: Roman Catholic
Race or Ethnicity: White
Sexual orientation: Straight
Occupation: Politician
Party Affiliation: Republican
Nationality: United States
Executive summary: US Senator from Pennsylvania, 1995-2007
In his short career as a lawyer before going into politics, Rick Santorum's most notable client was the World Wrestling Entertainment, then called the World Wrestling Federation. He worked to shield WWE from federal regulations on the use of steroids in sports, arguing that since wrestling was not a sport the rules should not apply.
Santorum ran for Congress in 1990, four years after getting his law degree, running ads criticizing the incumbent for representing Pennsylvania while owning a house in Virginia and living there most of the year. By law, of course, legislators must live in the state they represent, but Virginia is within easy driving distance of Washington DC while Pennsylvania is two hours further north on the highway. Santorum won the election, and held his seat in the House for two terms before being elected to the Senate in 1994.
In two terms in the Senate, he became best known for his stalwart stand against gay rights and, more broadly, gayness in general, although Santorum prefers the words 'homosexual' or 'sodomites'. In a 2003 interview he likened sodomy to adultery, polygamy, and incest as "antithetical to a healthy, stable, traditional family". He has compared the idea of homosexual marriage to "man on child, man on dog, or whatever the case may be," and said, "If the Supreme Court says that you have the right to consensual [gay] sex within your home, then you have the right to bigamy, you have the right to polygamy, you have the right to incest, you have the right to adultery. You have the right to anything."
These and other anti-gay statements infuriated sex columnist Dan Savage, who held a contest in 2003 asking readers to suggest degrading meanings for Santorum's name. The winning entry defined santorum as "the frothy mix of lube and fecal matter that is sometimes the byproduct of anal sex," and even years later an on-line search for "Santorum" yields information about anal sex before any results mentioning the former Senator. Santorum, an announced candidate for the Republican Presidential nomination in 2012 and again in 2016, has referred to this as his "Google problem."
Deeply concerned about sexual acts between consenting adults, Santorum has argued that the government can regulate private consensual sexual acts, and he has specifically complained that the 1966 Supreme Court decision in Griswold v Connecticut, which established Americans' right to privacy, was wrong. The Griswold case was not about gay rights, but overturned state laws prohibiting the use of contraceptives, so Santorum's argument against Griswold amounts to an argument against legalized contraception. As a candidate for the Republican Presidential nomination in 2012, Santorum made his opposition to legalized contraception more clear: "One of the things I will talk about that no president has talked about before is … the dangers of contraception in this country, the whole sexual libertine idea. It's not okay because it's a license to do things in the sexual realm that is counter to how things are supposed to be. They're supposed to be within marriage, for purposes that are, yes, conjugal … but also procreative."
In a 2002 article about the controversy over Catholic priests molesting young children, Santorum wrote, "It is startling that those in the media and academia appear most disturbed by this aberrant behavior, since they have zealously promoted moral relativism by sanctioning 'private' moral matters such as alternative lifestyles." During his Senate years in Washington, he led a weekly devotions session for other Catholics in Congress, but Democrats were not allowed to attend. In 2001, he tried to attach an amendment to the No Child Left Behind Act that would have mandated that public schools teach "intelligent design" alongside evolution.
Santorum, originally pro-choice[1], opposes abortion, describing it as "infanticide", and his arguments seem to be very deeply felt. When his wife suffered a second trimester miscarriage in 1996, they named the dead fetus Gabriel after the Biblical archangel, and presented its lifeless body to his family. Their children, including three kids under seven, spent several hours cuddling and kissing Gabriel, singing lullabies in his ear, because Santorum wanted them to "absorb and understand that they had a brother." Santorum's wife wrote a book of Letters to Gabriel, a collection of prayers and anti-abortion arguments, including a stirring call for Gabriel's support of anti-abortion legislation, and Santorum read from the book in debate on the Senate floor.
In 2005, Santorum proposed legislation that would have blocked the National Weather Service from providing information about weather to the general public. His intent was apparently to help AccuWeather, a Pennsylvania firm, drive viewers to their web pages and away from the Weather Service's site. The legislation did not pass, but later that year when New Orleans was devastated by Hurricane Katrina, Santorum said that the National Weather Service had given "no warning, or not sufficient warning in my opinion" about the storm's path. In reality, the Weather Service had issued loud and accurate warnings days in advance about what was to come from Katrina.
Numerous times, Santorum has claimed that Saddam Hussein's alleged weapons of mass destruction were found in Iraq, alluding to small quantities of decades-old, depleted chemical weapons which were found during the 2003 invasion of Iraq and announced at that time with little fanfare. After a Defense Department spokesman flatly told Fox News that these vastly degraded weapons, left over from Iraq's 1980s war against Iran, were "not the WMDs for which this country went to war", Santorum replied that he would "wait and see what the actual Defense Department formally says."
Early in the George W. Bush administration, along with Dick Armey, Tom DeLay, and Grover Norquist, Santorum was at the center of the Republicans' tactic of pressuring lobbying firms to hire only Republicans. At regularly scheduled once-weekly meetings held since Republicans took Congress and in 1994, Santorum and other leading Republicans were provided with a list of job openings at lobbying companies, and literally told the lobbyists who to hire -- always well-connected Republicans. Called the "K Street Project" because most lobbying firms have offices on Washington's K Street, the idea backfired when the lobbyists' "freeze-out" of Democrats became so successful that all the legislators on the take from crooked lobbyist Jack Abramoff were Republicans. When the arrangement was first reported in 2006, Santorum denied it was true and claimed to not even know Abramoff. When it was proven that Abramoff had been involved, Santorum announced that the "K Street" meetings had been ended. Months later it was reported that the meetings between lobbyists and Republicans were still being held weekly at the same time, place, and day. In 2006, the non-partisan Citizens for Responsibility and Ethics in Washington named Santorum one of the twenty most corrupt US legislators.
He lost his Senate seat to Bob Casey, Jr. in 2006, losing 41% to 59%, and in an ironic finale to his public career, a major issue in the campaign was that Santorum was living in a house he owned in Virginia -- not in Pennsylvania. Further, he had taken a second mortgage on his Virginia home from a private bank that serves only "affluent investors and institutions", a bank which requires that borrowers have assets far in excess of anything Santorum reported in his public financial disclosure reports.
---
[1] Eric Konigsberg, "A Funny Thing Happened on the Way to the Santorum", Philadelphia Magazine, December 1995, page 150: "I was basically pro-choice all my life, until I ran for Congress."

Father: (psychologist)
Mother: (nurse)
Sister: (older)
Brother: Dan Santorum (younger)
Wife: Karen Garver (former nurse, m. 1990, two daughters, five sons)
Daughter: Elizabeth Anne Santorum
Son: Richard John Santorum, Jr.
Son: Daniel James Santorum
Son: Gabriel Michael Santorum (d. 11-Oct-1996, prematurely after 20 weeks in utero)
Daughter: Sarah Maria Santorum
Son: Peter Kenneth Santorum
Son: Patrick Francis Santorum


High School: Carmel Catholic High School, Mundelein, IL (1976)
University: BA Political Science, Pennsylvania State University (1980)
University: MBA, University of Pittsburgh (1981)
Law School: JD, Dickinson School of Law, Carlisle, PA (1986)


Eckert Seamans Cherin & Mellott LLC
US Senator, Pennsylvania (1995-2007)
US Congressman, Pennsylvania 18th (1991-95)
Pennsylvania State Official Asst. to State Sen. J. Doyle Corman (1981-86)
The Philadelphia Inquirer Columnist (2007-)
Member of the Board of Universal Health Services (2007-)
American-Israeli Cooperative Enterprise Honorary Committee
America's Foundation Chairman
Ethics and Public Policy Center Senior Fellow (2007-)
Israel Project Board of Advisors
Leadership Institute Bi-Partisan Congressional Advisory Board
Pennsylvania Bar Association 1986
Rotary International
Thomas More Law Center Advisory Board
Washington Legal Foundation National Board of Advisors
College Republicans
Tau Epsilon Phi Fraternity
Time Magazine 25 Most Influential Evangelicals in America
Evolution Skeptics
Global Warming Skeptics
Eponyms santorum
Italian Ancestry Paternal
Risk Factors: Homophobia, Marijuana, Toupee


TELEVISION
Fox News Channel Political Analyst (2008-)


FILMOGRAPHY AS ACTOR
Caucus (30-Apr-2013) · Himself


Official Website:
http://santorum.senate.gov/

Rotten Library Page:
Santorum

Author of books:
It Takes A Family: Conservatism And The Common Good (2005)





Requires Flash 7+ and Javascript.



Do you know something we don't?
Submit a correction or make a comment about this profile






Copyright ©2019 Soylent Communications