Tom DeLay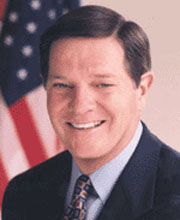 AKA Thomas Dale DeLay
Born: 8-Apr-1947
Birthplace: Laredo, TX

Gender: Male
Religion: Baptist
Race or Ethnicity: White
Sexual orientation: Straight
Occupation: Politician
Party Affiliation: Republican
Nationality: United States
Executive summary: Former House Majority Leader
Republican House Majority Leader Tom Delay was the pointman during the Clinton impeachment effort. Consistently DeLay argued that it wasn't about the sex -- it was about the President having lied under oath. And yet, during a February 1994 legal deposition, Tom Delay himself swore under oath that he was no longer an officer of his termite business, a claim he subsequently admitted he knew to be false.
| | |
| --- | --- |
| LAWYER: | Are you presently still an officer or director of [Albo Pest Control Company]? |
| DELAY: | I don't think so. No. |
| LAWYER: | All right. You're still an officer, are you not? |
| DELAY: | I don't think I am. |
| LAWYER: | Okay. Did you resign as an officer? |
| DELAY: | Not written. It was sort of an agreement. |
| LAWYER: | Okay. So you had an agreement with whom to resign verbally as an officer? |
| DELAY: | With Darrell Hutto, president of the company. |
| LAWYER: | And when was that? |
| DELAY: | I don't know. Two, three years ago. It wasn't anything formal. I haven't had much to do with the company since I got elected to Congress. |
| | [...] |
| LAWYER: | Suffice to say, sir, it's your testimony today that you from about two, three years ago had a verbal agreement with Mr. Hutto to resign as an officer or director of Albo Pest Control. Is that correct? |
| DELAY: | As far as I remember, yes. |
| LAWYER: | All right, sir. And that was never reduced to writing that you know of? |
| DELAY: | That I know of, no. |
Just three months after this deposition, DeLay submitted his annual financial disclosure form to Congress. And for the third year in a row, he identified himself in the paperwork as Albo's "chairman of the board." Asked about it later, DeLay's excuse was pathetic: "I did not have much to do with the company except for large, major decisions. I have to admit my service in the state legislature had a detrimental effect on my ability to run the company. I took too much time away." When pressed for an explanation of his apparent misstatements under oath, the politician offered another explanation: "I may have seemed evasive, but it's the truth. I didn't remember if I was president or chairman or secretary of the board. I didn't know which, and it was hard for me to answer. I had nothing to do with the company."
Later, DeLay raised eyebrows by comparing the Environmental Protection Agency to the Nazis:
A critical promise we made to the American people was to get government off their backs! And the EPA, the Gestapo of government, has pure and simply been one of the major clawholds the government has maintained on the backs of our constituents.
DeLay launched the Americans for a Republican Majority Political Action Committee. ARMPAC's first fundraiser, held in Houston, garnered $280,000 -- at least $75,000 of which was donated by Enron officers Ken Lay and Joseph Sutton. All told, Enron eventually donated more than half a million dollars to ARMPAC.

And then there's the Texans for a Republican Majority Political Action Committee, another DeLay fundraising outfit. DeLay was obsessed with the vision of wresting control of the Texas legislature and cementing it by redistricting the state. To further those goals, TRMPAC received at least $4.8 million in corporate donations in time for the 2002 election. Some of that money got laundered through the Republican National Committee, and returned to TRMPAC for disbursement to various Republican candidates for state office, which led to DeLay's 2010 conviction for money laundering.

The main problem here is that it's a state felony for corporations to donate money for Texas political candidates. Add to this the fact that more than 75% of TRMPAC's money came from out-of-state companies having no business in Texas. Kansas-based Westar Energy donated $25,000 to TRMPAC in order to court DeLay. Furthermore, Texas law forbids political action committees from using corporate contributions for anything other than administrative expenses. Since it's hard to imagine TRMPAC having millions of dollars in administrative overhead, the group was investigated for these and other alleged improprieties. No wrongdoing was found, and in 2013 DeLay's money laundering conviction was overturned.

For reasons not made public, Tom DeLay cut off all contact with his mother and siblings following the 1988 death of his father.

Father: Charlie Ray DeLay (d. 14-Dec-1988 tram accident)
Mother: Maxine DeLay
Brother: Ray (older)
Brother: Randy (younger)
Sister: Tena DeLay Neislar
Wife: Christine Ann Furrh (m. 26-Aug-1967)
Daughter: Danielle Key DeLay Ferro (b. 1972)


High School: Calallen High School, Corpus Christi, TX (1965)
University: Baylor University (attended 1967)
University: BS Biology, University of Houston (1970)


US Congressman, Texas 22nd (3-Jan-1985 to 9-Jun-2006, resigned)
Texas State House of Representatives (1979-85)
American Conservative Union Board of Directors
American Legislative Exchange Council
Americans for a Republican Majority
Leadership Institute Bi-Partisan Congressional Advisory Board
Mandate to Save America
Rotary International
Susan B. Anthony List
Washington Legal Foundation National Board of Advisors
Draft Deferment: Vietnam
Issued Concealed Carry Permit
Born-Again Christian (1985)
Campaign Finance Violation
Conspiracy (to commit money laundering) indicted 3-Oct-2005, guilty Nov-2010, overturned 2013
Money Laundering indicted 3-Oct-2005, guilty Nov-2010, overturned 2013
Abramoff Scandal
Birther Movement
Risk Factors: Alcoholism, Former Smoker


TELEVISION
Dancing with the Stars Contestant (2009)


FILMOGRAPHY AS ACTOR
Casino Jack and the United States of Money (Jan-2010) · Himself


Author of books:
No Retreat, No Surrender: One American's Fight (2007, memoir)





Requires Flash 7+ and Javascript.



Do you know something we don't?
Submit a correction or make a comment about this profile






Copyright ©2019 Soylent Communications