Jennifer Lopez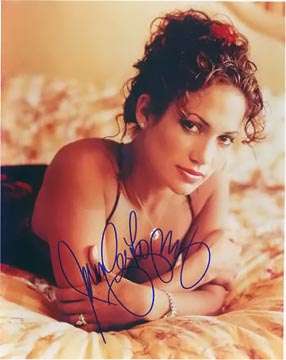 AKA Jennifer Lynn Lopez
Born: 24-Jul-1969 [1]
Birthplace: Bronx, NY

Gender: Female
Religion: Roman Catholic
Race or Ethnicity: Hispanic
Sexual orientation: Straight
Occupation: Singer, Actor
Nationality: United States
Executive summary: Maid in Manhattan
Born in the Bronx to a computer specialist and a kindergarten teacher from Puerto Rico, Jennifer Lopez was provided with singing and dancing lessons from the age of five, and embarked on her first tour (around New York with her dance class) at the age of seven. Her professional career started in her teens with roles in musicals and an appearance in the film My Little Girl (1986); the focus of her interest at the time, however, was on dance. A brief period studying law took place after graduation from high school, but this was abandoned in favor of her dance studies, and a job as a dancer for the television series In Living Color was landed in 1990.
Work as part of a team of dancers proved to be far from satisfying, and after two years Lopez left Color, taking occasional work in music videos before moving up to secondary parts on various short-lived TV dramas. A shift from small- to large-screen work was made through a supporting role in the film Mi Familia (1995), which was quickly followed up by more prominent roles in higher profile films: lame buddy movie Money Train (1995), Francis Ford Coppola directed Jack (1996), and Jack Nicholson vehicle Blood and Wine (1996). The real breakthrough came in 1997 with her starring role as the doomed Tejano singer in the biopic Selena; no doubt, some of the fanatacism surrounding the real Selena rubbed off on Lopez, and the start of the overdriven hype surrounding her later career (and the inevitable tabloid scrutiny that accompanies such hype) can be traced to this point.
Her film work continued to gain momentum throughout the remainder of the 1990s, and the success of features like Out of Sight (1998) ushered the actress into the perpetually bum-kissed ranks of the Hollywood elite. A lucrative contract as a spokemodel for the cosmetic corporation L'Oreal was soon to follow. More relevant to her future, her success had aroused the unwholsome interest of Sony bigwig Tommy Mottola: by 1999 her debut release On the 6 was on the shelves. The album quickly earned multi-platinum status and its associated singles claimed number one positions on both the pop and Latin charts.
With this new peak being reached in her professional life, her personal life was now turned into corporate news 'infotainment' fodder. A tumultuous relationship with Sean Puff Daddy Combs was given extensive media airtime, and the couple obligingly provided constant fights, fall-outs and run-ins-with-the-law so that sources wouldn't have to resort to unsavory measures such as making things up (it must be awful for them when they have to do that). Despite the negative press, Lopez's film career did not suffer (starring roles in The Cell, 2000; The Wedding Planner, 2001; and Angel Eyes, 2001), and neither did her recording career (multi-platinum #1 albums J.Lo (2001) and This Is Me... Then (2002).
Further into the 2000s, little changed in the overall trajectory of Lopez's popularity. Her romantic life continued to command as much attention as ever, her albums continued to sell in ludicrous amounts, and her films (with the exception of the especially crappy Gigli, released in 2003 and co-starring soon-to-be former boyfriend/almost-maybe-just-about-almost-again-not husband Ben Affleck) continued to fill theater seats. In addition to her performing work, Lopez undertook numerous business ventures including her own production company, a clothing line, and a signature series of perfumes. After her movie career failed to ignite, she became a judge on American Idol in 2010.
---
[1] Although many sources give Lopez's date of birth as 24 July 1970, after her arrest with Sean "Puffy" Combs in December 1999, police documents obtained by Court TV noted her actual date of birth is 24 July 1969.

Father: David Lopez
Mother: Guadalupe Rodriguez (won $2.4 million at an Atlantic City casino)
Sister: Leslie Lopez
Sister: Lynda Lopez (entertainment correspondent)
Boyfriend: David Cruz
Husband: Ojani Noa (m. 22-Feb-1997, div. Mar-1998)
Boyfriend: Joaquin Cortez (1998)
Boyfriend: Puff Daddy (1998-2001)
Husband: Cris Judd (m. 29-Sep-2001, div. 26-Jan-2003)
Boyfriend: Ben Affleck (actor, broken engagement, together 2002-04)
Husband: Marc Anthony (m. 5-Jun-2004, sep. Jul-2011, div. 2014, one daughter, one son)
Daughter: Emme Maribel (twin, b. 22-Feb-2008)
Son: Maximilian David (twin, b. 22-Feb-2008)
Boyfriend: Casper Smart (together 2012-14)


High School: Preston High School, Bronx, NY


Endorsement of Coca-Cola (1998-99)
Endorsement of Fiat (2011-)
Endorsement of Gucci (2010-)
Endorsement of Kohl's (2010-)
Endorsement of L'Oreal (2010-)
Endorsement of Macy's (2009-)
Endorsement of Pepsi (2005-)
Endorsement of Tous jewelry (2011-)
Amnesty International
Unlawful Possession of a Firearm New York City, charges later dropped (27-Dec-1999)
Wedding: Tom Cruise and Katie Holmes (2006)
Sex Tape Scandal From 1997 honeymoon; tape surfaced 2009
Puerto Rican Ancestry
Risk Factors: Smoking, Yoga


TELEVISION
American Idol Judge (2011-12, 2014-)
South Central Lucille (1994)
Second Chances Melinda Lopez (1993-94)
In Living Color Fly Girl (1990-94)


FILMOGRAPHY AS ACTOR
Second Act (6-Dec-2018)
Ice Age: Collision Course (19-Jun-2016) [VOICE]
Home (7-Mar-2015) [VOICE]
The Boy Next Door (21-Jan-2015)
Parker (23-Jan-2013)
Ice Age: Continental Drift (27-Jun-2012) · Shira [VOICE]
What to Expect When You're Expecting (17-May-2012)
$ellebrity (11-Mar-2012) · Herself
The Back-up Plan (23-Apr-2010) · Zoe
El Cantante (12-Sep-2006)
Bordertown (Apr-2006)
An Unfinished Life (19-Aug-2005) · Jean Gilkyson
Monster-in-Law (6-May-2005)
Shall We Dance? (15-Oct-2004)
Jersey Girl (26-Mar-2004) · Gertrude Steiney
Gigli (27-Jul-2003) · Ricki
Maid in Manhattan (13-Dec-2002) · Marisa Ventura
Enough (24-May-2002) · Slim
Angel Eyes (15-May-2001) · Sharon
The Wedding Planner (26-Jan-2001)
The Cell (17-Aug-2000)
Antz (19-Sep-1998) · Azteca [VOICE]
Out of Sight (26-Jun-1998) · Karen Sisco
U Turn (27-Aug-1997) · Grace McKenna
Anaconda (11-Apr-1997) · Terri Flores
Selena (21-Mar-1997)
Blood and Wine (Sep-1996) · Gabriela
Jack (9-Aug-1996) · Miss Marquez
Money Train (22-Nov-1995) · Grace Santiago
My Family (3-May-1995)
Nurses on the Line: The Crash of Flight 7 (23-Nov-1993)
My Little Girl (31-Aug-1986)


Official Website:
http://www.jenniferlopez.com/




Requires Flash 7+ and Javascript.



Do you know something we don't?
Submit a correction or make a comment about this profile






Copyright ©2019 Soylent Communications