Splash (9-Mar-1984)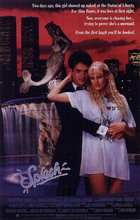 Director: Ron Howard
Writers: Brian Grazer; Bruce Jay Friedman; Lowell Ganz; Babaloo Mandel
Music by: Lee Holdridge
Producer: Brian Grazer
Keywords: Romantic Comedy, Mermaid, New York




Fruit and vegetable salesman Allen Bauer falls off a boat while vacationing at Cape Cod, and is rescued by a beautiful mermaid with an unpronounceable name. Maybe this is the same mermaid that rescued Allen from drowning when he was an eight-year-old boy? She later finds Allen's wallet and seeks him out in New York City (this mermaid has human legs when she's dry). Charming romantic comedy; great supporting roles for Eugene Levy and John Candy. Received an Oscar nomination for Best Screenplay.
CAST
Starring
Tom Hanks
... Allen Bauer
Daryl Hannah
... Madison
Eugene Levy
... Walter Kornbluth
and
John Candy
... Freddie Bauer
Co-Starring
Dody Goodman
... Mrs. Stimler
Shecky Greene
... Mr. Buyrite
Richard B. Shull
... Dr. Ross
Bobby Di Cicco
... Jerry
Howard Morris
... Dr. Zidell
Tony Di Benedetto
... Tim, the Doorman
Patrick Cronin
... Michaelson
Charles Walker
... Michaelson's Partner
David Knell
... Claude
Jeff Doucette
... Junior
Royce D. Applegate
... Buckwalter
Tony Longo
... Augie
Nora Denney
... Ms. Stein
Charles Macaulay
... The President
Ronald F. Hoiseck
... Dr. Johannsen
Lou Tiano
... Bartender
Joe Grifasi
... Manny
Rance Howard
... McCullough
Featuring
Corki Corman-Grazer
... Wife
Fred Lerner
... Husband
David Lloyd Nelson
... Lt. Ingram
Al Chesney
... Fat Jack
Lowell Ganz
... Stan, the Tour Guide
James Ritz
... TV Dept. Manager
Maurice Rice
... TV Salesman
Babaloo Mandel
... Rudy
Pierre Epstein
... Dr. Hess
Cheryl Howard
... Girl at Wedding
Louisa Marie
... Girl at Wedding
Valerie Wildman
... Wedding Guest
Christopher Thomas
... Wedding Guest
Richard Dano
... Wedding Guest
Clint Howard
... Wedding Guest
Ron Kuhlman
... Man with Date
Lori Kessler
... Girl with Date
Joe Cirillo
... Sgt. Munson
Tom Toner
... Parilli
Lee Delano
... Sgt. Leleandowski
Migdia Varela
... Wanda
Jack Denton
... Man by Elevator
Nick Cinardo
... George
Fil Formicola
... Policeman
Than Wyenn
... Mr. Ambrose
Clare Peck
... TV Reporter
Eileen Saki
... Dr. Fujimoto
Jodi Long
... Reporter
Victoria Lucas
... Reporter
Jeffrey Dreisbach
... Reporter
Amy Ingersoll
... Reporter
Daryl Edwards
... Reporter
Jack Hallett
... Reporter
Bill Smitrovich
... Ralph Bauer
Nancy Raffa
... Mary Bauer
David Kreps
... Young Allen
Jason Late
... Young Freddie
Shayla MacKarvich
... Young Madison
REVIEWS
Review by anonymous (posted on 9-Jan-2007)
My God! The best real-mermaid movie I have ever seen! I developed a love for mermaids ever since my mother bought me a copy of Disney's The Little Mermaid when I was 3 years old. The Splash came along...my was it a sight for my eyes to look upon! I'm 20 years old today and still fascinated with all that detail in the fish-tail! My greatest wish is to become a film-producer, and my very first project would be an adaptation of Hans Christian Andersen's The Little Mermaid. Splash is a great source of visual research! I must say great work to whomever thought of that script. An d Daryl Hannah...a perfection in the ideal image of a mermaid! I did not give the film full fives due to some boring scenes of New York, but the rest is for how wonderfully the mermaid scenes were shot, especially those underwater! Wonderful; absolutely wonderful!
---
Do you know something we don't?
Submit a correction or make a comment about this profile

Copyright ©2019 Soylent Communications