Deep Impact (7-May-1998)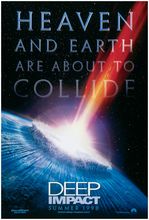 Director: Mimi Leder
Writers: Bruce Joel Rubin; Michael Tolkin
Music by: James Horner
Producers: Richard D. Zanuck; David Brown
Keywords: Sci-Fi, Disaster, Meteor, POTUS, Explosions, Tsunami




The impact of an enormous comet will extinguish life on Earth unless quick countermeasures can be taken. Science fiction drama being character-driven rather than a frame upon which to hang expensive special effects. Substantially better than the Summer 1998's other meteor/comet disaster feature, Armageddon (1998).
[watch trailer]
CAST
Robert Duvall
... Spurgeon Tanner
Tea Leoni
... Jenny Lerner
Elijah Wood
... Leo Biederman
Vanessa Redgrave
... Robin Lerner
Maximilian Schell
... Jason Lerner
James Cromwell
... Alan Rittenhouse
Ron Eldard
... Oren Monash
Jon Favreau
... Gus Partenza
Laura Innes
... Beth Stanley
Mary McCormack
... Andrea Baker
Richard Schiff
... Don Biederman
Leelee Sobieski
... Sarah Hotchner
Blair Underwood
... Mark Simon
and
Morgan Freeman
... President Beck
Dougray Scott
... Eric Vennekor
Gary Werntz
... Chuck Hotchner
Bruce Weitz
... Stuart Caley
Betsy Brantley
... Ellen Biederman
O'Neal Compton
... Morten Entrekin
Rya Kihlstedt
... Chloe
Denise Crosby
... Vicky Hotchner
Alexander Baluev
... Mikhail Tulchinsky
Caitlin Fein
... Caitlin Stanley
Amanda Fein
... Caitlin Stanley
Joseph Urla
... Ira Moskatel
Una Damon
... Marianne Duclos
Mark Moses
... Tim Urbanski
Derek de Lint
... Theo Van Sertema
Charles Dumas
... Jeff Worth
Suzy Nakamura
... Jenny's Assistant
Alimi Ballard
... Bobby Rhue
W. Earl Brown
... McCloud
Katie Hagan
... Jane Biederman
Frank Whiteman
... Priest
Jason Dohring
... Jason
Jasmine Harrison
... Kid
Rahi Azizi
... Student
Hannah Werntz
... Holly Rittenhouse
Tucker Smallwood
... Ivan Brodsky
Merrin Dungey
... Sheila Bradley
Kimberly Huie
... Wendy Mogel
William Fair
... Grey Man
Francis X. McCarthy
... Gen. Scott
Ellen Bry
... Stofsky
Lisa Ann Grant
... Reporter
Leslie Dilley
... Waiter
Concetta Tomei
... Patricia Ruiz
Mike O'Malley
... Mike Perry
Kurtwood Smith
... Otis Hefter
Gerry Griffin
... NASA Official
Charlie Hartsock
... David Baker
Jennifer Jostyn
... Mariette Monash
Don Handfield
... Dwight Tanner
Jason Frasca
... Steve Tanner
Cynthia Ettinger
... Pretty Woman
Benjamin Stralka
... Little Boy
Stephanie Patton
... Brittany Baker
Michael Winters
... NASA Guy
John Ducey
... Young Lieutenant
Christopher Darga
... Section Leader
Joshua Colwell
... CAPCOM
Cornelius Lewis
... Bus Sergeant
Kevin La Rosa
... Pilot
REVIEWS
Review by c little (posted on 19-Aug-2007)
The movie was awesome. I thought Morgan Freeman was most fitting for the part as the President. He was down to earth but authoritive at the same time. He is one of my favourite actors. The special effects were great too. I liked best when the tsumami hit New York. The one gigantic wave hitting the skyscrapers was creepy. My son had to laugh at the part where the statue of Liberty's head was torn off and then landed at the bottom of the water with a thump. Of course when he laughed, I did too. Then the old man sitting on a bench there reading the newspaper and how he got blown away by the wave. That was pretty funny too. I saw the movie in the theatre when it first came out and also I own it on DVD. I've seen it many times. There were funny parts to it and also some very moving parts as well. I thought it was a well thought out movie and full of emotions. I mean, what would you do if a huge comet was going to strike earth?
---
Do you know something we don't?
Submit a correction or make a comment about this profile

Copyright ©2019 Soylent Communications