People Will Talk (29-Aug-1951)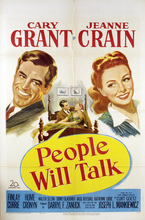 Director: Joseph L. Mankiewicz
Writer: Joseph L. Mankiewicz
From a play: Dr. Praetorius by Curt Goetz
Producer: Darryl F. Zanuck
Keywords: Romantic Comedy, Pregnancy




Dr. Noah Praetorius teaches a medical class at university; one of his students, Debra faints from an unexpected pregnancy and later attempts suicide. She and Praetorius fall in love and get married; another physician, Prof. Elwell, will use any means to discredit Praetorius. And there is Mr. Shunderson, whose presence is difficult to explain. Ineptly adapted from a German stage play, but still retaining considerable merit.
| Name | Occupation | Birth | Death | Known for |
| --- | --- | --- | --- | --- |
| Sidney Blackmer | Actor | 13-Jul-1895 | 5-Oct-1973 | Played Theodore Roosevelt 12 times |
| Jeanne Crain | Actor | 25-May-1925 | 14-Dec-2003 | 20th Century Fox studio actress |
| Hume Cronyn | Actor | 18-Jul-1911 | 15-Jun-2003 | Cocoon |
| Finlay Currie | Actor | 20-Jan-1878 | 9-May-1968 | Great Expectations |
| Cary Grant | Actor | 18-Jan-1904 | 29-Nov-1986 | North by Northwest |
| Basil Ruysdael | Actor | 24-Jul-1888 | 10-Oct-1960 | The Cocoanuts |
| Walter Slezak | Actor | 3-May-1902 | 21-Apr-1983 | Hitchcock's Lifeboat |
CAST
REVIEWS
Review by Jo B (posted on 26-Feb-2005)
I absolutely loved this movie and regret that it hasn't been given its due in recent times by AMC and TCM. Cary Grant reportedly didn't care for the movie himself, but I think that he underestimated its worth. The premise of the movie, which might be considered one of its faults, is that a doctor, who used to be a butcher in Goose Creek so that he could practice the kind of medicine he believed in, would marry a pregnant patient of his who had attempted suicide. The movie is fun, the acting is vibrant (Cary Grant, Walter Slezak, Jeanne Crain, Sidney Blackmer, and Finlay Currie) and the villain, played by Hume Cronyn, is fun to hate.
---
Do you know something we don't?
Submit a correction or make a comment about this profile

Copyright ©2019 Soylent Communications