That's Entertainment! (23-May-1974)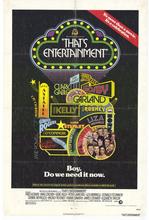 Director: Jack Haley, Jr.
Writer: Jack Haley, Jr.
Keywords: Documentary, Hollywood




Broad compilation featuring clips from MGM musicals over the years, celebrating the studio's 50th anniversary. Narrating from the MGM backlot are such luminaries as Frank Sinatra, Gene Kelly, and Fred Astaire. This is the clipshow to end all clipshows. Nestled among the delights are Esther Williams water acts and the tap-dancing Nicholas Brothers. "You can wait around and hope, but you'll never see the like of this again." Followed by two sequels, equally excellent.
| Name | Occupation | Birth | Death | Known for |
| --- | --- | --- | --- | --- |
| Fred Astaire | Dancer | 10-May-1899 | 22-Jun-1987 | Broadway ballroom dancer |
| Bing Crosby | Singer | 3-May-1903 | 14-Oct-1977 | White Christmas |
| Gene Kelly | Actor | 23-Aug-1912 | 2-Feb-1996 | Singin' in the Rain |
| Peter Lawford | Actor | 7-Sep-1923 | 24-Dec-1984 | Rat Pack member |
| Liza Minnelli | Singer | 12-Mar-1946 | | Cabaret |
| Donald O'Connor | Actor | 28-Aug-1925 | 27-Sep-2003 | Singin' in the Rain |
| Debbie Reynolds | Actor | 1-Apr-1932 | 28-Dec-2016 | Dancer, actress |
| Mickey Rooney | Actor | 23-Sep-1920 | 6-Apr-2014 | Actor in Andy Hardy comedies, musicals |
| Frank Sinatra | Singer | 12-Dec-1915 | 14-May-1998 | It's Frank's world, we just live in it |
| Jimmy Stewart | Actor | 20-May-1908 | 2-Jul-1997 | Mr. Smith Goes to Washington |
| Elizabeth Taylor | Actor | 27-Feb-1932 | 23-Mar-2011 | Cleopatra |
REVIEWS
Do you know something we don't?
Submit a correction or make a comment about this profile

Copyright ©2019 Soylent Communications