Carefree (2-Sep-1938)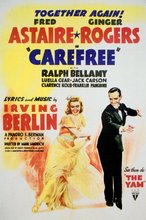 Director: Mark Sandrich
Writers: Allan Scott; Ernest Pagano; Dudley Nichols; Hagar Wilde; Marian Ainslee; Guy Endore
Lyrics and Music by: Irving Berlin
Producer: Pandro S. Berman
Keywords: Musical, Romantic Comedy, Psychiatry




After yet another broken engagement, an attorney asks his friend, a psychiatrist, to analyze his fiancée. After a dream analysis and ill-advised hypnosis session, she falls in love... with the psychiatrist. Underrated Astaire-Rogers pairing sprinkled with music and dance numbers. A dream sequence, "I Used to Be Colorblind", was originally filmed in color but RKO distributed it in black and white.
| Name | Occupation | Birth | Death | Known for |
| --- | --- | --- | --- | --- |
| Fred Astaire | Dancer | 10-May-1899 | 22-Jun-1987 | Broadway ballroom dancer |
| Ralph Bellamy | Actor | 17-Jun-1904 | 29-Nov-1991 | Trading Places |
| Jack Carson | Actor | 27-Oct-1910 | 2-Jan-1963 | Two Guys From Milwaukee |
| Walter Kingsford | Actor | 20-Sep-1881 | 7-Feb-1958 | British-American character actor |
| Franklin Pangborn | Actor | 23-Jan-1888 | 20-Jul-1958 | Character actor, 1920s to 1950s |
| Ginger Rogers | Dancer | 16-Jul-1911 | 25-Apr-1995 | The Gay Divorcee |
CAST
REVIEWS
Review by Riccardo Bono (posted on 6-Dec-2010)
The eighth film in the Astaire/Rogers series, "Carefree", (1938, I believe), is best characterized as a screw ball comedy, and a star vehicle for Ginger Rogers. Directed by Mark Sandrich, with music by Irving Berlin, I found this an enjoyable romp through that wonderful fantasy land of Hollywood...called the land of Fred and Ginger. The film features one of their most energetic duets, "The Yam"...featuring eight spectacular lifts, where Fred lifts Rogers over his leg (perched on a dining room table)...and one of their most ethereal romantic dances, "Change Partners". In this dance Rogers is hypnotized by Fred and literally floats though the choreography in one of their most beautiful duets. I won't get into the plot specifics...be but be rest assured that somehow Fred and Ginger are united at the ending. Watch it late some cold winter night, for maximum fun and enjoyment.
---
Do you know something we don't?
Submit a correction or make a comment about this profile

Copyright ©2019 Soylent Communications