The Apartment (15-Jun-1960)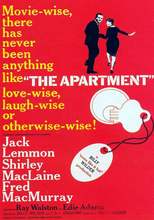 Director: Billy Wilder
Writers: Billy Wilder; I. A. L. Diamond
Music by: Adolph Deutsch
Producer: Billy Wilder
Keywords: Romantic Comedy, New York, New Year's Eve




Jack Lemmon is C. C. Baxter, cog in the enormous machine of an insurance company. To vault ahead a bit, he allows his superiors access to his ideally situated Manhattan apartment for their extramarital canoodling, but word gets out and it becomes a bit too popular. To make matters worse, Baxter makes a date with a pretty elevator girl, which she misses because... she's in his apartment... with his boss, Fred MacMurray. Won 5 Oscars including Best Picture, Best Director, and Best Screenplay; received 5 additional nominations including Best Actor and Actress, Best Supporting Actor and Best Cinematography. Entered 1994 into the National Film Registry.
[watch trailer]
| Name | Occupation | Birth | Death | Known for |
| --- | --- | --- | --- | --- |
| Edie Adams | Actor | 16-Apr-1925 | 15-Oct-2008 | Lover Come Back |
| Jack Kruschen | Actor | 20-Mar-1922 | 2-Apr-2002 | The Apartment |
| Jack Lemmon | Actor | 8-Feb-1925 | 27-Jun-2001 | The Odd Couple |
| Shirley MacLaine | Actor | 24-Apr-1934 | | Terms of Endearment |
| Fred MacMurray | Actor | 30-Aug-1908 | 6-Nov-1991 | The Absent-Minded Professor |
| Joan Shawlee | Actor | 5-Mar-1926 | 22-Mar-1987 | The Adventures of Aggie |
| Ray Walston | Actor | 2-Dec-1914 | 1-Jan-2001 | My Favorite Martian |
| Willard Waterman | Actor | 29-Aug-1914 | 2-Feb-1995 | The Great Gildersleeve |
| David White | Actor | 4-Apr-1916 | 27-Nov-1990 | Larry Tate on Bewitched |
CAST
REVIEWS
Review by Michael Lesch (posted on 26-Oct-2008)
The definitive movie for the comedy/drama genre Billy Wilder's "The Apartment" is a film which can produce some of the biggest laughs and at the same time... can bring many viewers to tears, Billy Wilder's quaint little tale about everyday people who get tangled up in love, jealousy and infidelity boasts a top-notch cast led by the trio of Lemmon, MacLaine and MacMurray who are tremendous. The plot revolves around C.C. (Lemmon) who unknowingly makes the unethical attempt of climbing the corporate ladder by 'loaning' his apartment to members from his management chain to entertain their 'women on the side'. Given the change of circumstances, this premise certainly could even hit home in the current office environment. Although the office party and secretarial gossip scenes could be viewed as dated, the power and attitude of the corporate executive, Mr. Sheldrake (MacMurray) is certainly symbolic. The character of Fran (MacLaine) for today's standards of course seems too submissive and vulnerable but the reward of her finding true, admirable, unconditional companionship is quite enriching and fulfilling to any who see this memorable film.
---
Do you know something we don't?
Submit a correction or make a comment about this profile

Copyright ©2019 Soylent Communications