Kate & Leopold (25-Dec-2001)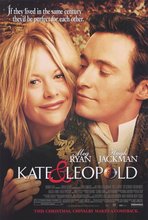 Director: James Mangold
Writers: James Mangold; Steven Rogers
Keywords: Romantic Comedy, Time Travel




A time-traveling duke from the nineteenth century falls in love with a contemporary New Yorker.
ABSTRACT
Leopold Alexis Elijah Walker Thomas Gareth Mountbatten, Duke of Albany in 1876 Great Britain, harbors an interest in science running counter to uncle Millard's desire for him to marry into money and restore prestige to his noble family's depleted coffers. Crossing paths with an amateur physicist named Stuart Besser working on research concerning time travel, Leopold falls into one of his "temporal portals", winding up in modern-day New York City and entertaining a romance with Stuart's ex-girlfriend Kate McKay in spite of the extreme culture shock associated with his traveling through time. Uncertainty reigns supreme as Stuart rushes to send Leopold back home to fix a hole punctured in the space-time continuum, a problem compounded by Leopold's romance and Stuart getting sent to a mental ward over his research.
REVIEWS
Review by sally (posted on 24-Feb-2005)
I loved this film. I am usually an X-Men, Matrix kind of gurrrl. It was the one time I was out-voted by my girlfriends and had to see a chick flick. It's a very sappy love film, not like a Harold & Maude, but more of humorous movie with that Meg Ryan whacky thing. Time travel and a love affair -- what more could a depressed physicist want?
---
Do you know something we don't?
Submit a correction or make a comment about this profile

Copyright ©2019 Soylent Communications