The Dirty Dozen (15-Jun-1967)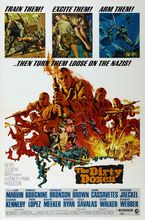 Director: Robert Aldrich
Writers: Nunnally Johnson; Lukas Heller
From novel: The Dirty Dozen by E. M. Nathanson
Music by: Frank De Vol
Producer: Kenneth Hyman
Keywords: Action/Adventure, WWII, Nazis




An insubordinate US Army Major is offered a reprieve if he accepts the assignment of taking 12 maximum-security prisoners, getting them in shape for a near-suicide mission behind enemy lines, and then performing an assault on a French château where key Nazi officers will be gathered. Success will bring pardons to the prisoners. Quintessential "mission" movie with an all-star cast and excellent character development, though some weaknesses in the final act. Received an Oscar for Best Sound Effects, and nominated for 3 others including John Cassavetes for Best Supporting Actor.
[watch trailer]
CAST
REVIEWS
Review by Trish (posted on 27-Mar-2005)
How many times have I seen this movie should be the question! One of the best movies made. It has all the elements of entertainment -- e.g., musical (with Trini Lopez); comedy (John Cassavetes & Donald Sutherland); drama (Telly Savalas); action (Lee Marvin); hunks (Charles Bronson, Clint Walker, Jim Brown), and so much more. And if you listen hard enough, you could learn a little foreign language. The movie kept me glued to my seat; and each time I watch it, I see something I missed before. I'm still trying to learn the poem for the "Steps" they had to take during the raid, so I guess I'll keep watching 'til I do :-).
Love the movie -- thanks for the opportunity.
---
Do you know something we don't?
Submit a correction or make a comment about this profile

Copyright ©2019 Soylent Communications