A Beautiful Mind (13-Dec-2001)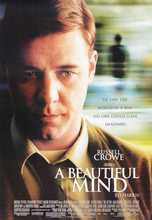 Director: Ron Howard
Writer: Akiva Goldsman
Based on a book: A Beautiful Mind by Sylvia Nasar
Keywords: Drama, Cryptography, Biography, Harvard, Mathematics, Mental Illness




Biographical drama follows famed mathematician John Nash's life, career, and descent into mental illness.
ABSTRACT
Nobel Prize-winning mathematician John Nash finds events surrounding his life and career fictionalized for the silver screen in A Beautiful Mind, a semi-biographical picture depicting the prodigy's rise to prominence on the strength of an ability to solve seemingly-uncrackable math puzzles at Princeton and the Pentagon before falling victim to demons unleashed by his own mind.
REVIEWS
Review by Michael Lesch (posted on 10-Jul-2009)
This is an outstanding motion picture telling the powerful story of the rise & fall, then subsequent triumphant rise again of Dr. John Nash. Russell Crowe is outstanding as the compelling lead. Film is visually stunning throughout as it covers over 40 years of Nash's amazing brilliant and often tragic life; a sincere tribute to a genuinely unique and interesting life struggle. Jennifer Connelly delivers a memorable performance as well giving brave portrayal of Nash's wife, which earned her a well-deserved Oscar in the female lead category. Yet the major credit for this well-crafted motion picture is the inventive collaboration of director Ron Howard's vision with the skilled production talents of Brian Grazer who took home Oscar that same year for Best Director and Best Picture respectively. Through their collective efforts they utilized Akiva Goldsman's Oscar winning screenplay in a clever and imaginative way to transform this sympathetic yet complex story into a delightful, pleasing to the eye treat that will engage all that screen this powerful biography of a brilliant yet flawed professor.
---
Do you know something we don't?
Submit a correction or make a comment about this profile

Copyright ©2019 Soylent Communications