The Maltese Falcon (3-Oct-1941)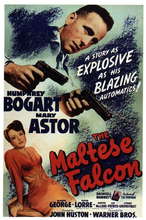 Director: John Huston
Writer: John Huston
From novel: The Maltese Falcon by Dashiell Hammett
Music by: Adolph Deutsch
Keywords: Mystery, Treasure Hunt




A woman hires private detectives Sam Spade and Miles Archer to locate her sister, who supposedly in the company of Floyd Thursby. Both Archer and Thursby turn up dead, the woman isn't who she claims she was, and a shady character named Joel Cairo offers spade $5,000 to find an antique statue of a Maltese Falcon. Hard boiled detective tale and early film noir is John Huston's directorial debut, coming in $50,000 under budget. George Raft turned down the lead role, contending "this is not an important picture." Received Oscar nominations for Best Picture, Best Supporting Actor and Best Screenplay. Entered 1989 into the National Film Registry. Dashiell Hammett's novel saw two earlier adaptations, The Maltese Falcon (1931) and Satan Met a Lady (1936).
[watch trailer]
| Name | Occupation | Birth | Death | Known for |
| --- | --- | --- | --- | --- |
| Mary Astor | Actor | 3-May-1906 | 25-Sep-1987 | The Maltese Falcon |
| Humphrey Bogart | Actor | 25-Dec-1899 | 14-Jan-1957 | Casablanca |
| Ward Bond | Actor | 9-Apr-1903 | 5-Nov-1960 | Wagon Train |
| Elisha Cook, Jr. | Actor | 26-Dec-1903 | 18-May-1995 | The Maltese Falcon |
| Jerome Cowan | Actor | 6-Oct-1897 | 24-Jan-1972 | Miracle on 34th Street |
| Gladys George | Actor | 13-Sep-1900 | 8-Dec-1954 | Valiant Is the Word for Carrie |
| Sydney Greenstreet | Actor | 27-Dec-1879 | 18-Jan-1954 | Kaspar Gutman in The Maltese Falcon |
| Peter Lorre | Actor | 26-Jun-1904 | 23-Mar-1964 | The Maltese Falcon |
| Barton MacLane | Actor | 25-Dec-1902 | 1-Jan-1969 | Gen. Peterson on I Dream of Jeannie |
| Lee Patrick | Actor | 22-Nov-1901 | 21-Nov-1982 | Henrietta Topper on Topper |
CAST
REVIEWS
Review by Mark J. Shallow (posted on 12-Dec-2008)
It is a daunting task to take a film that ranks prominently among the AFI's 100 Most Influential films and bring it down a notch or two, but it seems like this version of Dashiell Hammett's gritty detective yarn is not the pristine classic that so many people think it is. More daunting still is to cite the major flaw as being the performance given by Humphrey Bogart in what is generally thought to be the role that made him a star(CASABLANCA did that). Bogart's characterization seems stilted, and at times, forced. As often as not, he's not so much breathing life into his lines as merely speaking them. When Joel Cairo comes to his office and attempts, in vain, to find the falcon, Bogart's laugh lacks credibility. His thrusts and jabs with Brigid O'Shaughnessey seem like recitations from a handbook given to all private detectives on how to deal with sultry female clents. When he tries to exert his authority over Kaspar Gutman, he comes off as more smug than anything else. Hammett's Sam Spade is hard-boiled. Bogart makes him look and feel more like he's poached. As a side note, an infinitely more satisfying potrayal of a private eye by Bogart can be seen in the Howard Hawks version of Raymond Chandler's THE BIG SLEEP.
---
Do you know something we don't?
Submit a correction or make a comment about this profile

Copyright ©2019 Soylent Communications