Soylent Green (19-Apr-1973)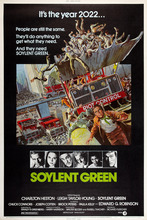 Director: Richard Fleischer
Writer: Stanley R. Greenberg
From novel: Make Room! Make Room! by Harry Harrison
Original Music: Fred Myrow
Producers: Walter Seltzer; Russell Thacher
Keywords: Sci-Fi, Dystopian, Cannibalism, New York




Earth in 2022 is overpopulated, ruled by elites, heavily rationed and riot-prone; the general population is fed largely by colored protein wafers of the Soylent Corporation. Charlton Heston is Det. Thorn, New York Police detective called in to investigate the death a one of Soylent's directors, presumably at the hands of a burglar. Thorn's friend Sol Roth is old enough to remember the past, before society had taken its ugly turn. Edward G. Robinson's last film. Winner of the Nebula Award for Best Dramatic Presentation.
[watch trailer]
CAST
Starring
Charlton Heston
... Thorn
Leigh Taylor-Young
... Shirl
Co-Starring
Chuck Connors
... Tab Fielding
Joseph Cotten
... Simonson
Brock Peters
... Hatcher
Paula Kelly
... Martha
and
Edward G. Robinson
... Sol Roth
Co-Starring
Stephen Young
... Gilbert
Mike Henry
... Kulozik
Lincoln Kilpatrick
... The Priest
Roy Jenson
... Donovan
Featuring
Leonard Stone
... Charles
Whit Bissell
... Santini
Celia Lovsky
... The Exchange Leader
Additional Characters
Dick Van Patten
... Usher #1
Morgan Farley
... Book #1
John Barclay
... Book #2
Belle Mitchell
... Book #3
Cyril Delevanti
... Book #4
Forrest Wood
... Attendant
Faith Quabius
... Attendant
Jane Dulo
... Mrs. Santini
Tim Herbert
... Brady
John Dennis
... Wagner
Jan Bradley
... Bandana Woman
Carlos Romero
... New Tenant
Pat Houtchens
... Fat Guard
And the Furniture Girls
Joyce Williams
... Furniture Girl
Erica Hagen
... Furniture Girl
Beverly Gill
... Furniture Girl
Suesie Eejima
... Furniture Girl
Cheri Howell
... Furniture Girl
Kathy Silva
... Furniture Girl
Jennifer King
... Furniture Girl
Marion Charles
... Furniture Girl
REVIEWS
Review by Don (posted on 25-May-2009)
To give this movie a rating is sort of academic. As entertainment, I recall good acting by great stars holding together a somewhat lacking plot. But then, during that era we had our share of pessimistic, eco-disaster, post-nuclear, or in this case overpopulated world movies that this one fit right into. However, embedded in this movie is one scene particularly memorable to those baby boomers of us now faced with elder care, and the difficult decisions regarding end-of-life decisions. While modern medical science in the real world has worked overtime to come up with new medicines, procedures and equipment to prolong life, in the Soylent Green world it is the opposite. Euthenasia is encouraged. It serves as a grisly source for the food of the masses, as well as a solution to the world's burgeoning overpopulation. Edward G. Robinson, when it is his time to die, is made comfortable, surrounded with big TV screens and pleasant pictures. Nice music is playing in the background. I can't recall if he is permitted a last dinner (the movie has a scene about eating contraband beefsteak instead of Soylent Green, maybe I'm getting that confused.) Anyway, for a third time in my life I'm helping an 80+ year old aging parent make it through her last years. The scene is not as restful and comfortable as Edward G. Robinson's passing in the movie. Perhaps there is a lesson here from the movie's producers and directors that we have missed. Maybe Jack Kavorkian wasn't all wrong. Oh, and one last note. When Robinson passed away in real life, I was told he had his extensive collection of fine artwork paraded into his room and displayed at the foot of his hospital bed, so that he could enjoy looking at them one last time. I wonder where he got the idea to do that?--don
---
Review by Dvarpala (posted on 9-Jan-2008)
A stark depiction of a not-too-distant future, where society is on the point of collapse as the Earth's resources are essentially exhausted - due to pollution and over-use. Set in New York, the majority of the population are starving and desperate for state food hand-outs, one of which is "Soylent Green". Charlton Heston plays a police officer helping, among other things, to control the inevitable food riots that ensue whenever ther is a distribution of food. His involvment in a murder case leads him to the horrible nature of "Soylent Green", which is basically recycled human corpses. Very much of it's time (1973), this is topical viewing in today's ecological aware world.
---
Do you know something we don't?
Submit a correction or make a comment about this profile

Copyright ©2016 Soylent Communications