What's Eating Gilbert Grape (17-Dec-1993)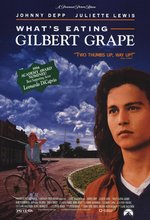 Director: Lasse Hallstrom
Writer: Peter Hedges
From novel: What's Eating Gilbert Grape by Peter Hedges
Keywords: Drama, Obesity, Retards




In small town Iowa, twenty-year-old Gilbert Grape cares for his mentally retarded brother Arnie and his morbidly obese and widowed mother Bonnie, with very limited help from his two sisters; his unusual living situation wreaks havoc with whatever hope he has for romance. Leonardo DiCaprio received an Oscar nomination for Best Supporting Actor.
REVIEWS
Review by Joey (posted on 22-Sep-2005)
This movie is the best of the very best. No one could have picked a better cast than all of the characters in this movie. I fell in love with Darlene when I saw her for the first time on Sally a few years ago. I was taken back at what a sweet and loving person she was and then when I saw the movie What's Eating Gilbert Grape, that was it for me. Johnny Depp is by far the most wonderful person in the world and he and Darlene made the movie the hit that it is. I have watched it every time it comes on HBO. No one has come close to making such a wonderful movie as this.
---
Review by Marlene (posted on 14-Feb-2005)
The characters were well rounded and the acting was superb. I was especially impressed by Darlene Cates and Leonardo DiCaprio. Darlene's portrayal of Bonnie Grape was, in my opinion, worthy of an Academy Award nomination. She brought a realness to "mama" that made it easy for viewers to empathize and care for her.
---
Do you know something we don't?
Submit a correction or make a comment about this profile

Copyright ©2019 Soylent Communications