Knocked Up (9-Dec-2006)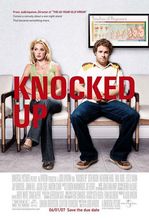 Director: Judd Apatow
Writer: Judd Apatow
Keywords: Romantic Comedy, Pregnancy, Marijuana, Los Angeles




Romantic comedy follows a party animal as he unintentionally impregnates a one-night stand.
ABSTRACT
Ben Stone, a pothead-cum-loser and all-around party animal, unintentionally impregnates young woman and aspiring starlet Alison Scott in the course of a one-night stand following a heavily intoxicated romp at a party. Caught by total surprise when Alison arrives at his doorstep eight weeks after their condom-less escapade and announces her pregnancy, Ben -- making the decision to stay with Alison and assist in raising the child -- must learn to grow up and adapt to a new set of responsibilities in short order if he is to make a successful transition to fatherhood.
REVIEWS
Review by Stoned Again (posted on 29-Feb-2008)
Profane, crude and hilarious!
---
Do you know something we don't?
Submit a correction or make a comment about this profile

Copyright ©2019 Soylent Communications