The Benchwarmers (7-Apr-2006)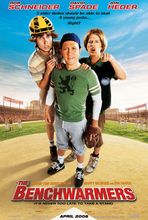 Director: Dennis Dugan
Writers: Allen Covert; Nick Swardson
Music by: Waddy Wachtel
Producers: Adam Sandler; Jack Giarraputo
Keywords: Sports Comedy, Baseball




Three hapless men bitter over their childhoods form a baseball team to compete against youth squads.
ABSTRACT
Clark, Gus, and Ritchie, three adult men bitter over a series of slights in their childhood, decide to form a baseball team with a view to competing against their area's best youth squads. The Benchwarmers follows the unlikely trio, darlings of every put-upon resident of their community, a they embark on a slapstick adventure playing baseball against children.
CAST
Rob Schneider
... Gus
David Spade
... Richie
Jon Heder
... Clark
Jon Lovitz
... Mel
Craig Kilborn
... Jerry
Molly Sims
... Liz
Tim Meadows
... Wayne
Nick Swardson
... Howie
Erinn Bartlett
... Salad Girl / Sarah
Amaury Nolasco
... Carlos
Bill Romanowski
... Karl
Sean Salisbury
... Brad
Matt Weinberg
... Kyle
John Farley
... Swimmer Boy
Reggie Jackson
... Himself
Joey Gnoffo
... Marcus Ellwood
Jackie Sandler
... Female Customer
Ray Nicholson
... Kid Catcher #1 Game #2
Jared Sandler
... Autograph Kid
Terry Crews
... Poker Guy #1
Rachel Hunter
... Hot Mother
Patrick Schwarzenegger
... Jock Kid Game #3
Dan Patrick
... Poker Guy #2 A.K.A. O'Malley
Robert S. Frank
... Spock Lookalike
John Kirk
... Hobbit
Rob S. Moore
... Poker Guy #3
James Earl Jones
... Voice of Darth Vader
Max Prado
... Nelson
Dennis Dugan
... Coach Bellows
Jillian Henry
... Gretchen Peterson
Garrett Julian
... Mitchell
Alex Warrick
... Sammy Sprinkler
Cole Hockenbury
... Jarrett
Danny McCarthy
... Troy
Mason Knight
... Charlie Catcher
Charles Dugan
... Marty
Doug Jones
... Number 7 Robot
Jonathan Loughran
... Brad's Assistant Coach
Michael Westphal
... Kid Umpire
Chipps Cooney
... Old Man
Irene Roseen
... Elderly Woman
Judith Drake
... Mrs. Johnson
Earl Skakel
... Outhouse Guy
Gloria Payne
... Smitten Mother
Michael Venit
... Kid Catcher Game #5
Gerry Del Sol
... Umpire
David Haddad
... Umpire
Chillie Willie Smith
... Umpire
Blake Clark
... Umpire
Brooke Langton
... Kathy Dobson
Ron Masak
... Principal
Mary Jo Catlett
... Mrs. Ellwood
J. J. Darwish
... Goth Kid
Lochlyn Munro
... Ultimate Home Remodel Host
Matthew Willig
... Jock Guy
DJ Evans
... Little Nerdy Kid
Alastair Douglas
... Carlos' Son
Cleo King
... Lady Customer
Luke Franco
... Baseball Fan #1
David Agdaian
... First Baseman
Bob Sexton
... Karl's Assistant Coach
Gary Hartunian
... Dad Umpire
Jonathan Wachter
... Brookdale Team Captain
Gus Aukuso Puluti
... Nerd Vendor
Kimberly Jackson
... Baseball Fan #3
Madison McGolgan
... Benchwarmer Fan #2
Joseph R. Sicari
... Hot Dog Vendor
Blake Hogue
... Nerd Fan Game #4
Rich Burris
... Umpire Game #3
Michael Moore
... Candia Assistant Coach
Tom Silardi
... Candia Coach
Erick Keays
... Nerd Vendor #2
Ellie Schneider
... Goth Kid's Girlfriend
Abbi Butler
... Pizza Hut Employee
Mesha Kussman
... Hot Dog Customer
Wyking Jones
... Umpire #5
Darryl K. Miller, Sr.
... Umpire #6 Game #6
Robert Harvey
... Umpire #7
Gabriel Pimental
... Little Man
Jack Platner
... Wayne's Team, 2nd Baseman
Joey Singleton
... Wayne's Team, Center Fielder
Nolan Sax
... Wayne's Team, Shortstop
Stephen Andrich
... Umpire #8
REVIEWS
Review by Mason Haynes (posted on 15-Jun-2007)
This film is funny for everyone in the family. It's basically about two guys [Rob Schneider, Jon Heder & David Spade] who were bullied as kids. They then meet a multi-billionaire called Mel & his son, Nelson, who is bullied too. He gives them the idea that they should form a baseball team and their opponents will be the mean-spirited baseball teams in their district. This film is hilarious. If you haven't seen it I recommend you do.
---
Do you know something we don't?
Submit a correction or make a comment about this profile

Copyright ©2019 Soylent Communications