American Beauty (8-Sep-1999)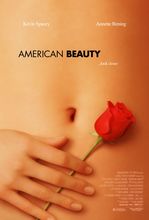 Director: Sam Mendes
Writer: Alan Ball
Music: Thomas Newman
Producers: Bruce Cohen; Dan Jinks
Keywords: Dark Comedy, Marijuana, Cheerleaders, Controversial




Lester Burnham is a middle-aged suburbanite pricing sportscars in midlife crisis. His wife Caroyln is a bit of a shrew, and daughter Jane is a depressed self-loathing high school student. Lester is obsessed with his daughter's cheerleader friend Angela; his wife has an affair with a business associate; Jane goes out with the weird boy who moved in next door. Won Oscars for Best Picture, Best Actor, Best Director, Best Cinematography, and Best Screenplay; additional received nominations for Best Actress, Best Score and Best Editing.
REVIEWS
Review by Walter Frith (posted on 12-Jul-2007)
How often have you felt your life to be insignificant, tedious and downright meaningless? Films like 'It's a Wonderful Life' show just how one single person can have a large impact on the lives of those around them and likewise. 'American Beauty' falls within the compound of urban melodrama, sexual fantasy and inverted satire all mixed into one platform of story telling. The ads for the film are sort of misleading. When I saw the television spot for it, I thought it was a comedy. How wrong I was! The film is a catapulting force of inventive character studies with the people involved having mostly negative feelings about each other and is a truly dead on accurate of how distant people have become with each passing year. The people involved aren't widely known directors or writers and the cast is a group of people who have won critical acclaim, Oscars, and praise for their work. They aren't movie stars, just great talents put together like a jigsaw puzzle with all of the pieces falling into the right places. Let's begin with the Burnham family. There is Lester (Kevin Spacey). He's a 42 year old writer who has worked for a magazine the last 14 years of his life. He is a man who has never really gathered up his adult responsibilities in life. He isn't the kind of guy you want to hang around with in real life. His personality is actually that of Kramer from 'Seinfeld' except for the humour. Take away the laughs and you have a character you actually feel sorry for. His wife Carolyn (Annette Bening) is a materialistic woman with ice in her veins. The two of them haven't had sex in a very long time. Even though that is never mentioned, you can tell and that observation is even made by another one of the film's characters. Not only have they alienated each other but their teenage daughter Jane (Thora Birch) is at odds with them and herself for that matter and has nothing but contempt for her parents. Her best friend Angela Hayes (Mena Suvari) has caught the attention of Lester's eye who develops a crush on his daughter's friend and sexually fantasizes about her quite often and we see his fantasies visually with nicely textured scenes which are tasteful and very deep rooted. Next door to the Burnham family live the Fitts. There is the teenage son Ricky (Wes Bentley), a drug dealer with a deceiving and clean cut appearance and shining personality. His father is a right wing gung ho marine (Chris Cooper) who is a bigot and his mother Barbara (Allison Janney) is a woman who enjoys playing second fiddle to her military husband and has no life of her own. Minor characters that appear briefly but turn out to be important to the film's resolution and should have been seen more to solidify the film's emotional tone are two gay men played by Scott Bakula and Sam Robards as fellow neighbors to the Burnhams and Fitts'. Rounding out the cast of significant players is a highly successful real estate honcho portrayed by Peter Gallagher who has an adulterous affair with Carolyn. 'American Beauty' is filled with acute observations about suburban life and makes some unattractive characters seem likeable and others which are equally unattractive are displayed as highly unlikable. It depicts personality as its key element of appeal. Kevin Spacey is brilliant in this film. He manages to be tragic, extremely funny and displays youthful exuberance as a man just past the middle aged part of his life. Annette Bening is just as impressive in this film as a woman whose rigid conservatism makes her sexually repressed, cold and failing as a wife and mother. Chris Cooper is the stand out in a supporting performance as one of those characters you would just love to dunk at a carnival water tank attached to a target. His tough as nails portrait of a military man who hates sensitivity and those different than him make his character perhaps the most hated in the film as he tries to control his family's every move. Director Sam Mendes illuminates his film with even strength. The film never takes a wrong path when faced with a fork in the road. Everything is highly believable and you will shutter with just how much you will identify with at least one of the film's characters and although you think you can avoid the comparisons, it will nag at you long after you view the final cut. The right words and situations are dished out courtesy of writer Alan Ball. He builds an arc of reality around the entire story to the point where its conclusion should make you seriously evaluate your own life, no matter how small you deem it to be in certain cases. 'American Beauty' is Oscar material in all academic categories and despite its title, it really isn't an American issue at all but one that is possible in any suburban neighbourhood in the world where there are people. Visit FILM FOLLOW-UP by Walter Frith
---
Review by banion48 (posted on 4-Apr-2005)
An average man in an everyday life will eventually go insane. Spacey traces the mid-life crisis of a small-town American business man from start to finish in this critically acclaimed film. Driven boyishly mad by lust for one of his daughter's promiscuous friends, Lester Burnham (Spacey) amuses and surprises the audience with his new attitude and devil-may cry humor. But when his new personality starts tearing the family apart we see the darker side of life and how insane everyday people can truly be.
---
Review by Adam Cherry (posted on 17-May-2007)
This movie is pretty much my all time favorite movie. It really made me realize there was beauty in EVERYTHING! I used to be a total bad kid and I was depressed. I saw it 2 years ago when I was only 12 and it blew my mind. Wes Bentley has become my favorite actor of all time. I know it sounds stupid but this movie really has changed my life.
---
Review by Berry van Hagen (posted on 6-Apr-2005)
I thought that American Beauty was a beautiful movie, especially because it was so unusual. It pointed out the superficiality of the american lifestyle. Mena Suvari played a wonderful part because she pretended to be this very sexually experienced girl when she was really very sweet and innocent and especially vulnerable. Apart from that she is just very beautiful in a kind of different sort of way.
---
Do you know something we don't?
Submit a correction or make a comment about this profile

Copyright ©2019 Soylent Communications