The Thing (25-Jun-1982)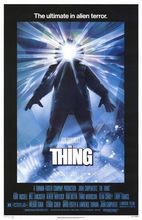 Director: John Carpenter
Writer: Bill Lancaster
From short story: Who Goes There? by John W. Campbell, Jr.
Music by: Ennio Morricone
Producers: David Foster; Lawrence Turman
Keywords: Sci-Fi/Horror, Alien Invasion, Antarctica, Explosions




Under the guise of a escaped dog, a shape-shifting alien enters an American research base in Antarctica, killing its inhabitants one by one and assuming their identities. An atmosphere of tense paranoia congeals. One of John Carpenter's best. Short story previously adapted as The Thing From Another World (1951), different enough that one would not consider this a remake.
[watch trailer]
CAST
REVIEWS
Do you know something we don't?
Submit a correction or make a comment about this profile

Copyright ©2019 Soylent Communications