The Thing From Another World (6-Apr-1951)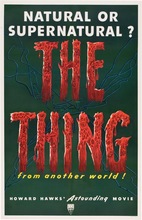 Director: Christian Nyby
Writer: Charles Lederer
From short story: Who Goes There? by John W. Campbell, Jr.
Keywords: Sci-Fi, Alien Invasion




Scientists and soldiers at an Arctic research station uncover a flying saucer stranded in the ice; the vessel explodes during an attempt at recovery, but its ice-encased humanoid passenger is successfully retrieved. Disastrously, it thaws accidentally and begins feeding on local fauna, which in this case are human. Entered 2001 into the National Film Registry. Remade by John Carpenter as The Thing (1982).
| Name | Occupation | Birth | Death | Known for |
| --- | --- | --- | --- | --- |
| James Arness | Actor | 26-May-1923 | 3-Jun-2011 | Marshal Matt Dillon on Gunsmoke |
| Eduard Franz | Actor | 31-Oct-1902 | 10-Feb-1983 | The Four Skulls of Jonathan Drake |
| Dewey Martin | Actor | 8-Dec-1923 | | The Big Sky |
| Kenneth Tobey | Actor | 23-Mar-1917 | 22-Dec-2002 | Chuck Martin on Whirlybirds |
CAST
Margaret Sheridan
... Nikki
Kenneth Tobey
... Capt. Patrick Hendry
Robert Cornthwaite
... Dr. Carrington
Douglas Spencer
... Scotty
James R. Young
... Lt. Eddie Dykes
Dewey Martin
... Crew Chief
Robert Nichols
... Lt. Ken Erickson
William Self
... Cpl. Barnes
Eduard Franz
... Dr. Stern
Sally Creighton
... Mrs. Chapman
and
James Arness
... The Thing
REVIEWS
Review by Eddee (posted on 2-Aug-2007)
Scared the hell out of me. Saw it in '51. Can still see that hand caught in the door shooting crap from the fingers. The THING walking toward the humans and a track in the middle of the building. Geez still scares me to think about it and I'm 71 years old now.
---
Review by anonymous (posted on 23-Jun-2005)
When this movie came out, it was the scariest movie around. James Arness played the part of " The Thing ", his first role in the movies. Kenneth Tobey starred in the film. It concerns a spacecraft which crashed in the Artic and sank in the ice..when the attempt to uncover the flying saucer, it burned and exploded. The occupant was found buried in the ice and taken back to the Army Base.. Of course the ice melts, and mayhem ensues, and The Thing kills a few of the men, until they figure out a way to kill it. As I was 12 when this movie came out, there were scenes which scared the bejesus out of me. The movie is quite dated against the high tech scary stuff today, but it is one of the biggest classics of Science Fiction in the last 55 years or so.. See it if you can find it...
---
Do you know something we don't?
Submit a correction or make a comment about this profile

Copyright ©2019 Soylent Communications