Anne of Green Gables (23-Nov-1934)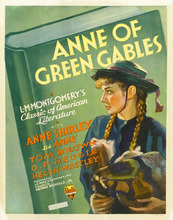 Director: George Nichols, Jr.
Writer: Sam Mintz
From novel: Anne of Green Gables by Lucy Maud Montgomery
Producer: Kenneth MacGowan




Set in 1919, a spinster and her middle-aged brother agree to adopt a boy from a faraway orphanage to help with their farmwork, but the Cuthberts unexpectedly find themselves instead caring for 14-year-old Anne, "Carrot Top." Under their care Anne attends school, matures, and attracts the attention of handsome Tom Brown. Decent B-level production, the pacing rushed in the second half.
| Name | Occupation | Birth | Death | Known for |
| --- | --- | --- | --- | --- |
| Charley Grapewin | Actor | 20-Dec-1869 | 2-Feb-1956 | Tobacco Road |
| Sara Haden | Actor | 17-Nov-1899 | 15-Sep-1981 | The Shop Around the Corner |
| Anne Shirley | Actor | 17-Apr-1918 | 4-Jul-1993 | Stella Dallas |
| Helen Westley | Actor | 28-Mar-1875 | 12-Dec-1942 | Death Takes a Holiday |
CAST
with
Anne Shirley
... Anne
Tom Brown
... Gilbert
O. P. Heggie
... Matthew
Helen Westley
... Marilla
Sara Haden
... Mrs. Barry
Murray Kinnell
... Mr. Phillips
Gertrude Messinger
... Diana
Charley Grapewin
... Dr. Tatum
Hilda Vaughn
... Mrs. Bluett
June Preston
... The Bluett Little Girl
REVIEWS
Review by anonymous (posted on 24-Jun-2005)
If you are a true "kindred spirit" you can't help but love this old show. In some places it is a bit different from the books and characters differ from the later movie starring Megan Follows. All actors in the movie are charming with the exception of the Marilla character. I didn't think she fit the role at all. If you enjoy the books or the later version starring Megan Follows, you will enjoy this movie. Just be ready for a few characters to be a little different.(For instance they combined Mrs. Lynde and Mrs. Barry) I give it a thumbs up for a classic movie!
---
Do you know something we don't?
Submit a correction or make a comment about this profile

Copyright ©2019 Soylent Communications