Mulholland Dr. (16-May-2001)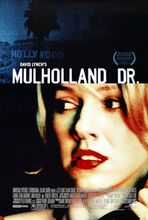 Director: David Lynch
Writer: David Lynch
Music Composed and Conducted by: Angelo Badalamenti
Producers: Mary Sweeney; Alain Sarde; Neal Edelstein; Michael Polaire; Tony Krantz
Keywords: Mystery, Amnesia, Lesbian




A woman gripped by amnesia following a nasty car accident embarks on a mind-bending quest for answers.
ABSTRACT
A beautiful young woman traveling along Los Angeles' Mulholland Drive is stricken with amnesia after her vehicle gets involved in a brutal car accident. Stumbling about town with a head wound and no recollection of her identity, Rita happens upon Betty, a Canadian-born aspiring actress staying at her aunt's house, soon setting out with her on a peculiar journey to uncover truths about her past and unfortunate accident in this typically strange offering from David Lynch.
CAST
Justin Theroux
... Adam
Naomi Watts
... Betty / Diane Selwyn
Laura Harring
... Rita / Camilla Rhodes
Ann Miller
... Coco
Dan Hedaya
... Vincenzo Castigliane
Mark Pellegrino
... Joe Messing
Brent Briscoe
... Det. Domgaard
and
Robert Forster
... Det. McKnight
Jeanne Bates
... Irene
Dan Birnbaum
... Irene's Companion
Scott Wulff
... Limo Driver
Maya Bond
... Aunt Ruth
Patrick Fischler
... Dan
Michael Cooke
... Herb
Bonnie Aarons
... Bum
Michael J. Anderson
... Mr. Roque
Joseph Kearney
... Roque's Manservant
Enrique Buelna
... Back of Head Man
Richard Mead
... Hairy-Armed Man
Sean E. Markland
... Cab Driver at LAX
Angelo Badalamenti
... Luigi Castigliane
Daniel Rey
... Valet Attendant
David Schroeder
... Robert Smith
Robert Katims
... Ray Hott
Marcus Graham
... Mr. Darby
Tom Morris
... Espresso Man
Melissa George
... Camilla Rhodes
Matt Gallini
... Castigliane Limo Driver
Vincent Castellanos
... Ed
Diane Nelson
... Heavy-Set Woman
Charlie Croughwell
... Vacuum Man
Rena Riffel
... Laney
Michael Des Barres
... Billy
Lori Heuring
... Lorraine
Billy Ray Cyrus
... Gene
Tad Horino
... Taka
Melissa Crider
... Waitress at Winkies
Tony Longo
... Kenny
Geno Silva
... Hotel Manager
Katharine Towne
... Cynthia
Lee Grant
... Louise Bonner
Lafayette Montgomery
... Cowboy
Kate Forster
... Martha Johnson
James Karen
... Wally Brown
Chad Everett
... Jimmy Katz
Wayne Grace
... Bob Booker
Rita Taggart
... Linney James
Michele Hicks
... Nicki
Lisa Ferguson
... 1st AC
William Ostrander
... 2nd Assistant Director
Elizabeth Lackey
... Carol
Brian Beacock
... Backup Singer #1
Blake Lindsley
... Backup Singer #2
Adrien Curry
... Backup Singer #3
Tyrah M. Lindsey
... Backup Singer #4
Michael Weatherred
... Hank -- Assistant Director
Michael Fairman
... Jason
Johanna Stein
... Woman in #12
Richard Green
... The Magician
Conti Candoli
... Trumpet Player
Cori Glazer
... Blue-Haired Lady
Geno Silva
... Emcee
Rebekah Del Rio
... Herself
Lyssie Powell
... Blond in Bed
Scott Coffey
... Wilkins
Kimberly Clever
... Dancer
Joshua Collazo
... Dancer
Lisa Ferguson
... Dancer
David Frutos
... Dancer
Peter Loggins
... Dancer
Theresa Salazar
... Dancer
Thea Samuels
... Dancer
Christian Thompson
... Dancer
REVIEWS
Review by anonymous (posted on 1-Feb-2007)
Many find David Lynch's surrealistic non-linear storytelling annoying. His films are intellectually stupefying and emotionally jarring. Like the late Robert Altman, Lynch has no misgivings about plying his craft in television. Mulholland Drive began as a tv pilot that burned too hot for network executives and wound up as a feature film that earned him a tie for best director at the 2001 Cannes Film Festival. If you liked Naomi Watts in King Kong and have noticed Laura Harring on FX's The Shield, you will love them in Mulholland Drive. This film oozes with their raw beauty and sexuality. It is a tantalizing mystery that requires many viewings. Angelo Badalamenti's soundtrack is superb and a vocal performance by little known Rebekah Del Rio is absolutely riveting. David Lynch is the only director in the business who can make a film like this. If you found Twin Peaks: Fire Walk With Me or Lost Highway too bizarre, give Lynch another chance with this one.
---
Do you know something we don't?
Submit a correction or make a comment about this profile

Copyright ©2019 Soylent Communications