Terminator 3: Rise of the Machines (30-Jun-2003)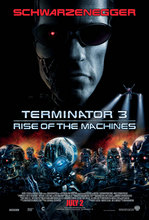 Director: Jonathan Mostow
Writers: John Brancato; Michael Ferris; Tedi Sarafian
Music by: Marco Beltrani
Producers: Hal Lieberman; Colin Wilson; Mario F. Kassar; Andrew G. Vajna; Joel B. Michaels
Keywords: Sci-Fi, Time Travel, Robots, Explosions




Third entry in the Terminator franchise follows Skynet's continued attempts to travel back in time to eliminate John Connor before he develops into a threat to their monolithic menace.
ABSTRACT
Second sequel to The Terminator (1984). Ten years following the events of Terminator 2: Judgment Day, messianic figure John Connor exists as little more than a drifter, living a Luddite sort of off-the-grid existence as part of an attempt to avoid further confrontations with futuristic killing machines. The omnipotent Skynet has somewhat different plans, of course, sending a turbocharged T-X Terminator back in time to bump him off, though a similarly-powerful Terminator -- named the CSM-101 -- follows closely behind, determined to set the stage for the latest and greatest machine showdown in a bid to save young John and his future wife from certain doom.
CAST
Arnold Schwarzenegger
... Terminator
Nick Stahl
... John Connor
Claire Danes
... Kate Brewster
David Andrews
... Robert Brewster
and
Kristanna Loken
... TX
Mark Famiglietti
... Scott Petersen
Earl Boen
... Dr. Peter Silberman
Moira Harris
... Betsy
Chopper Bernet
... Chief Engineer
Christopher Lawford
... Brewster's Aide
Carolyn Hennesy
... Rich Woman
Jay Acovone
... Cop -- Westside Street
M. C. Gainey
... Roadhouse Bouncer
Susan Merson
... Roadhouse Clubgoer #1
Elizabeth Morehead
... Roadhouse Clubgoer #1
Jimmy Snyder
... Male Stripper
Billy Lucas
... Angry Man
Brian Sites
... Bill Anderson
Alana Curry
... Bill Anderson's Girlfriend
Larry McCormick
... KTLA Anchorman
Robert Alonzo
... Jose Barrera
Michael Papajohn
... Paramedic #1
Tim Dowling
... Paramedic Stevens
Jon Foster
... Gas Station Cashier
Mark Hicks
... Det. Martinez
Kim Robillard
... Det. Edwards
Matt Gerald
... SWAT Team Leader
William O'Leary
... Mr. Smith
Rick Zieff
... Mr. Jones
Rebecca Tilney
... Laura the CRS Tech
Chris Hardwick
... 2nd Engineer
Helen Eigenberg
... 3rd Engineer
Kiki Gorton
... Roadhouse Clubgoer #3
Walter von Huene
... CRS Victim
Jerry Katell
... CRS Executive
George E. Sack, Jr.
... Semi Truck Driver
REVIEWS
Review by Reid Fleming (posted on 11-Feb-2005)
A woefully insipid sequel to 1984's groundbreaking The Terminator and its staggering 1991 blockbuster Terminator 2: Judgment Day, newcomer Terminator 3: Rise of the Machines proves itself by far the least imaginative and most derivative chapter of the series.
Completely absent are actress Linda Hamilton (the soul of the first two movies) and author-director James Cameron, who in T2 worked relentlessly to top his original creation. So this time, U-571 director Jonathan Mostow has nothing but scraps and remainders to work with. Rather than add anything substantial to the Terminator saga, the screenwriters have opted simply to connect some of the more painfully-obvious dots intentionally left unexplained by the first two movies. But even this tactic turns out to be an abysmal failure.
Most problematic is the origin of SkyNet, the artificial intelligence bent on obliterating humankind. It had always been a mystery where this malevolent force came from. And so it remains. In a horrendous bait-and-switch, Rise of the Machines sheds absolutely no light on this. Instead, witness the Pentagon foolishly unleash an Internet worm on its (surprisingly homogenous) internal network. Watch as all of their secret autonomous weaponry programs come to life and begin hunting the horrified DoD researchers who engineered them. So where did the human-hating A.I. come from? An Internet worm. All right, but where did the worm originate? We are never given even a single hint.
Also troubling is John Connor's psychological triple-reverse against his mother, Sarah (who is conspicuously absent, even from flashbacks). T2 began with a teenaged John's sudden and horrible realization that his institutionalized mom really wasn't crazy -- all of her ravings about a war between the humans and machines and his preordained role as the leader of the resistance had been prophetic. But by the time T3 shambles onto the screen, the grown-up John Connor has experienced a change of heart: now he's back to believing his mom actually was crazy. So it takes another visit from a time-traveling cyborg for him to re-recognize the error of his ways. So much for that hard-won realization from the second movie.
Perhaps worst of all is the film's antagonist: yet another Terminator model, this time the T-X -- an underwhelming fembot played by the Scandinavian actress Kristanna Loken. Nowhere near as menacing as either Arnold Schwarzenegger's bulky T-101 or Robert Patrick's crafty, shape-shifting T-1000, the T-X is nevertheless supposed to include feature improvements over both those machines. But Arnold always seems to hold his own against the diminutive Loken despite her (apparently minor) upgrades, and her momentary victories against the obsolete T-101 feel contrived.
In the end Terminator 3: Rise of the Machines is unable to satisfy, having nothing to offer but leftovers and recycled gimmicks from the first two movies.
---
Do you know something we don't?
Submit a correction or make a comment about this profile

Copyright ©2019 Soylent Communications