Romeo + Juliet (1-Nov-1996)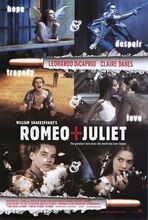 Director: Baz Luhrmann
Writers: Craig Pearce; Baz Luhrmann
From a play: Romeo and Juliet by William Shakespeare
Music by: Nellee Hooper
Producers: Gabriella Martinelli; Baz Luhrmann
Keywords: Drama




Australian director Baz Luhrmann adapts the Shakespeare play into a modern setting, keeping the Elizabethan dialogue. Beautifully choreographed, fast edits, and the sensual, intense emotional quality conveyed by the leads make this spectacle work. Underrated, though some will find it too absurd to enjoy. Received an Oscar nomination for Best Set Decoration.
CAST
Leonardo DiCaprio
... Romeo
Claire Danes
... Juliet
Also Starring
Jesse Bradford
... Balthasar
Vondie Curtis-Hall
... Capt. Prince
Brian Dennehy
... Ted Montague
John Leguizamo
... Tybalt
Miriam Margolyes
... Nurse
Harold Perrineau, Jr.
... Mercutio
Christina Pickles
... Caroline Montague
Pete Postlethwaite
... Fr. Laurence
Paul Rudd
... Dave Paris
Paul Sorvino
... Fulgencio Capulet
Diane Venora
... Gloria Capulet
M. Emmet Walsh
... Apothecary
Edwina Moore
... Anchorwoman
Zak Orth
... Gregory
Jamie Kennedy
... Sampson
Dash Mihok
... Benvolio
Lupita Ochoa
... Attractive Girl
Gloria Silva
... Nun
Vincent Laresca
... Abra
Carlos Martin Manzo Otálora
... Petruchio
Carolyn Valero
... Middle Age Occupant
Paco Morayta
... Middle Age Occupant
Rodrigo Escandon
... Kid With Toy Gun
Margarita Wynne
... Station Mother
Harriet Harris
... Susan Santandiago
Michael Corbett
... Rich Ranchidis
Pedro Altamirano
... Peter
Mario Cimarro
... Capulet Bouncer
Des'ree
... Diva
Ismael Eguiarte
... OP Officer
Ricardo Barona
... Altar Boy
Fausto Barona
... Altar Boy
Quindon Tarver
... Choir Boy
Alex Newman
... Altar Boy 2
Cory Newman
... Altar Boy 2
Jorge Abraham
... Post Haste Delivery Man
John Sterlini
... Sacristan
Farnesio de Bernal
... Undertaker
Catalina Botello
... Post Haste Clerk
REVIEWS
Review by OwatzNaName (posted on 15-Mar-2005)
Personally I thought the new interpretation of Romeo and Juliet was awesome. And the characters really spoke the language well. I was not a huge fan of DiCaprio but when i saw the movie i thought "wow it really showed his acting skills." I also liked Jesse Bradford who took the small role of Balthasar and really made something memorable out of it. For such a small role it especially showed when his character brought the news of juliets supposed death to Romeo. I know to some Shakespeare fans this movie was offensive but it really turned out to be better than i thought it would be. The cast was mesmorizing and really brought the story to life. I felt like I was really there. To me this was one of the best movies ever... but thats just my opinion... at least it made more since to me than the 1968 version with Olivia Hussey and Leonard Whitting that version didnt seem as alive as this one... Thats why I give it 4 stars. It was a truly captivating film.
---
Do you know something we don't?
Submit a correction or make a comment about this profile

Copyright ©2019 Soylent Communications