Where the Boys Are (28-Dec-1960)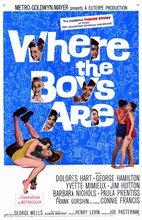 Director: Henry Levin
Writer: George Wells
From novel: Where the Boys Are by Glendon Swarthout
Music: George Stoll
Producer: Joe Pasternak
Keywords: Romantic Comedy, Beach Party




Four college girls drive to Fort Lauderdale for spring break, intending to meet boys who might become suitable husbands. One-dimensional characters; frank sex talk (for the time) is now tame, and there is an off-screen gang rape implied. That aside, silly romantic fluff.
CAST
REVIEWS
Review by Barbara A. Fiore (posted on 26-May-2007)
I first saw this movie in Manhattan in 1960 when it first came out...I've seen it hundreds of times and I never get tired of it....Connie Francis, my all time favorite singer debut in this movie...I just love her....All the stars were great.. Everytime I watch "Where the Boys Are", it just brings back sweet memories of my youth....
---
Review by Gae Lyn Anderson (posted on 5-Jul-2007)
Classic romantic genre of the 60s, one of the best, and truly a classic of the early 60s American lifestyles. These films need to be preserved for sure, if nothing else, as a reflection of our history at different times in the American way of life. Although this film was mostly comical, it had its serious moments of reflection, comedy to serious drama as similar to City Slickers in the 90s - a sort of coming-of-age cult film.
---
Do you know something we don't?
Submit a correction or make a comment about this profile

Copyright ©2019 Soylent Communications