It (15-Feb-1927)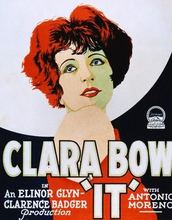 Director: Clarence G. Badger
Writers: Elinor Glyn; Hope Loring; Louis D. Lighton; George Marion, Jr.
From novel by: Elinor Glyn
Producers: Elinor Glyn; Clarence G. Badger
Keywords: Romantic Comedy




Clara Bow is an "It" girl with designs on a department store owner, a man barely aware of her existence. Clara concocts a plan to attract his attention, which succeeds for a time. Gary Cooper appears as a newspaperman who in search of a scoop, mischaracterizes Clara as an unwed mother, causing temporary complications. Elinor Glyn received $50,000 for the rights to her novel and appearance in the film.
| Name | Occupation | Birth | Death | Known for |
| --- | --- | --- | --- | --- |
| Clara Bow | Actor | 29-Jul-1905 | 26-Sep-1965 | Schizophrenic actress, Wings |
| Antonio Moreno | Actor | 26-Sep-1887 | 15-Feb-1967 | Spanish-American character actor |
CAST
Clara Bow
... Betty Lou
With
Antonio Moreno
... Cyrus Waltham
William Austin
... Monty
Priscilla Bonner
... Molly
Jacqueline Gadsdon
... Adela Van Norman
Julia Swayne Gordon
... Mrs. Van Norman
and
Elinor Glyn
... Herself
REVIEWS
Do you know something we don't?
Submit a correction or make a comment about this profile

Copyright ©2019 Soylent Communications