Georgy Girl (Jun-1966)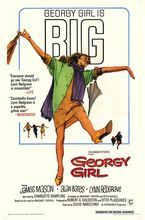 Director: Silvio Narizzano
Writers: Margaret Forster; Peter Nichols
From novel: Georgy Girl by Margaret Forster
Music Composed and Conducted by: Alexander Faris
Producers: Robert A. Goldston; Otto Plaschkes
Keywords: Romantic Comedy




In swinging 1960s London: Lynn Redgrave is Georgy, a girl-next-door and bit of an ugly duckling, not too bright; her father's employer, played by James Mason, much older and recently widowed, fancies her; Charlotte Rampling is Georgy's roommate Meredith, a cold and selfish social animal recently pregnant by her fiance Jos, played by Alan Bates. Merideth gives birth to a child, Sara, but rejects her. Georgy is willing to raise Sara but lacks the financial means. A contrived bit of fluff that was quite daring in its time.
| Name | Occupation | Birth | Death | Known for |
| --- | --- | --- | --- | --- |
| Dorothy Alison | Actor | 4-Apr-1925 | 17-Jan-1992 | See No Evil |
| Alan Bates | Actor | 17-Feb-1934 | 27-Dec-2003 | Basil in Zorba the Greek |
| Rachel Kempson | Actor | 28-May-1910 | 24-May-2003 | Matriarch of Redgrave dynasty |
| James Mason | Actor | 15-May-1909 | 27-Jul-1984 | North by Northwest |
| Bill Owen | Actor | 14-Mar-1914 | 12-Jul-1999 | Last of the Summer Wine |
| Charlotte Rampling | Actor | 5-Feb-1945 | | The Verdict |
| Lynn Redgrave | Actor | 8-Mar-1943 | 2-May-2010 | The Happy Hooker |
CAST
REVIEWS
Review by movievikinglady (posted on 8-Feb-2005)
A fun movie. When will someone put Georgy Girl on DVD (with some fun extra features, I hope?)
I don't think the plot summary below comes close to portraying the fun, and wit in this film. You must see it to understand!
GG, made in the mid 60's, would have been a bit too much for my mom to let me (a preteen) to see it. Now, the few bedroom scenes (done with lots of clothes on) are sort of unintentionally comic and milder than what's on TV any given night. Also a good way for my daughter to learn the difference between handsome but worthless "frogs" and better, but flawed "princes".
Interesting that the young boyfriend (Alan Bates) prances around in his underwear while the older love interest only wears the best Savile Row suits... Subtlety of older films and the blatant "show it all" of new (1960's to today) films seen in the two leading mens' wardrobes.
(For me-- Savile Row tops "Fruit of the Loom" every time!)
But now, I would love to take my 14 year old daughter thru the strange, sometimes funny, sometimes sad story of a lonely unloved but charming young adult played so well by Lynn Redgrave, of the Redgrave acting family.
(PS compare her graceful performance to father Sir Michael Redgrave's equally graceful performance in the 1939 Hitchcock "The Lady Vanishes".)
***the Basic Plot****
Redgrave is a 20-something lonely young woman,full of charm and fun, (lots of witty wisecracks when under stress) but hardly noticed by the persons around her... whether her boy-chasing beautiful roommate (Charlotte Rampling), her clueless grim-faced parents, or any nice guy.
But someone to love arrives-- her roommate casts off both her boyfriend Jos and her baby---and Georgy now has two people to love...or so she thinks...
***
I suspect this film was an unexpectedly big hit in the mid 1960's because...
1. Lynn Redgrave's portrayal of Georgy reached to many teen 1960's girls... as the charming but not gorgeous girl with something to offer the world... who yet is "passed over" by others and misunderstood by her parents.
2. The Seekers' song "Hey There Georgy Girl", tho slightly nasty and cynical in its description of Georgy, (particularly the verse sung in the last scene of the movie) was a big musical hit.
SPOILER BELOW
James Mason is fun (and slightly tragic) as the unhappily married boss (James Leamington) of her parents who chases Georgy every chance he gets.
But when his wife has died, and irresponsible Jos has been sent away, the ever persistent James Leamington is there to give Georgy financial aid to raising the baby who (like Georgy) noone else seems to want. When Georgy might lose baby Sarah to the state, Leamington is waiting in the wings... and at the slightest encouragement from Georgy, proposes marriage.
The film's last scene shows the couple driving off from the church. The Seekers sing again, the nastiest, most cynical verse of their song... but yet one has hope for them... (possibly in spite of the film & song?)...
One hopes James and Georgy can make a good marriage. The ending is ambivalent-- Geo. has a look on her face which says "What have I just done!?" James leers, (he's finally gotten the girl he wants) then frowns as baby Sarah is handed to bride Georgy to "go along" on the honeymoon.
The movie plot itself seems to view Georgy, James, all in a cynical light (cynicism of real happiness being a hallmark of many 1960's films), but I think many teen girls and young women viewing this film imagine Georgy making a decent life with her imperfect yet devoted and definitely responsible Prince...
---
Review by Joan Welbourn (posted on 26-Aug-2008)
I last saw this movie 40 years ago, and it is as fabulous as the first time I saw it. Alan Bates is as charming, Lynn Redgrave as lumpy (yet loveable), Charlotte Rampling as beautiful (yet horrible). James Mason at his best. I didn't realize James Mason's wife was Lynn Redgrave's mother in real life. Ha! This movie is funny, yet sad at the same time. It shows some great life truths without being preachy. Lots of good shots of life in London in the 60s. It is a classic ugly duckling story, yet told in entirely new way--the duck never gets conventionally beautiful, but we see her beauty.
---
Do you know something we don't?
Submit a correction or make a comment about this profile

Copyright ©2019 Soylent Communications