A Night at the Opera (15-Nov-1935)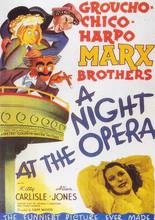 Director: Sam Wood
Writers: George S. Kaufman; James Kevin McGuinness; Morrie Ryskind
Musical Score by: Herbert Stothart
Keywords: Comedy




Business manager Otis P. Driftwood brings the wealthy Mrs. Claypool into high society, by having her invest $200,000 in Herman Gottlieb's opera company, affording the possibility of bringing two premier opera singers to New York; at the same time he romances Mrs. Claypool with an eye on the rest of her money. Among the funniest of all Marx Brothers films. Entered 1993 into the National Film Registry.
[watch trailer]
| Name | Occupation | Birth | Death | Known for |
| --- | --- | --- | --- | --- |
| Kitty Carlisle | Singer | 3-Sep-1910 | 18-Apr-2007 | A Night at the Opera |
| Margaret Dumont | Actor | 20-Oct-1882 | 6-Mar-1965 | Foil to the Marx Brothers |
| Allan Jones | Actor | 14-Oct-1907 | 27-Jun-1992 | Show Boat |
| Chico Marx | Actor | 22-Mar-1887 | 11-Oct-1961 | An Italian con-man of a Marx Brother |
| Groucho Marx | Comic | 2-Oct-1890 | 19-Aug-1977 | You Bet Your Life |
| Harpo Marx | Actor | 23-Nov-1888 | 28-Sep-1964 | Silent harp-playing Marx Brother |
| Sig Ruman | Actor | 11-Oct-1884 | 14-Feb-1967 | Stalag 17 |
CAST
REVIEWS
Review by Evan Peterson (posted on 31-Aug-2005)
This Marx Brothers film (minus Zeppo), has always been regarded as an American classic, both in its humor and its romantic themes. Brilliantly directed by Sam Wood, the three Marx Brothers work for an Italian opera company that is traveling across the Atlantic to New York. The unknown opera singer (Alan Jones) becomes a stowaway along with Chico and Harpo so he can be with the opera singer whom he loves (Kitty Carlisle). When they reach the states all heck breaks loose. The Brothers work hard to get both opera stars on stage who love each other. This film should be in every movie lover's collection!
---
Do you know something we don't?
Submit a correction or make a comment about this profile

Copyright ©2019 Soylent Communications