Duel (10-Nov-1971)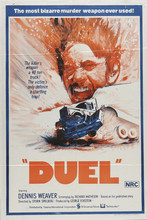 Director: Steven Spielberg
Writer: Richard Matheson
From short story by: Richard Matheson
Music by: Billy Goldenberg
Producer: George Eckstein
Keywords: Action/Thriller, Truckers




A man tries to pass an eighteen-wheeler on a California highway, somehow angering its driver into intense road rage. Midway through, during a stop at a roadside diner we see the truck in its parking lot. Made-for-TV movie broadcast on ABC, theatrically released in Europe; some copies have 19 minutes of additional footage. Spielberg's directorial debut, won Primetime Emmy for Sound Editing.
| Name | Occupation | Birth | Death | Known for |
| --- | --- | --- | --- | --- |
| Dennis Weaver | Actor | 4-Jun-1924 | 24-Feb-2006 | Sam McCloud in McCloud |
CAST
Starring
Dennis Weaver
... David Mann
With
Jacqueline Scott
... Mrs. Mann
Eddie Firestone
... Cafe Owner
Lou Frizzell
... Bus Driver
Gene Dynarski
... Man in Cafe
Lucille Benson
... Lady at Snakerama
Tim Herbert
... Gas Station Attendant
Charles Seel
... Old Man
Shirley O'Hara
... Waitress
Alexander Lockwood
... Old Man in Car
Amy Douglass
... Old Woman in Car
Dick Whittington
... Radio Interviewer
Cary Loftin
... The Truck Driver
Dale VanSickel
... Car Driver
REVIEWS
Review by anonymous (posted on 17-Aug-2006)
I greatly appreciate the kind of horror where the viewer/listener sees what is going on and is powerless to stop it and at the same time cannot just walk out on it. DUEL is the most gripping film I have ever seen. It proves that the most horrible creature we can face is not the creature from outer space - it is the human mind that we all can relate to. Dennis Weaver, a salesman in his car is stalked by a tanker truck driver for no apparent reason. The countryside is bleak and basting in a hot desert sun. As our hero drives along in his failing car, pursued by the tank truck, we never see the truck driver - but we feel the heat, the fear, the absolute terror of a maniac driver bent on destroying a small car driven by an innocent man. Never have I felt such terror or fear as I watched this gripping film. Yes, the salesman "bests" the truck driver, but the big question hangs on - WHY? And that is the real fear - the terror. I'll never be free of the fear of seeing tanker trucks on the highway again. I'd rather pull off and let them go by - but at every turn I'll look and hope NOT to see a tanker truck parked off my side of the road again.
---
Review by Dave Meloche (posted on 4-Sep-2005)
Steven Spielberg's first movie was concerning a business man, Dennis Weaver, who was on the road trying to make an appointment with a client, many miles away. As he is driving he encounters a 16-wheel tanker truck in which the driver starts playing an ever increasing dangerous game of tailgaiting David Mann's car or trying to force him off the road. It turns into a Duel between Weaver, (David Mann), and the psychotic driver, which we never see. It reminded me of The Car, a movie made in the 70's, wherin the car turned deadly and tried to kill. The Duel is one long chase movie, with ever increasing tension being experienced by David Mann. He eventually bests the psychotic truck driver, and the crash scene is quite spectacular. You'll never see a big truck on a lonely stretch of road again without thinking of the "Duel."
---
Do you know something we don't?
Submit a correction or make a comment about this profile

Copyright ©2019 Soylent Communications